Starting Points: Information Sources and Services

To read the transcript of this video, go to Transcripts.
"In today's information society, information is the key to open the door to knowledge and success" (LiLi, 2014, 3).
Whether locating resources online or browsing the physical collection, library users are often overwhelmed by the shear amount of information available. While some library users possess the skills necessary to address their information needs, others require the assistance of a librarian.
King Google and Queen Wikipedia
The amount of information available in every discipline is immense. It's important to develop a deeper understanding of the nature of specialized information sources when providing services to the disciplines.
However... in the "real world" Google is king and Wikipedia is queen. Many reference questions can be addressed with a quick Google search or trip to Wikipedia. On the other hand, it's essential to trace back to the original source to ensure accuracy.
Google
It's amazing what you can find with Google. However, Google is simply a search engine that will direct you to an information source. It's your job to determine whether that source has accurate information. Seek out primary sources or quality secondary sources closest to the original source. Be sure to check at least three sources and compare your findings before making a decision.
Try It!
Explore Gobs of Google by Annette Lamb. Although I built this website a few years ago for school librarians, it's still relevant and provides lots of ideas for using Google effectively in the library.
Example: Let's use Grant Wood, the artist of the American Gothic as an example.
Wikipedia
Wikipedia may provide an excellent overview to a topic. However use the references and external links at the bottom of the page to check their accuracy.
Read!
Read Wicked or Wonderful? by Annette Lamb.
Think about the pros and cons of using Wikipedia for locating information.
Beyond individual articles, Wikipedia also provide other ways to access information including portals, wikibooks, and wikidiversity.
Sometimes, none of the quick online sources will address the information need. In those cases, it's time for discipline-specific information sources.
Lamb's Personal Connection
Creating and maintaining a Wikipedia page is much more involved than it appears on the surface. Over the past several years, new rules make it much more difficult build fake pages or add false data.

I built a page on Almon Harris Thompson, a member of John Wesley Powell's Second Expedition. The page has gone through several evaluations by many of the Wikipedia history groups. They have very strict structural, content, and reference requirements. While not all pages go through this process, you can use the TALK section of any page to get a sense for how the page is being administered.
Information Seekers In the Real-World
Helping library users address their questions can be an exciting adventure. However, these quests are much more scavenger hunts. They call for a serious search of resources to gather evidence used in making decisions or drawing conclusions. The better you know your information seekers AND the resources, the more effectively you can answer their questions.
Regardless of whether you're working with a student, a hobbyist, a professional or a scholar, Google and Wikipedia are where they're likely to begin. Do the same search they probably did, so you can get a feel for what your information user has already found. A Google search can sometimes provide ideas or suggest directions, but's it unlikely to provide the breadth and depth of coverage or the evidence needed to solve a problem.
Try It!
Let's test this theory. Describe a library user and their library skills. Use Wikipedia to start the exploration of a topic like they would. Share what you found based that search. Now, ask some deeper questions not address in Wikipedia. Describe your questions or problems. These should be questions a researcher might realistically wish to explore. Compare the findings from at least five discipline specific resources. How does the type of question impact the type of source used? What search terms did you use? Which were more of less effectively? What interesting tidbits or memorable facts did you find?
Information Sources
Information sources present facts, data, perspectives, and other details about a subject in a usable format that can be applied to answer questions or make decisions. These communications can take many forms including textual, image, audio, and video sharing through paper or electronic formats.
According to the Online Dictionary for Library and Information Science (Reitz, 2014), a source is
"any document that provides information sought by a writer, researcher, library user, or person searching an online catalog or bibliographic database. Also refers to a document that provides information copied or reproduced in another document, for example, a quotation or excerpt."
The term form is used to describe how this information is arranged or how the work is written. For instance, dictionaries, directories, almanacs, and encyclopedia each have a particular way of arranging information. They may also cross academic disciplines.
Lack of resources is rarely in the problem in this digital age. Instead, users are often overwhelmed by the seemingly endless websites and database resources available. In addition, they face the problem of separating accurate, authoritative information from the advertisements, opinions, and just plain junk sites.
Digital Delivery
"The major changes in reference work today have been driven by changes in media formats, storage capacity, computing, and the development of specialized bibliographic tools. Digitization of content has revolutionized how librarians create, store, retrieve, and preserve information. The massive amount of information available on the web has transformed how people search for information" (Anderson, & Cvetkovic, 2015).
Library collections are rapidly shifting from a print-based to a digital delivery system.
Li LiLi (2014, 12) notes that information technology has made the delivery of information quick and easy.
Read!
Read at least one of the following articles.

Dempsey, Lorcan, Malpas, Constance, & Lavoie, Brian (July 2014). Collection directions: the evolution of library collections and collecting. portal: Libraries and the Academy, 14(3), 393-423.

Levine-Clark, Michael (July 2014). Access to everything: building the future academic library collection. portal: Libraries and the Academy, 14(3), 425-437.

Lewis, David W. (March 2013). From stacks to the web: the transformation of academic library collecting. College & Research Libraries, 74(2), 159-177. Available: http://crl.acrl.org/content/74/2/159.full.pdf+html
Open Access
As we shift from paper to digital format, another trend has emerged. No longer are scholarly communications restricted to peer-reviewed subscription-based journals. Increasingly, these communications are being shared through open access repositories, websites, and other digital delivery systems.
Read!
Read Keener, Molly, Kirchner, Joy, Shreeves, Sarach, & Van Orsdel, Lee (2011). 10 Things You Should Know about Scholarly Communication, ACRL.

Read!
Read Hill, Heather & Bossaller, Jenny (2012). Public library use of free e-resources. Journal of Librarianship and Information Science, 45(2), 103-112.


Information Services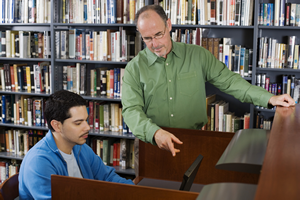 Information service involves addressing the information needs of users. In many cases, librarians are involved in a reference transaction as part of this information service.
This process involves consulting with library users and recommending information sources to address an information need.
While these services may take place in person, they may also involve virtual communication such as e-mail, chat, texting, video conferencing, or other technology-mediated interaction.
In order to address information needs, a wide range of physical and virtual resources may be used.
Matching Information Users with Information

Matching library users with information has always at the center of library services. In 1931, Ranganathan described five laws in the book The Five Laws of Library Science in 1957 and 1963. They include:
Books are for use.
Every person his or her book.
Every book its reader.
Save the time of the reader.
A library is a growing organism.
Keep these ageless laws in mind as you connect library users with information sources.
According to The Guide to Reference: Essentials Webinar (2014, 10), today's librarians are facing new challenges. They note that
Addressing in-depth, disciplinary-specific questions adds an additional challenge for librarians. In Research within the Disciplines, Keeran and Levine-Clark (2014, vii) stress that librarians need a deep understanding of research needs within the disciplines to be successful when working with content-area experts and professionals. They state
"most reference librarians have subject areas that fill us with a little bit of dread, topics outside our comfort zone that challenge us and sometimes make us feel incompetent in front of students we are trying to help. Attempting to answer a complex chemistry question while desperately trying to remember how the Periodic Table of Elements works; encountering a question about rations and being only vaguely aware that it has something to do with business; needing to find a technical report from the 1970s…"
The Disciplines
Human knowledge can be organized into branches of related disciplines and sub-disciplines. The main branches include humanities, social science, and science. Business is a discipline within social science, but in the case of our advanced information sources, it's taught as a separate course.
A discipline is an academic field that is sometimes, but not always connected with a profession. A discipline includes not only the knowledge associated with the area, but also the connected people, communities, projects, and research.
A growing number of sub-disciplines have emerged that fall under traditional disciplines. From instance phonology is a sub-discipline of linguistics. Social psychology is a sub-discipline within psychology.
In some cases, sub-disciplines are interdisciplinary crossing traditional branches of knowledge. For instance, bioethics, cyberethics, and business ethics all fall under the discipline of ethics but also fit under biology, computer science, and business.
Beyond the Traditional Disciplines
Some sub-disciplines are difficult to pigeonhole into a particular discipline. They may bridge several disciplines. While you may be concentrating on a particular discipline, keep in mind that many areas interact with multiple fields.
Try It!
A great example of an area that's difficult to pigeonhole is animal studies and the humane treatment of animals. This area contains aspects of philosophy, ethics, law, business, science, and others. Humane Society University provides a subject guide to information dealing with this topic. Notice that many different areas that come together. Also, notice that separate guides are provided for exploration in each area including business, culture, education, government, health, and law. Can you think of other topics that incorporate many different fields of study?
Multidisciplinary approaches draw on multiple disciplines rather than creating a new, separate discipline. Health care is a prime example. Specialists in art therapy, music therapy, sociology and social work, medicine, and non-profit business among many others are all concerned with the area of health care. These people from different disciplines work together to address challenges.
Trans-disciplinary approaches are used when researchers cross many disciplines to create a holistic view of a topic. These approaches seek to make as many connections as possible to help build a more cohesive understanding of a subject. Sustainability science is an example of a trans-disciplinary area.
Cross-disciplinary approaches involve using one discipline to help explain or inform another area. For instance, people talk about the politics of literature or the mathematics of music. Medical illustrators use art to create informational images.
Interdisciplinary approaches combine two or more disciplines into a single hybrid. The synergy created when a few disciplines are combined leads to new ideas and ways of thinking. In some cases, interdisciplinary fields emerge when a new area doesn't fit well into a traditional category. Interdisciplinary areas such as women's studies and GLTBQ studies evolved in this way. New knowledge may be claimed by all the related disciplines.
The term interdisciplinary is also used to describe how different disciplines may view a particular topic. For instance, land use is a topic that is viewed differently when discussed in the context of geography, politics, economics, biology, and chemistry.
According to Scarletto (2014), academic librarians generally attempt to fit emerging disciplines into traditional information structures. However, interdisciplinary areas like GIS (Geographic Information Science) are difficult to pigeonhole.
Read!
Read Editor's Guide: Interdisciplinary Fields (IUPUI login required). This article provides a great overview of interdisciplinary studies.
Try It!
Think about how the traditional disciplines have expanded to include a wide range of sub-disciplines. Create a concept map showing your area of interest and all its related sub-disciplines and topics.
Karen Hovde (2011) notes that questions come in many sizes and shapes, but they can generally be organized into two categories: "loose-leaf" and "bound".
"The loose-leaf questions can be lifted relatively successfully from their parent discipline or other context and treated as a small, minor whole. These are the 'I need five articles on homelessness' variety.

Then there are the bound topics, those for which the larger context of the topic is inseparable from, and necessary to, the examination of the smaller part. The investigative process for 'bound' topics carries a high anxiety potential for librarians and underclassmen alike. The student, as a/he is unexpectedly faced with the necessity of addressing what appear to be multiple, related topics, and the librarian, who must grapple with providing a tier of resources and the explanation of why the peripheral materials is desirable.

Many bound topics make intrinsic sense to students. Riverboat gambling occurs within the confines of state gambling laws. Water shortages in a specific geographic region are related to climate phenomena on regional, continental, and global scales. The going gets rough when bound topics involve multiple disciplines (history, philosophy, law, psychology) and the student lacks personal knowledge of the connections. These questions generally involve human behavior at some particular time and location, and invoke a secondary causal or explanatory element." (Hovde, 2011, 108).
Try It!
Read ONE of the following articles in an area of interest. Think about the interdisciplinary nature of the topic and how it connections to your discipline.

Hovde, Karen (2011). Freshman health topics. Community & Junior College Libraries, 17, 147-154.

Johnson, Wendell G. (2011). A cross-disciplinary examination of print resources on abortion. Community & Junior College Libraries, 17, 139-145.

Larson, Alison (2014). Walk this way: a selected annotated bibliography of periodicals emphasizing sustainability, environmental responsibility, and walkable communities. The Serials Librarian, 67(4), 415-437.

Lonergan, David (2011). American popular music 1950-2000. Community & Junior College Libraries, 17, 155-160.

Lonergan, David (2011). Natural disasters and man-made catastrophes. Community & Junior College Libraries, 17, 131-137.

Park, Elizabeth E. (2011). The organic food method and movement: an interdisciplinary reference review. Community & Junior College Libraries, 17, 119-129.

Scarletto, Edith A. (March 2014). Mapping the literature of GIS. College & Research Libraries, 75(2), 179-201. Available: http://crl.acrl.org/content/75/2/179.full.pdf+html

Wang, Hong (2012). Immigration in America: library services and information resources. Reference Services Review, 40(3), 480-511.

Experts as Information Sources
Subject-matter librarians need to establish relationships within their disciplines of interest. These professional connections can be useful in many ways.
First, these contacts can be used to better understand the information seeking practices of the people in the discipline. In other words, the better librarians know their clients, the better they're able to provide quality services. Start by extending a hand to frequent library users. Get to know their needs and interests, but also their areas of expertise. It can be useful to form an advisory committee.
Second, these professionals can be useful as subject-matter experts when seeking information beyond traditional information sources. If they can't address the concern, they may be able to refer you to others.
Keep in mind that your professional connections don't need to be local. You can establish contacts through professional organizations. Or, you may follow professional blogs.
Try It!
Do you know someone who works in a specific discipline? Talk with them about how they use information sources.
Librarians and Professional Sources
Regardless of whether you plan to work in a school, public, academic, or special library setting, there are many commonalities in the skills necessary to meet library user needs. Laura Saunders and Mary Jordan (2013) found that while academic librarians have the need for additional skills in areas of "content and technological knowledge", all librarians need interpersonal skills to work with library users.
Saunders and Jordan note that "no matter the type of library, type of question, or the breadth and depth of the collection she has at her disposal, the librarian's ability to interact and communicate with her patrons is paramount" (Saunders & Jordan, 2013, 221).
To learn more, explore:
Saunders, Laura & Jordan, Mary (Spring 2013). Significantly different? Reference services competencies in public and academic libraries. Reference & User Services Quarterly, 52(3), 216-223.

To learn more about the activities and needs of public librarians, explore:
Jordan, Mary Wilkins (2014). Reference desks in public libraries: what happens and what to know. The Reference Librarian, 55(3), 196-211.

Professional Organizations
Increasingly, professional organizations are developing a web presence. These organizations provide an excellent way to gain background information about the discipline as well as locating sources of information.
The following list includes general library organizations.
Most states have library associations such as Indiana Library Federation.
Within ALA, a number of Round Table groups provide support for specialty areas. Examples include:
Try It!
Spend some time exploring library organizations. Pick one that you think would be the most useful.
Professional Journals
Whether seeking information about information seeking behavior or the latest resources, seek out professional journal in library and informations science. Example include:
Try It!
Use IUPUI's Citation Linker for quick access to professional journals. Explore a journal. Locate an article you think would be useful in learning about information seekers, information sources, or information services in your area of interest.
Blogs
Professional blogs such as No Shelf Required are also useful for library professionals. While there are many general library blogs, keep your eye out for those written by librarians in your interest area.
Social Media
Whether contacting another librarian for ideas or seeking out the assistance of a government employee or corporate contact, people are essential sources of information.
Tools like Facebook, Twitter, and Linked In can be useful sources for making contact with professionals.
ALAConnect is a centralized space where members of official ALA groups can work together online.
According to ACRL (2014), "researchers use web programs to organize and share articles with colleagues through Mendeley, Impact Story, and PLOS, or via article-sharing social network sites such as Academia.edu and ResearchGate".
Read!
Read Joyce Valenza's blog article LinkedIn: An Underused K12 Search Tool? Although aimed at K12, the article has ideas for all library levels.
Websites
Discipline-specific library websites can be useful for locating information about what these libraries are doing in your discipline.
Try It
This activity isn't required, but it would be very useful for your own learning.
For those of you who plan to work within a particular discipline, it's essential to learn more about the role of the librarian in a particular setting. Choose a subject-area librarian to interview. This person should NOT be a general school, public, or academic librarian, their job title should relate to a specific discipline within librarianship. Focus on how the librarian conducts his/her job. You should share at least three examples of real-world discipline specific reference or research questions along with the approach used by the librarian and an example of a source recommended or used. Also, you should ask about whether they conduct any research such as information seeker surveys, citation analysis, or other bibliometrics.
The Course
This course focuses on the identification and use of information sources. Information sources are collections of facts, data, or messages that users can apply to answer questions, solve problems, or make decisions. Today's libraries are over flowing with information. It's the job of the librarian to make information access easily available.
As we begin this course, you may wonder why the materials in this course are organized by informational genres such as dictionaries and periodicals. When addressing user inquiries, it's essential to understand what type of information is needed and what reference or informational genre is most likely to meet this need. Regardless of the discipline, a dictionary is used to locate definitions.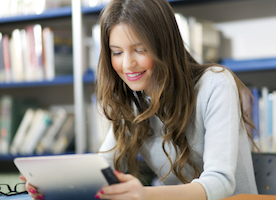 Lamb's Personal Connection
Librarians tend to have a wide range of interests. You don't need to be an expert in everything, but it's useful to have broad experiences and an enthusiasm for learning new things. While many librarians choose to become subject-matter experts based on their undergraduate degrees, this isn't required. Many librarians serve all disciplines without content-area degrees. As a school librarian, I worked with teachers across content areas. I did the same as an academic librarian directing a curriculum library.

My personal interests in humanities don't qualify me as an expert. However my experiences playing various instruments including piano and trumpet, participating in theatre productions, and painting and sketching give me an empathy for working with artists and performers.

I had a triple major as an undergraduate including Sociology, Child Development, and Education. Based on my coursework, I could teach everything from preschool to high school social studies including history, government, and psychology. I've even been on archaeological digs. Again, I'm not an expert in the social sciences, but I do have a diverse background that helps me work with social studies scholars.

As a professional, I've worked with museums on projects such as the Dinosphere at the Indianapolis Children's Museum. I've also become a citizen scientist. Enjoying a wide range of informal and formal nature activities, I'm co-director of a recent grant focusing on dark skies, light pollution, and citizen science data gathering.

In the 1980s, I was a retail business owner. Since the mid 1990s, I've been the president of my own publishing and consulting business. Again, these experiences don't make me an expert, however they do help me anticipate business questions.

What personal and professional skills do you bring to your discipline area of interest?
Resources
ACRL Research Planning and Review Committee (2014). Top trends in academic libraries. College & Research Libraries News, 75(6), 294-302. Available: http://crln.acrl.org/content/75/6/294.full
Anderson, Katie Elson & Cvetkovic, Vibiana Bowman (2015). Reinventing Reference: How Libraries Deliver Value in the Age of Google. ALA Editions.
Aspray, William & Hayes, Barbara M. (2011). Everyday Information: The Evolution of Information Seeking in America. MIT Press. Available through IUPUI.
Cassell, Kay Ann & Hiremath, Uma (2012). Reference and Information Services: An Introduction (3rd Edition). Available through IUPUI.
Hovde. Karen (2011). War and peace: desconstructing the topic of genocide and other crimes against humanity. Community & Junior College Libraries, 17, 107-117.

Jordan, Mary Wilkins (2014). Reference desks in public libraries: what happens and what to know. The Reference Librarian, 55(3), 196-211.
Keeran, Peggy & Levine-Clark, Michael (2014). Research within the Disciplines: Foundations for Reference and Library Instruction. Rowman & Littlefield. Preview Available: https://books.google.com/books?id=jo5_AwAAQBAJ
LiLi, Li (2014). Chandos Information Professional Series: Scholarly Information Discovery in the Networked Academic Learning Environment. Chandos Publishing. Available through IUPUI.
Mulac, Carolyn M. (2012). Fundamentals of Reference. ALA.
Murphy, Sarah Anne (2011). Librarian as Information Consultant: Transforming Reference for the Information Age. ALA. Available through IUPUI.
Purcell, Kristen, Rainie, Lee, Heaps, Alan, Buchanan, Judy, Friedrich, Linda, Jacklin, Amanda, Chen, Clara, and Zickuhr (November 1, 2012). How teens do research in the digital world. PewInternet. Available: http://pewinternet.org/Reports/2012/Student-Research.aspx
Reitz, Joan M. (2014). Online Dictionary for Library and Information Science. Libraries Unlimited. Available: http://www.abc-clio.com/ODLIS/odlis_a.aspx.
Safford, Barbara Ripp (2010). Guide to Reference Materials for School Library Media Centers. Libraries Unlimited.
Saunders, Laura & Jordan, Mary (Spring 2013). Significantly different? Reference services competencies in public and academic libraries. Reference & User Services Quarterly, 52(3), 216-223.

Scarletto, Edith A. (March 2014). Mapping the literature of GIS. College & Research Libraries, 75(2), 179-201. Available: http://crl.acrl.org/content/75/2/179.full.pdf+html
Whitlatch, Jo Bell & Searing Susan E. (2014). Guide to Reference: Essential General Reference and Library Science Sources. ALA Editions. Preview Available: https://books.google.com/books?id=06WnBAAAQBAJ
Wood, Melissa, Hennelly, James, & Bennett, Denise Beaubien (eds) (2014). Guide to Reference: Essentials Webinar. Available: http://www.slideshare.net/jhennelly/may-guide-to-reference-essentials-webinar-presentation-4-172014
Zickuhr, Kathryn & Rainie, Lee (January 13, 2011). Wikipedia, past and present. Pew Internet. Available: http://www.pewinternet.org/Reports/2011/Wikipedia.aspx
---