Archives, Libraries, and Museums

To read the transcript of this video, go to Transcripts.
Libraries, archives, and museums may all house creative and informational sources with relevance to discipline-specific inquiries.
Archives, Libraries, and Museums Defined
When asked about the difference between libraries and archives, Stephanie Greenhut from the National Archives and Stephen Wesson from the Library of Congress stated
"in 10 words or less, it's what we've got and how we got it."
An archive is a repository of records. The mission is to collect, organize, preserve, and provide access to non-current documents stored in a repository. The focus is on non-current materials. Increasingly, archival materials are being digitized to provide easier information access.
A library is a collection(s) of creative and informational sources such as books and other materials selected, organized, and maintained for use in study, research, or leisure. Services are provided that facilitate access and use of materials to meet user needs. The emphasis is generally on current, up-to-date materials. The increase in electronic materials has made it possible to access library resources from anywhere, anytime.
A museum is an institution dedicated to preserving and displaying collections of physical artifacts and specimens that have value within a particular context. Exhibits are created to facilitate study and enjoyment of these physical collections. In some cases, items such as books, manuscripts, scrolls, maps, letters, diaries, and other documents are maintained by museums. In some cases, the definition extended to historical monuments, aquaria, arboreta, botanical gardens and other large areas with many artifacts and specimens. Increasingly, museums are digitizing their artifacts and specimens so they can be shared online.
Similarities and Differences Among Archives, Libraries, and Museums
Libraries, archives, and museums store and preserve documents. All three may house important primary source documents.
The key difference between a library and an archive is what is contained in the collections and how it was acquired. Libraries seek out creative and informational sources to meet the current needs and interests of its users. When materials are no longer useful, they may be discarded or transferred to an archive. Archives are used to safe-guard records that have been generated during the course of doing business. From handwritten notes to advertising posters and email, a wide range of items are produced every day. All records identified by the archive's collection policy as "permanently valuable" are carefully preserved and stored. These are not items currently being used in the course of everyday business.
While all three institutions may be totally separate, in some cases a single institution may house a library, archive, and museum. For instance, the American Museum of Natural History including many libraries and archives in addition to its famous museum. Increasingly, collections are being shared online.
Confusion
Confused? Let's use a couple examples. You'd find this year's tax form in a library, however you'd find the tax forms from prior years in an archive. You'd find a digitized version of the United States Constitution in both locations because it might be referred to in a current court case, but it would also be permanently preserved in an archive.
Unfortunately, the terms repository, collections, exhibition, digital library, among others aren't being used consistently causing confusion. Regardless of what they're called, these different institutions and information sources are valuable in addressing subject matter questions.
Try It!
How would you explain the someone the difference among a museum, archive, and library? Can you think of an analogy?
Libraries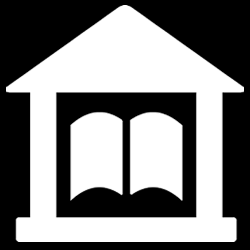 Beyond your own library, other libraries and their collections may be useful sources of information.
Government Libraries
There are over 1100 federal libraries listed on the Federal Library Directory. This is a good place to start looking for a government library related to a particular agency.
If you have a question related to the federal government, consider using the Ask a Librarian option at the Government Information Online website.
Other National Libraries of Interest
A state library can be found in each US State. Many other countries also have state and provincial libraries. To find these, do a search for the name of the state and state library such as Indiana State Library.
Public Libraries
Use the Find Your Library to locate public libraries.
Public Library Digital Collections and Exhibitions
Academic Libraries
Seek out the academic libraries that house collections relevant to your particular area of interest. Some of these were discussed in Section 1 of the course. Some examples include:
Special Libraries
From medical libraries to corporate libraries, many special libraries maintain useful digital collections.
Digital Libraries
Some digital libraries exist only in online environments with no physical presence, while others are part of a larger library that also provides physical services.
For more ideas and contacts, go to the Digital Library Federation. Check out the member libraries.
Go to a list of 250+ Killer Digital Libraries and Archives for more ideas.
Read!
Read Pritchard, Sarah M. (January 2012). HathiTrust libraries map a shared path: a turning point in information access. portal: Libraries and the Academy, 12(1), 1-3.

Try It!
Visit the list of 250+ Killer Digital Libraries and Archives.
Pick a few to explore related to your subject area interest.
Archives
Both physical and digital archives may play an important role in assisting library users identify information. The Society of American Archivists list the following types:
College or university archives
Corporate archives
Government archives
Historical societies
Museums
Religious archives
Special collections

According to Reitz (2006), an archives is
"an organized collection of the non-current records of the activities of a business, government, organization, institution, or other corporate body, or the personal papers of one or more individuals, families, or groups, retained permanently (or for a designated or indeterminate period of time) by their originator or a successor for their permanent historical, informational, evidential, legal, administrative, or monetary value, usually in a repository managed and maintained by a trained archivist...

The term is also used in academia to refer to a repository of electronic preprints, working papers, and similar documents, commonly called e-print archives. Used in this sense, there is no implication of archival management, which has caused some confusion, for example, around the purpose of the Open Archives Initiative (OAI)."
Archives fall into one of the three categories including government archives, in-house archives, and collecting archives.
Government Archives
Government archives are created and maintained for a local, state/provincial, or federal government.
The National Association of Government Archives and Records Administrators is a professional association for government records administrators and archivists. It's an excellent place to learn about the wide range of government archives in the United States.
In the United States, the National Archives and Records Administration (NARA) immediately comes to mind. While many of their records have been digitized and are available online. There are many more that remain only available in the physical archive. Written requests can be made for some of these documents such as military records.
Beyond the NARA, many other federal government archives are also useful to researchers.
Most states have official archives. Go to the Archives Library Information Center (ALIC) at NARA for a complete list of state archives. These can also be found by searching the web for the name of the state and the word state archives such as Indiana State Archives.
Most countries around the world maintain an archives. Wikipedia's List of National Archives is a good place to start. Some examples include
In-House or Institutional Archives
In-house archives are connected to a particular organization or institution. Many universities maintain these types of archives. Corporations, businesses, non-profit organizations and associations are required by law to keep some records on file, these may become part of a business's in-house archives.
The ArchiveGrid from WorldCat searches archives near you.
Collecting Archives
Collecting archives are repositories that collect materials from individuals and groups beyond a parent organization. Large-scale collecting archives include Google Books and Internet Archive.
Subscription-based Archival Collections
Many subscription-based sources are available for locating archival materials.
The Smithsonian Collections Online from Gale combines rare nineteenth and twentieth century archival materials on such topics as World's Fairs and trade literature and is paired with modern Smithsonian Magazine and Air & Space Magazine backfiles to present unique and comprehensive insight into history, science, nature, the arts, innovation, technology, and world culture. Available through IUPUI.
Try It!
Go to Archive Finder. You can get a Free Trial. This directory describes over 220,000 collections of primary source materials found in repositories around the world. Explore the possibilities.
OR one of the following:
AHA's Archives Wiki.
ArchiveGrid from WorldCat
Canada's database
Museums
Museum collections can be useful in many disciplines. Increasingly, visitors can make use of virtual exhibits. There are more than a dozen museum types. They include:
Architectural museums
Archaeological museums
Art museums
Biographical museums
Botanical gardens
Children's museums
Design museums
Encyclopedic museums
Ethnology museums
Historical house museums
History museums
Living history museums
Maritime museums
Medical museums
Memorial museums
Military and war museums
Natural history museums
Science museums
Zoological parks
Try It!
Do a Google search for one of the museum types above. Explore a few museum websites. Pay particular attention to the online exhibits and resources available.
Lamb's Personal Connection
Over the years, I've worked with several museums and related organizations. These are overlooked sources of information. While some museums have excellent websites, others place their emphasis on the experience of visiting the physical museum.

Regardless of their focus, it's possible to develop valuable, virtual relationships with the personnel at these museums. Seek out the librarian, educator, or public relations personnel and find out what information services they offer.

Resources
Reitz, Joan M. (2014). Online Dictionary for Library and Information Science. Libraries Unlimited. Available: http://www.abc-clio.com/ODLIS/odlis_a.aspx.
Wesson, Stephen (April 2013). What's the difference between the National Archives and the Library of Congress? Teaching with the Library of Congress.
The descriptions for many of the databases are excerpt or adapted from the IUPUI A to Z Database page.
---