Information Seekers and their Behaviors

To read the transcript of this video, go to Transcripts.
A music professor wonders about the copyright status of a piece of sheet music.
A young mother is concerned that her son may be autistic.
A civil engineer is looking for the original city sewer plans from the 19th century.
A middle school student seeks a good book for his report on small business ownership.
A wide range of information seekers use libraries. Each person comes with a unique set of informational interests and skills. It's important to spend time thinking about both the categories of potential clients as well as the individuals coming with specific information needs.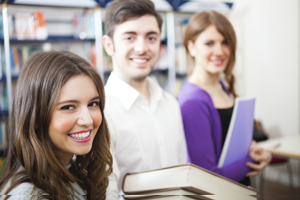 While existing research about information seeking behaviors is essential to librarians, it's also important to conduct local research projects. Those working in special libraries will find that mainstream information seeking behavior research may not apply. In these cases, the librarian will want to investigate methodologies for collecting data directly from local library users on discipline-specific topics.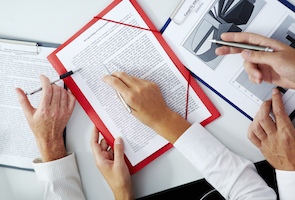 In Amy Catalano's (2013) meta-synthesis of graduate students' information seeking behavior, she found that students in humanities, business, and social studies were involved in more information seeking activities than those in the hard disciplines such as science, engineering, and technology.
Read!
Read Etches, Amanda (Fall 2013). Know thy users: user research techniques to build empathy and improve decision-making. Reference & User Services Quarterly, 53(1), 13-17.
Create a list of user research techniques you could use to collection information about users.


Types of Information Seekers
"Information seeking refers to the practical process of obtaining the information needed via specific information databases or information networks… The ways in which information users search information in the digital age depend ultimately on the information resources and information search tools they use" (LiLi, 2014, 127).
Before jumping into matching information seekers with information sources, librarians need to understand the different types of information seekers, their needs, and their behaviors.
Read!
Read Naumer, Charles M. & Fischer, Karen E. (2009). Information needs. Encyclopedia of Library and Information Sciences, 3rd Edition. Taylor and Francis.


AND
Bates, Marcia J. (2009). Information behavior. Encyclopedia of Library and Information Sciences, 3rd Edition. Taylor and Francis.


AND
Wilson, Thomas D. (2009). Information behavior models. Encyclopedia of Library and Information Sciences, 3rd Edition. Taylor and Francis.

Individual Differences
Not all information seekers are alike. Race, national origin, religion, age, sex, gender identification, sexual orientation, handicap, marital status, political affiliation, belief, veteran status, and many other factors can impact information needs and information seeking behavior.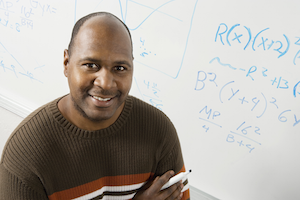 Read!
Choose one of the following two articles to read. Think about the factors that impact information needs and behaviors.

Keilty, Patrick (2009). Lesbian, gay, bisexual, and transgender information. Encyclopedia of Library and Information Sciences, 3rd Edition. Taylor and Francis.

OR

Williamson, Kirsty & Asla Terryl (2009). Older adults' information needs and behavior. Encyclopedia of Library and Information Sciences, 3rd Edition. Taylor and Francis.

To learn more about research related to information seeking behavior, explore the following optional resources.
Davies, Richmond & Williams, Dorothy (2013). Towards a conceptual framework for provider information behaviour. Journal of Documentation, 69(4), 545-566.

Hepworth, Mark, Grunewald, Philipp, & Walton, Geoff (2014). Research and practice: A critical reflection on approaches that underpin research in to people's information behavior. Journal of Documentation, 70(6), 1039-1053.

Students as Information Seekers
Students are one of the most common library users.
In "Students' information needs and behavior", Heidi Julien (2009) discusses how information behavior is impacted by a student's physical and cognitive development. She notes that
"students' information seeking habits in their academic contexts appear to be less rational, and are less effective, than information experts would like. Partly motivated by developmental stage, and partly by their unique experiences as the 'net' generation, students are focused on finding full-text online information as conveniently and quickly as possible" (Julien, 2009, 5063).
Julien also notes that "experience engenders confidence which is unmatched by demonstrable skill" (Julien, 2009).
To learn more, explore:
Julien, Heidi (2009). Students' information needs and behavior. Encyclopedia of Library and Information Sciences, 3rd Edition. Taylor and Francis.

Gross, Melissa (2009). Youth information needs and behavior. Encyclopedia of Library and Information Sciences, 3rd Edition. Taylor and Francis.


Amy Catalano (2013) conducted a meta-synthesis of the literature related to graduate student use of libraries. Focusing on empirical research since 1997, she found common themes in the research. Catalano (2013, 243) found that
"graduate students begin their research on the internet much like any other information seeker, consult their faculty advisors before other people, and use libraries in diverse ways depending on the discipline studied. Additionally differences were noted between international and home students, and doctoral and master's students."
Read!
Read Catalano, Amy (2013). Patterns of graduate students' information seeking behavior: a meta-synthesis of the literature. Journal of Documentation, 69(2), 243-274. Pay particular attention to the differences among disciplines.

Information Environments and Information Seeking
While some library users are seeking information they can use in their workplace or school setting, others are looking for information to support a personal interest, hobby, or other leisure activity.
Read!
Read one of the following two articles:

Savolainen, Reijo (2009). Everyday life information seeking. Encyclopedia of Library and Information Sciences, 3rd Edition. Taylor and Francis.


OR
Hartel, Jenna (2009). Leisure and hobby information. Encyclopedia of Library and Information Sciences, 3rd Edition. Taylor and Francis.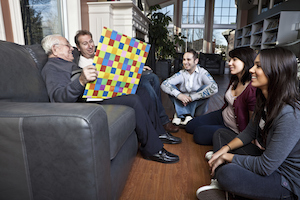 While the course will explore advanced resources used by researchers and professionals, it will also examine discipline-specific materials used by the general public.
In Everyday Information: The Evolution of Information Seeking in America, William Aspray and Barbara Hayes (2011, 1) note that everyone from children to adults "seeks and uses information to engage in society and construct the myriad of small decisions that will collectively define their everyday lives."
Aspray and Hayes note that
"they seek information about major purchases, local sporting events, and community activities. They seek political information and information about heritage and genealogy. They seek information about the best places to vacation and the best schools for their children. They seek information from government sources about a diverse range of topics including health care, social services, visas, recycling, public museums, taxes, government forms, and voter registration."
Try It!
From car buying to sports fan information gathering habits, Everyday Information: The Evolution of Information Seeking in America provides a wide range of cases showing the diverse information needs and approaches of Americans. Skim an article of interest from this e-book. Then, think about the wide range of information needs and interests of people who visit academic, public, school, and special libraries. Go to Aspray, William & Hayes, Barbara M. (2011). Everyday Information: The Evolution of Information Seeking in America. MIT Press.
Hobbyists as Information Seekers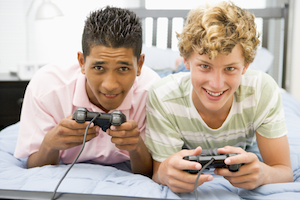 From retirees who play the stock market to young adults who enjoy building drones, hobbyists can be found across disciplines. A hobbyist is a person who pursues a particular topic in their leisure for pleasure. While some hobbies include building collections or participating in physical activities, others focus on academic pursuits such as archaeology or creative writing.
While some hobbyists are novices, others may have substantial knowledge and skills. A professional is a person who engages in activities for compensation, while an amateur is simply seeking personal rewards.
Genealogy is a great example of an area where these designations become blurred. For instance, while some people help others with their family history projects for free, others are compensated for their time. Both professionals and amateur genealogists may seek board certification, however most hobbyists do their work without these credentials. Similar examples can be found in most disciplines.
Jenna Hartel (2014) studied the information behavior research related to liberal arts hobbyists. She found that little research has been conducted on this group and that those interested in liberal arts hobbies are primarily interested in information acquisition and expression. Hartel found that it's useful to clarify the short, medium, or short time horizon of their interests. In other words, do library visitors see themselves as pursuing this interest as a retirement career or as a one-shot project.
Associated with both adult learning and life-long learning fields, both public and academic librarians need to be prepared to work with these enthusiastic library clients.
To learn more, browse:
Hartel, Jenna (2014). An interdisciplinary platform for information behavior research in the liberal arts hobby. Journal of Documentation, 70(5), 945-962.

Information about Information Seekers
"Knowing your users involves more than placing a prominent suggestion box on the reference desk, considering e-mailed kudos or criticism, or conducting patron focus groups. To truly understand and encapsulate the current future needs of the library's users, librarians must systematically and regularly collect, analyze, and disseminate both internal and external information on trends that impact user behaviors and needs" (Cahoy, 2011, 3).
To provide effective information services, librarians must understand information seekers including both their needs, and their behaviors. To do this, librarians need to be observers, listeners, and investigators.
Observers: Study Librarian Users
Librarians must be observers of their clients. Who uses the library? Who uses the library's online resources and services? Who doesn't choose to use the library? Internal library research can be very useful in addressing these questions. Surveys conducted both inside and outside the library can gather valuable information.
Library use and circulation statistics can also be helpful in understanding information users. The data gathered for collection development activities can also be associated with understanding information seeker behavior. For instance, studies related to the evaluation of collection development practices can be applied to understanding the needs of library users within a discipline.
It's important to collect data from both face-to-face interactions as well as virtual services such as website use and virtual reference data.
It's also possible to gain insights through online sources. Spend time browsing professional journals and organization websites associated with your discipline of interest. What are the hot topics? What are the emerging issues? What are common problems or challenges being faced by those interested in this area?
Browse!
You don't need to read these articles, but spend some time browsing and thinking about the connection to collection development and virtual reference activities.

Skim Kohn, Karen C. (January 2013). Usage-based collection evaluation with a curricular focus. College & Research Libraries, 74(1), 85-97.

Skim Nolen, David S., Powers, Amanda Clay, Zhang, Li, Xu, Yue, Cannady, Racel E. & Li, Judy (January 2012). Moving beyond assumptions: the use of virtual reference data in an academic library. portal: Libraries and the Academy, 12(1), 23-40.

Listeners: Conduct Reference Interviews, Consultations, and Focus Groups
Librarians must be listeners. Although reference interviews are normally focused on a library user's needs, they can also be used to gather more general information about the interests and needs of a particular group of people. While virtual assistance has grown over the past decade, many library users continue to prefer face-to-face consultation.
Read!
Magi, Trina J. & Mardeusz, Patricia E. (November 2013). Why some students continue to value individual, face-to-face research consultation in a technology-rich world. College & Research Libraries, 74(6), 605-618.
The reference interview is used to gather information from a library user about their needs. You should have developed these skills in your s501: Information Sources and Services course. You may wish to review Chapter 2 of Reference and Information Services: An Introduction by Cassell and Hiremath (2012). According to (Reitz, 2014), a reference interview is
"the interpersonal communication that occurs between a reference librarian and a library user to determine the person's specific information need(s), which may turn out to be different than the reference question as initially posed. Because patrons are often reticent, especially in face-to-face interaction, patience and tact may be required on the part of the librarian. A reference interview may occur in person, by telephone, or electronically (usually via e-mail) at the request of the user, but a well-trained reference librarian will sometimes initiate communication if a hesitant user appears to need assistance."
Reference and User Services Association (RUSA) developed guidelines for both in-person and remote reference services including the areas of approachability, interest, listening/inquiring, searching, and follow-up.
Browse!
Review the Guidelines for Behavioral Performance of Reference and Information Service Providers from the Reference and User Services Association (RUSA).
Focus groups can be used to collect information from a particular library audience or potential audience. What are the specific needs of community members, undergraduates, or retired library users?
Investigators: Know the Professional Literature
Librarians must know the professional literature. Much research has been conducted into the needs and behaviors of specific types of information seekers. This information can be extremely valuable in anticipating needs and building subject guides.
Over the past several decades, much research has been conducted into information seekers and their behavior. Heidi Julien and Michael O'Brien (2014) conducted a study of the information behavior research over a 30 period. They found the following longitudinal trends
"the recent information behaviour literature is authored proportionally more by scholars than practitioners, survey methods (i.e., traditional methods) remain predominant, there is an increase in interest in the information behaviour of non-professional and the general public, the use of theory has remained relatively consistent over time, and attention to affective variables has also remained consistently low. In addition, interdisciplinary appears to be in decline" (Julien & O'Brien, 2014, 248).
Information Seekers and Technology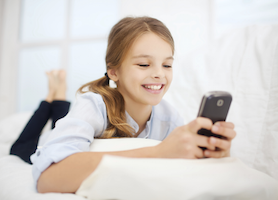 From smartphones to tablets, people have grown accustomed to the use of technology for all types of information activities. Librarians need to use these technologies to assist information users.
According to Katie Elson Anderson and Vibiana Bowman Cvetkovic (2015),
"there has been a natural maturation in users' technological skills. Technical support questions have become more advanced as the population has developed greater computer competencies. People know more about technology; therefore, they can ask more complex questions about technology. Users in general are now more competent in the use of computers and searching the web. This increased competence can create overconfidence as well as foster a reluctance to seek assistance. It can also create great frustration when the information sought eludes discovery".
Lamb's Personal Connection
It's important not to make assumptions about the technology skills of information seekers. While many young people use Instagram and Twitters, others don't. In the same way, many seniors read ebooks, use iPads, and love Facebook, while others don't know how to turn on a computer.

Over the past few decades, I've seen technology come and go. I enjoy keeping up with the latest technologies, but I'm quick to toss a fad that doesn't seem relevant or a tool that wastes time.

On the other hand, as a librarian it's important to empathize with library users. Just because I personally enjoy using Facebook to connect with my family doesn't mean all library users will want to use it to connect with the library.
Information Seekers and Searching Behaviors
In today's world, you can't talk about information seeking behavior without acknowledging the role of Google's search tools. Over the past decade, many information seekers have begun using Google as their first stop for information seeking activities. Sean Cordes (2014) examined three search tools. Users found that search engines like Google require less effort than using a database or library catalog. However, participants indicated that databases contained the most useful information.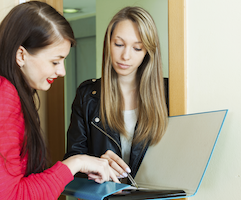 When people search for information, Google is often the first and last place they go to access information. According to Purcell, Brenner and Rainie (2012),
"in January 2002, 52% of all Americans used search engines. In February 2012 that figure grew to 73% of all Americans. On any given day in early 2012, more than half of adults using the internet use a search engine (59%)... 91% of search engine users say they always or most of the time find the information they are seeking when they use search engines."
This course focuses on that 9% of the time when users can't find what they need with a quick Google search.
"User expectations regarding available information have resulted… in more difficult questions. User who now consult librarians have often already checked the web and even searched library resources. Seeking help my seem to them to be a desperate measure or possibly a last resort. Thus, users consult librarians when they cannot find the answers to their questions independently.
Not only are the questions more difficult and complex, but now there are many more places to look and resources to search to find the answers. While retrieval time itself may be shortened, searching a multitude of sources may take more time. Librarians seek to identify the best resource to satisfy a user's information needs and today that takes more time." (Anderson & Cvetkovic, 2015).
Read!
Read Georgas, Helen (April 2013). Google vs. the library: student search patterns and behaviors when using Google and a federated search tool. portal: Libraries and the Academy, 13(2), 165-185.

AND
Read Georgas, Helen (October 2014). Google vs. the library (Part II): student search patterns and behaviors when using Google and a federated search tool. portal: Libraries and the Academy, 14(4), 503-532.


Of course, Google isn't the only tool that library uses to access information. There are many other paths to discovering information sources.
Read!
Read at least one of the following articles focusing on how library users discover library sources.

Lown, Cory, Sierra, Tito, & Boyer, Josh (May 2013). How users search the library from a single search box. College & Research Libraries, 74(3), 227-241.

OR
Asher, Andrew D., Duke, Lynda M. & Wilson, Suzanne (September 2013). Paths of discovery: comparing the search effectiveness of EBSCO Discovery Service, Summon, Google Scholar, and conventional library resources. College & Research Libraries, 74(5), 464-488.

Information Seekers and Information Use
Gathering information for use by library users is an important aspect of library work. However, how much of this information do library users actually read and apply? Does readability make a difference? According to Gray (2012, 202),
"it is no surprise that students select sources they can understand and are easily available on the Internet for their research projects. A brief analysis revealed that a majority of students chose brief (by word count) materials in a lower than college readability level and have less than 20% passive sentences... students have often expressed to librarians their frustrations with trying to understand the advanced sources and admitted to changing their topic so more easily understood sources could be used."
Read!
Read Gray, Catherine J. (2012). Readability: a factor in student research? The Reference Librarian, 53(2), 194-205.

Although information seekers are often able to locate information using tools like Google, they may not be able to deal with information overload. They may have difficulty evaluating and selecting quality information sources to match their needs.
"Today, users expect to find information on the web, but they are often confused by the many options confronting them. Even though they have developed relatively sophisticated web-searching skills, users may be unaware of relevant resources available and may be uncertain as to whether a specific resource is appropriate for their current need. Their access to value-added resources is often very limited if they do not use library portals. They must critically evaluate the information they find" (Anderson & Cvetkovic, 2015).
Developing Personas
Rather an using broad categories to pigeonhole information users, it can be useful to develop personas to help you visualize library clientele.
A persona is a fictional character invented to represent a particular type of user that might use information sources and services in a similar way (Lidwell, Holden & Butler, 2010). User personas may describe the goals and behaviors of a group of users based on real-world traits and characteristics. These personas can be used to help librarians as they anticipate user needs, develop subject guides, and market materials.
Lage, Loseoff and Maness (2011, 918) traced this history of personas.
"First suggested by Alan Cooper as a mechanism for product development, personas are fictionalized aggregates of actual potential users of a product. Personas provide anonymous findings that can be more broadly generalized. Even though they are fictitious, personas are intended to create personal empathy between a designer and the target user so the needs and goals of the user are holistically and continuously considered during the design process. The intent is that all design decisions, from content to functionality, are driven not by the convenience of the designer, but by those of the persona."

In the case of information sources and services, it's important that librarians help users address their questions and provide resources focused on the user needs rather than those materials that are simply preferred by the librarian. For instance, when building subject guides, it's important to include sources most likely to meet the needs of end users rather than those the simply appeal to the librarian.
Building Personas
Personas are often based on scholarly research or locally collected data about actual users. The result is a 1-2 page description that contains goals, needs, interests, and behaviors of this type of individual.
Try It!
Read The Cornell University Library Personas. Also, read Hathitrust Personas. Think about how personas could be used in information sources and services. What specific data would you want to collect from library users in terms of information seeking and behavior? How would this be useful in building personas?
For another example, go to Stanford University Library: Personas.
To learn more about personas, browse Volentine, Rachel; Whitson, Liz; & Tenopir, Carol (2013). Portraits of success: building personas from scholarly reading patterns. Qualitative and Quantitative Methods in Libraries (QQML), 1, 1-8.
For some fun ideas, go to Schmidt, Aaron (October 3, 2012). Persona guidance: the user experience. Library Journal.


According to Lage, Loseoff and Maness (2011, 919),
"Personas are created in many ways, but should always be driven by the data collected from from actual or potential users. One of the most common ways of collecting data is to interview many users and find shared design needs among them. Users with several mutual needs are then conflated into a single persona, and that persona is given a name, biographical information, a description of his or her intent in using the product, and often a facial image that can enhance empathy. There can be as many or as few personas as the interviews suggest, and specific demographics portrayed in the personas are not meant to represent the demographics of the interviewees."
Although longer descriptions are often very useful, some researchers prefer to use a matrix format with just a brief description of the individual representing a particular group. For instance, the matrix below was created as part of a study by Li-Ping Ku (2011, 83) focusing on the information habits related to Internet use. Ku (2011, 84) concludes that
"by creating and using personas, librarian and library staff can understand user groups' goals, tasks and their need. Based on survey results, four personas were created and were used in library to describe the users' behavior and characteristic".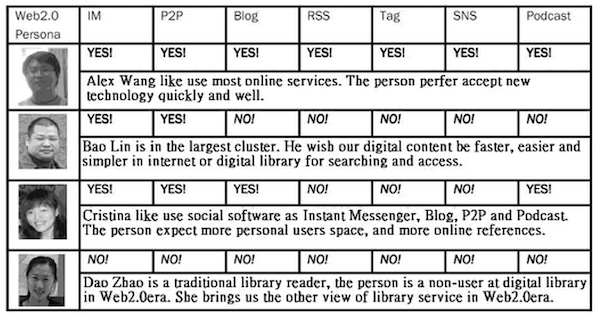 Read!
Read Ward, Jennifer L. (2010). Persona development and use, or, how to make imaginary people work for you. 2010 Library Assessment Conference.

Personas and Public Libraries
In some cases, public libraries are even using the "idea" of personas as a way to target subject guides and information sources. Library users pick a persona that matches their interests and explores associated resources.
Try It!
Do a Google Images search for persona examples to see lots of examples from field beyond librarianship.

Also check out Personas at Pinterest for lots of examples.
Information Seekers and Relationships with Librarians
"Reference librarians have a strong history of matching information to consumers' information needs. Information, however, is no longer location-dependent in today's networked society, and libraries now have many competitors willing and able to satisfy an individual's information needs (regardless of quality).

To remain competitive, reference librarians must focus on their strengths as advisors, helping consumers to understand the structure of information both within and outside of our library facilities, to make sense of the information found, and to use this information in the format (books, e-journals, microform, etc.) presented.

As library and information consultants, reference librarians are well-positioned to adapt to shifting consumer expectations and the changing information environment" (Murphy, 2011, viii).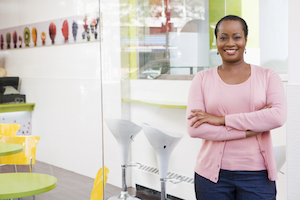 While your library may have high-quality, well-organized materials, they're unlikely to be used effectively unless librarians reach out to potential users. As information consultants, librarians must seek ways to attract new clients to their services and at the same time maintain existing customer relationships. To do this, librarians must understand the needs and behaviors of their customers. Then, provide services that address their information needs. Murphy (2011, 34) notes that
"if service does not meet a customer's expectations, the customer will seek viable alternatives to the same service. Thus the service provider must remain focused on the Voice of the Customer. The process for identifying the Voice of the Customer not only involves the gathering of data, but the translation of this data into actionable, measurable performance standards or specification that will satisfy the consumer's expressed need. The challenge for the library and information consultant is that customer expectations continuously change over time."
Increasingly, reference services are being conducted at a distance. Beth Thomsett-Scott (2013, 1) notes that
"gone are the days when patrons would dutifully visit library service desks in person and willingly attend every workshop and class instruction opportunity… we need to reach out to our users and provide web-based products and services that are findable and meet their needs. Rather than waiting for a user to ask a question, reference staff should provide help objects - such as class pages and subject guides - and services to assist users with locating answers to their questions without needing to contact a librarian."
Murphy (2011, 14) notes that in the
"Age of Google… Consumers will continue to seek libraries and the individuals work within them for reasoned advice on locating quality information both efficiently and effectively. The library and information consultant must proactively seek clients, rather than focusing almost exclusively on making information available in case it is needed in the future."
ALA's RUSA has developed a set of guidelines for virtual reference services. These can be useful as you're thinking about how to connect with your discipline-specific clients.
Read!
Read Guidelines for Implementing and Maintaining Virtual Reference Services from ALA's RUSA.

In order to assist library users, it's essential to understand their information needs and behavior. It's important to remember that most library users don't "think like librarians". In other words, they may approach information inquiry very differently than you do. There are also differences across disciplines.
Carol Kuhlthau's Information Search Process model provides important insights into how people seek out information. Her six-stage model traces the the experiences of common information users.
Read!
Read Kuhlthau, Carol Collier (2009). Information search process (ISP). Encyclopedia of Library and Information Sciences, 3rd Edition. Taylor and Francis.

When you think about information seeking activities, keep in mind the interplay between cognitive and affective factors. In other words, the thoughts, feeling, and mood of library clients impact their approach to information.
Skim...
You don't need to read it, just skim Savolainen, Reijo (2015). The interplay of affective and cognitive factors in information seeking and use: Comparing Kuhlthau's and Nahl's models. Journal of Documentation, 71(1), 175-197.

AND

Skim Pearson, Chad J. (2014). Customer types and the empathetic response. The Reference Librarian, 55(3), 256-261.

You and Your Services
Do your library users like you? Do they think that you empathize with their plight? These may seem like strange questions, but they're important. Chad Pearson (2015, 256) found that "librarians on the evening/night shift that have empathy and extend relationship-building to a variety of customer types will produce that most effective customer service."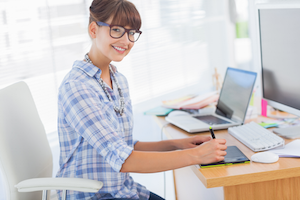 An important part of working with information seekers is reporting the results of your investigations. In some cases, you're working with a client face-to-face. However, increasingly you'll be sharing through virtual communication. Working with a library user provides an opportunity to inform, but also instruct. Think about ways that you can help users make use of the information sources you provide. Can you move them toward independent searching? However, keep in mind the needs and interests of your information seeker too.
Whether you're communicating live or through chat, email, or other electronic communication. It's important that your message is clear and professional. The NIH has produced Guidelines for Professional Emails. Use these as you design professional communications.
Try It!
Develop an authentic consultation query. Locate a variety of resources including at least one of each of the following (e.g., database, journal, etc.) that addresses the question(s) or issues of the query. Outline the recommended steps for the user including 3-5 sources, search strategy suggestions for at least one database, screenshots of sample searches, and at least one piece of instruction to help the client learn a skill.

Resources
Anderson, Katie Elson & Cvetkovic, Vibiana Bowman (2015). Reinventing Reference: How Libraries Deliver Value in the Age of Google. ALA Editions.
Aspray, William & Hayes, Barbara M. (2011). Everyday Information: The Evolution of Information Seeking in America. MIT Press. Available through IUPUI ebooks.
Cassell, Kay Ann & Hiremath, Uma (2012). Reference and Information Services: An Introduction (3rd Edition). Available through IUPUI.
Cahoy, Ellysa Stern (2011). Who are our users? Scanning the environment to detect trends. In D. Zabel, Reference Reborn: Breathing new Life into Public Services Librarianship. ABC-CLIO. Google Preview Available: https://books.google.com/books?id=ocUU2emLf0wC
Cordes, Sean (2014). Student perceptions of search tool usability. Internet Reference Services Quarterly, 19(1), 3-32.

Julien, Heidi, O'Brien, Michael (2014). Information behaviour research: where have we been and where are we going? Canadian Journal of Information and Library Science, 38(4), 239-250.
Ku, Li-Ping (2011). Creaing and using personas for library service in Web 2.0 era: a case study of the Chinese Academy of Sciences. In D. Gupta & R. Savard, Marketing Libraries in a Web 2.0 World.
Lage, Kathryn; Losoff, Barbara & Maness, Jack (2011). Receptivity in the library involvement in scientific data curation: a case sutdy at the University of Colorado Boulder. portal: Libraries and the Academy, 11(4), 915-937.
LiLi, Li (2014). Chandos Professional Series: Scholarly Information Discovery in the Networked Academic Learning Environment. Chandos Publishing. Available through IUPUI ebooks.
Murphy, Sarah Anne (2011). Librarian as Information Consultant: Transforming Reference for the Information Age. ALA. Available through IUPUI.
Purcell, Kristen, Brenner, Joanna & Rainie, Lee (2012). Search Engine Use 2012. PewInternet. Available: http://www.pewinternet.org/2012/03/09/search-engine-use-2012/
Reitz, Joan M. (2014). Online Dictionary for Library and Information Science. Libraries Unlimited. Available: http://www.abc-clio.com/ODLIS/odlis_a.aspx.
Thomsett-Scott, Beth C. (2013). Virtual reference services: considerations and technologies. In B.C. Thomsett-Scott (Ed.), LITA Guide: Implementing Virtual Reference Services. Available through IUPUI.
---