Science and Technology: Information Seekers

How many of the Ebola cases worldwide are in children?
What's the latest research on the use of solar cells to power automobiles?
What are the current regulations regarding new bridge construction on federal highways?
Science and technology information seekers come to the library with a wide range of needs and interests. Before providing assistance, it's essential to know the characteristics of library users and the implications for providing information sources and services. For instance in the hard sciences, Catalano (2013) found that scholars often rely on specialized journals and made use of electronic journals to meet their information needs.

Information Seekers
From a doctor seeking information about a surgical technique to a computer science major seeking web accessibility standards, the audience for science and technology information is vast and varied. The audience includes professionals, educators, students, hobbyists, and the general public. Each of these user groups has different information needs and distinct approaches to information seeking.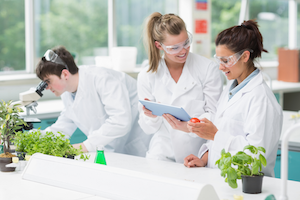 Read!
Figg, Bethany (2009). Healthcare workers' choices for medical literature. The Serials Librarian, 67(3), 248-259.

In order to help individuals find the information they need, librarians need to understand science and technology information seekers and their behavior.
Professionals
Science and technology is at the foundation of many professions. Many professionals need up-to-date information in their areas.
Read at least three of the following articles.

Ayatollahi, Haleh, Bath, Peter A. & Goodacre, Steve (2013). Information needs of clinicians and non-clinicans in the emergency department: a qualitative study. Health Information and Libraries Journal, 30, 191-200.


Clarke, Martina A., Belden, Jeffery L., Koopman, Richelle J., Steeage, Linsey M., Moore, Joi L., Canfield, Shannon M. & Kim, Min S. (2013). Information needs and information-seeking behaviour analysis of primary care physicians and nurses: a literature review. Health Information and Library Journal, 30, 178-190.

Fell, Dennis W., Burnham, Judy F. & Dockery, Jon M. (2012). Determining where physical therapists get information to support clinical practice decisions. Health Information and Libraries Journal, 30, 35-48.

Ford, Jennifer & Korjonen, Helena (2012). Information needs of public health practitioners: a review of the literature. Health Information and Libraries Journal, 29, 260-273.

Mortensen, Heidi J., Alexander, Jeffrey L., Nehrenz, Guy M. & Porter, Cynthia (2012). Infection control professionals' information-seeking preferences. Health Information and Libraries Journal, 30, 23-34.


Educators and Students
Students and educators are heavy users of science and technology information.
Faculty use information for both course development and scholarly research activities.
Read!
Read two of the following articles.

Foasberg, Nancy M. (September 2014). Student reading practices in print and electronic media. College & Research Libraries, 75(5), 705-723. Available: http://crl.acrl.org/content/75/5/705.full.pdf+html

OR
Scaramozzino, Jeanine Marie, Ramirez, Marisa L. & McGaughey, Karen J. (July 2012). A study of faculty data curation behaviors and attitudes at a teaching-centered university. College & Research Libraries, 73(4), 349-365. Available: http://crl.acrl.org/content/73/4/349.full.pdf+html

OR
Pinto, Maria & Fernadez-Ramos, Andres (April 201). Spanish faculty preferences and usage of library services in the field of science and technology. portal: Library and the Academy. 10(2), 215-239.

OR
Zhang, Yan (2014). Searching for specific health-related information in MedlinePlus; Behavioral patterns and user experience. Journal of the Association for Information Science and Technology, 65(1), 53-68.

Hobbyists
Hobbyists represent a wide range of interests and skill levels from beginners to accomplished information users.
General Public
From children to senior citizens, people of all ages and backgrounds seek science and technology information.
Read!
Lloyd, Annemaree, Bonner, Ann, Dawson-Rose, Carol (2014). The health information practices of people living with chronic health conditions: implications for health literacy. Journal of Librarianship and Information Science, 46(3), 207-216.

Information Seekers by Library Type
Different library types are likely to see different types of information seekers.
Academic Libraries
At the community college and university levels, information seekers include students and faculty. While students are likely to be seeking resources related to class assignments, they may also be conducting research related to potential internships, their personal interests, or projects related to their current or future career aspirations.
Faculty may be interested in information related to both course development as well as their research agenda. As researchers, they are often interested in the most up-to-date information on a topic and need a level of depth much deeper than student scholars.
While most institutions of higher education house their discipline collections in the main academic library, some universities have a separate library building.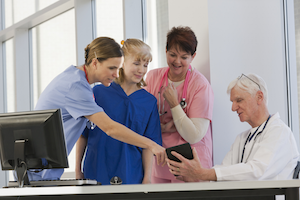 School Libraries
While a majority of school libraries will be faced with questions from students about classroom assignments, they may also address the after-school needs of youth.
Classroom teachers are also users of the school library. While they may be working on course development activities, many educators also use the library for professional development activities.
Public Libraries
Because the public library caters to a general audience, librarians are faced with a wide range of discipline-specific questions and problems.
Special Libraries
From pharmaceutical companies to technology firms, many large corporations house their own libraries. These libraries often specialize in information sources directly related to the needs of the professionals working within the organization.
Medical libraries are common in medical schools as well as hospital settings. These libraries may service patients and their families as well as healthcare professionals.
Read!
Read Spiegelman, Barbara & Carlson, Nancy Flury (2009). Corporate information centers. Encyclopedia of Library and Information Sciences, 3rd Edition. Taylor and Francis.

Embedding Librarians
Increasingly, information professionals are moving outside their libraries to meet their clients where they work and play. According to Carlson and Kneale (2011, 167),
"embedded librarianship takes a librarian out of the context of the traditional library and places him or her in an "on-site" setting or situation that enables close coordination and collaboration with researchers or teaching faculty.

The idea behind the embedded librarianship model is to enable librarians to demonstrate their expertise as information specialists and to apply this expertise in ways that will have a direct and deep impact on the research, teaching, or other work being done. Through embedded librarianship, librarians move from a supporting role into partnerships with their clientele, enabling librarians to develop stronger connections and relationships with those they serve."
Resources
Carlson, Jake & Kneale, Ruth (March 2011). Embedded librarianship in the research context: navigating new waters. College & Research Libraries News, 72(3), 167-170. Available: http://crln.acrl.org/content/72/3/167.full
Etches, Amanda (Fall 2013). Know thy users: user research techniques to build empathy and improve decision-making. Reference & User Services Quarterly, 53(1), 13-17.
---