Humanities: Research Guides to Pathfinders
Each of the disciplines within humanities has their own approach to research. As such, the subject guides and other research materials will each be slightly different depending on the area of emphasis.
While the visual arts contain lots of "how-to" tutorials and design resources, religious studies makes use of many primary sources documents and article critiques.
It's not possible to list every source in every discipline. This page provides the best starting points for this information in each area.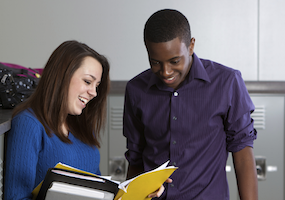 Humanities Research and Scholarship
The research process in humanities scholarship differs significantly from the sciences. According to Blazek and Aversa (2000, 3),
"humanistic research is differentiated most sharply from the in the natural sciences by the constant intrusion of question of value. To the scientist qua scientist, such considerations are, indeed, intrusions. They interfere with and damage the quality of research concerned with objective, empirically verifiable data and with experimental results that can be replicated by other researchers. 'Informed judgment' might play a part in determining which experiments to conduct, by 'refined sensibility' would have no impact on the experimental outcome. Yet these are the 'bread of life' for the humanistic scholar, whether dealing with a poem, a piece of music, a painting, a religious doctrine, or a philosophical theory. Thus, humanistic scholarship has traditionally been intimately intertwined with considerations of value."
This "value" element implicit in the humanities has consequences as it relates to the individualistic nature of humanities research.
"One consequence of this connection between scholarship and value systems is the peculiarly personal and individualistic nature of humanistic research. Unlike colleagues in the natural sciences, or even, to a lesser degree, in the social and behavioral sciences, the humanist finds the research to be such an intimately personal matter than it is more difficult than in other disciplines to function effectively as a team. The results of team effort, it is felt, are more likely to be compromise and mediocrity than a productive division of labor. Collaborative efforts are possible, but they require special planning and are not considered nearly as 'normal' as in the natural sciences.

On the other hand, it has also been suggested that it is not necessarily the content of the scholarship in the humanities that leads to independent and solitary work, but rather that it may be that there is something different about the training and education of humanistic scholars that leads to the lack of collaborative work" (Blazek & Aversa, 2000, 3).
Although this continues to be true in many situations, social media, ease of communication, and digital tools are making collaboration more feasible and palatable for many humanist researchers.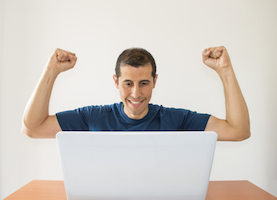 Because many humanists prefer to work alone, collaboration with librarians can be difficult. Blazek and Aversa (2000) note that humanities scholars prefer to read abstracts and browse entries on their own rather than relying on the selections of librarians. They state that "the interconnections within the researcher's mind appear to be so subtle or complex that it is necessary to examine personally the index entry or abstract to identify an item of potential relevance" (Blazek & Aversa, 2000, 3). However, librarians can be very helpful in providing finding aids and access tools to assist researchers in their work.
Unlike science scholars who may be seeking facts, data, or statistics, humanities scholars are often seeking answers that aren't easily identified. However, the recent emphasis on digital humanities is changing how humanities scholars view data. They may use technology tools to help them identify patterns in a work of literature. Analysis of this data may provide insights never before considered in the discipline.
Read!
Read Szabo, Victoria (Fall 2012). Transforming art history research with database analytics: visualizing art markets. Art Documentation, 31(2), 158-175.

Another different between the sciences and humanities is the the "question of progress. Blazek and Aversa (2000, 3) state that
"In the natural sciences, knowledge tends to be progressive or 'cumulative'. Each successive finding confirms, modified, or overturns some piece of existing knowledge... In humanities, no such 'progress' is observable... This is not to say that works based upon the same or similar themes do not appear and that patterns of influence are not clearly evident. What is not cumulative is our perception of beauty, our insight into the human condition, our understanding of how people act in terms of artistic creativity."
Librarians and Humanities Research
As you can see, working with humanities information seekers is a balancing act. Librarians must understand a user's need for independence and the opportunity for exploration. At the same time, they must also help the humanities explorer by facilitating access to useful information sources.
Seek ways to collaborate with humanities researchers.
Read!
Read Archer-Capuzzo, Sonia (2013). Field work and the music librarian: how music librarians can help researchers conduct high-quality fieldwork. Music Reference Services Quarterly, 16, 1-17.

It's important that librarians do their own research to discover and understand the needs of information seekers in the humanities. This research goes beyond counting citations and logging questions.
Read!
Read Jacobs, Heidi LM (2014). Counting what cannot by counted: bringing the humanities to ELIP. Evidence Based Library and Information Practice, 9(3).

Approaches to Inquiry and Research
Each discipline has its own approach to inquiry and research. Lonnqvist (2007) used David Ellis' model of scholars' information seeking to understand the habits of humanities scholars. He notes that
"information searching of humanistic researchers needs to be understood within the framework of the research process, and not as a phenomenon outside of it."
He conducted interviews with scholars in archaeology, art history, philosophy and languages and linguistic to examine this process. Lonnqvist noted distinct difference across disciplines as well as within the same discipline. When working with scholars it's important to understand their research process to meet their information needs.
Read!
Read Long, Matthew & Schonfeld, Roger C. (Fall 2014). Preparing for the future of research services for art history: recommendations from the Ithaca S+R report. Art Documentation, 33(2), 192-205. Think about how the research needs of art historians are alike and different from other humanities areas.

Doing a quick catalog search you can find research books and handbooks in most of the disciplines. For instance, Music Research: A Handbook (2009) by Lauri Sampsel is an example in the area of music research.
Although this course focuses on humanities information, keep in mind that many areas cross disciplines. Knowing how students and scholars conduct research is important when assisting these library users. Humanities scholars and practitioners may take very different approaches to the same area of research.

Read!
Read at least two of the following articles:

Brown, Christine D. (2002). Straddling the humanities and social sciences: The research process of music scholars. Library & Information Science Research, 24(1), 73-94.

Head, Alison J. (2008). Information literacy from the trenches: how do humanities and social science majors conduct academic research? College & Research Libraries, 69(5), 427-445.

Patelos, Effie (Spring 2013). Research intersections within practice: artists and librarians. Art Documentation, 32(1), 43-53.

Schryer, Catherine F. (2009). Genre theory and research. Encyclopedia of Library and Information Sciences, 3rd Edition. Taylor and Francis.

Starting Points and Subject Guides by Discipline
The resources below are organized by discipline. In some cases, books are recommended that include lists of information sources. Explore some of the following subject guides from LibGuides. These aren't the best or the worst. Instead, they're representative of recent guides. To do your own search, go to http://libguides.com/community.php
General Humanities
Books
Blazek, Ron & Aversa, Elizabeth Smith (2000). The Humanities: A Selective guide to Information Sources. Fifth Edition. Libraries Unlimited. Available through IUPUI.
Keeran, Peggy & Levine-Clark, Michael (2014). Research within the Disciplines: Foundations for Reference and Library Instruction. Rowman & Littlefield. Preview Available: https://books.google.com/books?id=jo5_AwAAQBAJ
Read!
Read Keeran, Peggy (2001). Humanities reference librarians in the electronic age: strategies for integrating traditional and on-line resources in an academic library. The Reference Librarian, 72, 123-136.

Digital Humanities
Books
Berry, David M. (2012). Understanding Digital Humanities. Palgrave MacMillan. Preview Available: https://books.google.com/books?id=tCB_aGKxOFgC
Burdick, Anne, Drucker, Johanna, Lunenfeld, Peter, Presner, Todd & Schnapp, Jeffrey (2012). Digital_Humanities. Available: http://mitpress.mit.edu/sites/default/files/9780262018470_Open_Access_Edition.pdf
Gold, Mathew K. (2012). Debates in the Digital Humanities. University of Minnesota Press. Preview Available: https://books.google.com/books?id=_6mo2tApzQQC
LibGuides
Arts and Design
Try It!
Read Kam, D. Vanessa (Spring 2014). The tenacious book, part 1: the curious state of art and architecture library collections in a digital era. Art Documentation, 33(1), 2-17.

Think about some of the obstacles to accessing art and architecture information in the digital era.
Languages
Linguistics
Books
DeMiller, Anna L. (2000). Linguistics: A Guide to the Reference Literature. Libraries Unlimited.
Grossman, Edith. (2010). Why Translation Matters. Yale University Press. Preview Available: https://books.google.com/books?id=0sVvV-qf08gC
LibGuides
Try It!
Read Oard, Douglas W. (2009). Multilingual information access. Encyclopedia of Library and Information Sciences, 3rd Edition. Taylor and Francis.

Think about the major obstacles to information access across languages.
Literature
Books
LibGuides
Music
Research guides in music tend to be divided into three categories: the music itself, the literature about music, and recordings of music.
Books
Bayne, Pauline Shaw (2008). A Guide to Library Research in Music. Scarecrow Press. Preview Available: https://books.google.com/books?id=xP7_Q0MbqPMC
Crabtree, Phillip D., Foster, Donald H., & Allen, Scott (2005). Sourcebook for Research in Music. 2nd Edition. Indiana University Press. Available through IUPUI.
Gottlieb, Jane (2009). Music Library and Research Skills. Pearson Prentice Hall.
Green, Alan & Duffy, Michael (2013). MLA Basic Manual Series: Volume BM8: Basic Music Reference. A-R Editions. Available through IUPUI.
Sampsel, Lauri (2009). Music Research: A Handbook. Oxford University Press.
LibGuides
Try It!
Read Lemstrom, Kjell & Tzanetakis, George (2009). Music information retrieval. Encyclopedia of Library and Information Sciences, 3rd Edition. Taylor and Francis.

AND
Read Belford, Rebecca, Snyder, Tracey, & Randall, Kevin M. (2014). Discovering music: small-scale, web-scale, facets, and beyond. The Serials Librarian, 66(1-4), 174-181.


Think about some of the obstacles to accessing music information.
Philosophy
Try It!
Read Furner, Jonathan (2009). Philosophy and the information sciences. Encyclopedia of Library and Information Sciences, 3rd Edition. Taylor and Francis.

Think about some of the issues associated with the study of information sources related to philosophy.
Religious Studies and Theology
Performing Arts
Try It!
Choose one of the disciplines above and browse the suggested LibGuides. Share your three favorites including the name and URL.
Subject Guides by Library Type
Below are LibGuides from the general area of humanities. These aren't the best or the worst. Instead, they're representative of recent guides. To do your own search, go to http://libguides.com/community.php and select the library type of your choice.
Academic Library
Special Library
Try It!
In many cases, academic librarians are responsible for many areas within the humanities. In other cases, they focus on a particular area such as art or music. Examine a few of the examples above. Notice the names associated with the LibGuides.
Pathfinders in the Real World
As you browse the thousands of subject guides available, think about how they might be used in the "real world".
Read!
Read Harrington, Sara (July 1, 2007). Libraries as laboratory: online pathfinders and the humanities graduate student. Public Services Quarterly, 3(3/4), 37-52.

As you begin exploring resources associated with humanities, keep in mind that each sub-discipline has its own unique problems and issues when it comes to locating and using information sources.
Read!
Read one of the following articles:

King, Lindsay & Clement, Russell T. (Spring 2012). Style and substance: fashion in twenty-first-century research libraries. Art Documentation, 31(1), 93-107.

OR
Elliott, Erin (2011). Art law research resources: an introduction. Art Documentation, 30(2), 80-88.

OR
Pierry, Michael (2013). The LCC number of the beast: a guide to metal music and resources for librarians. Music Reference Services Quarterly, 16, 141-159.


Try It!
Keep in mind that some databases provide excellent subject guides focusing on their own resources. Explore Oxford Art Online. Available through IUPUI. Be sure to explore the Subject Guides. Notice that these guides incorporate esays, images, and article links. Also examine the ArtStor Subject Guides.
Resources
Bayne, Pauline Shaw (2008). A Guide to Library Research in Music. Scarecrow Press. Preview Available: https://books.google.com/books?id=xP7_Q0MbqPMC
Lonnqvist, Harriet (2007). The research processes of humanities scholars. In, D. Williams & J. Golden, Advances in Library Administration and Organization, 25, 175-202. Emerald Group Publishing Limited.
---