Reference Sources

To read the transcript of this video, go to Transcripts.
From dictionaries and encyclopedias to almanacs and atlases, there are endless information sources in each discipline. General reference works cross disciplines and provide a good starting point for research. However, subject-area reference sources provide more focused information within a discipline. Regardless of the reference source, the key is matching the user need with useful information.
Keep in mind that reference sources are increasingly available online through open access and subscription-based databases.
While the electronic interface allows materials to easily be updated, watch copyright dates carefully. Sometimes companies upload reference books with old copyright dates, but assign them a date that reflects when they were uploaded.
You should already be familiar with the major ready reference sources from your s501: Information Sources and Services course. You may wish to review Chapter 6 of Reference and Information Services: An Introduction by Cassell and Hiremath (2012).
Read!
Mann, Thomas (2009). Reference and informational genres. Encyclopedia of Library and Information Sciences, 3rd Edition. Taylor and Francis. This article provides an excellent introduction to the wide range of reference and informational genres.

Review!
Review Smith, Linda C. (2009). Reference services. Encyclopedia of Library and Information Sciences, 3rd Edition. Taylor and Francis. This chapter provides a nice review of reference work.

Categories of Creative and Critical Works
This semester we'll be discussing a wide range of creative and critical works. When working with library users, it's important to consider what types of information sources the client is seeking: primary, secondary, or tertiary.
Primary Sources
Many government documents and works of grey literature are primary sources. Primary sources include creative works such as artwork, music, or manuscripts. They also include accounts of historical events such as diaries, journals, logs, letters, interviews, and eyewitness accounts.
Articles that are contemporary with an event such as political campaign posters and buttons are also in this category. Music tickets and programs would be primary source materials too. Beyond the print media, items captured through photography, sound recording, video recording, transcriptions and other methods may also be primary source materials.
According to Reitz (2014), in scholarship, a primary source is
"a document or record containing firsthand information or original data on a topic, used in preparing a derivative work. Primary sources include original manuscripts, periodical articles reporting original research or thought, diaries, memoirs, letters, journals, photographs, drawings, posters, film footage, sheet music, songs, interviews, government documents, public records, eyewitness accounts, newspaper clippings, etc."

Secondary Sources
Many books and periodicals are secondary sources. According to Reitz (2014), a secondary source is
"any published or unpublished work that is one step removed from the original source, usually describing, summarizing, analyzing, evaluating, derived from, or based on primary source materials, for example, a review, critical analysis, second-person account, or biographical or historical study. Also refers to material other than primary sources used in the preparation of a written work."
Tertiary Sources
Reference sources are generally tertiary sources. According to Reitz (2014), a tertiary source is
"a written work, such as a chapter in a textbook or entry in a reference book, based entirely on secondary sources, rather than on original research involving primary documents. Whether a source is secondary or tertiary can be determined by examining the bibliography (if one is provided). Another clue is that secondary sources are almost always written by experts, but tertiary sources may be written by staff writers who have an interest in the topic but are not scholars on the subject."
Keep in mind that not all reference questions can be addressed with tertiary sources. Sometimes, original data sets or primary source documents are used to address user questions.
Try It!
Explore Sources of Creative Work.
Think about examples of primary, secondary, and tertiary sources.
Reference Databases
Increasingly, reference sources are moving online and can be found as part of databases.
A database is a
"large, regularly updated file of digitized information (bibliographic records, abstracts, full-text documents, directory entries, images, statistics, etc.) related to a specific subject or field, consisting of records of uniform format organized for ease and speed of search and retrieval and managed with the aid of database management system (DBMS) software" (Reitz, 2014).
Reference databases contain background and general information about topics through providing access to a wide range of reference books and other electronic materials. Three popular, subscription databases for reference work.
Try It!
Go to Credo Reference available through IUPUI. This resource contains over 3 million full-text entries from over 700 reference books across subject areas.

Go to the Topics section and explore an area related to your course.
Browse the Tools section exploring different ways to search.
Notice how the entries are organized and where you can go for further information.
This resource is a great way to jumpstart a student research project by providing background information on a wide range of topics.

The Gale Virtual Reference Library is another good choice for those seeking both general and subject-matter reference resources. For those with Spanish-speaking users, try Informe Academico from Gale. Available through IUPUI.
Try It!
Go to the Gale Virtual Reference Library available through IUPUI. Explore the subject area for your course. Compare the layout of the website and the resources provided to with Credo Reference.
Oxford Reference Online is another well-respected reference database.
Try It!
Go to Oxford Reference Online available through IUPUI.
Users can explore by subject or reference type.
Again, do a comparison with the other databases on the same topic.

ARBAonline (American Reference Books Annual) is comprehensive and authoritative database reviewing print and electronic reference works across disciplines including encyclopedia, dictionaries, handbooks, guidebooks, directories, indexes, almanacs, yearbooks, atlases and more. This subscription-based tool is a valuable resource for locating reference sources. Keep in mind that it doesn't provide access the resources themselves, just a citation, summary, and review.
Try It!
Go to the American Reference Books Annual and click on the link at the bottom of the page. This database is available directly through IUPUI. Or, try the 30 Day Trial.
The Reference and User Services Association (RUSA) provides lists of quality reference resources.
Try It!
Browse the list of Outstanding References Sources from RUSA. Check out the 2018 winners.
Pick one in your interest area to explore.
To learn more, go to Editor's Guide: General Reference Work by Charlotte Ford and Jo Bell Whitlatch. This page contains an overview of reference works.

Search Engines as a Starting Point
Keep in mind that simple questions may be addressed by searching Google or other search engines for an information sources. However, be sure to consider the quality of the reference source located.
Google Images can be very useful in identifying images. Simply drag the image into the Google Images search and it will show where the image can be found on the web and it's best guess at identification.
Identifying people using Google Images is particularly tricky. If you enter your name, you might find dozens of photographs of other people. If you drag in a photo, you may end up with a reenactor rather than the historical figure. Be sure to go to the website containing to image and verify the image.
Scenario Stumper
I'm headed to a professional conference and I'd like to know what the president of the organization looks like. I have her name, but that's it.
Try Google Images. Enter the name to locate possible images. If too many are returned, add the name of the organization.
The Bottom Line... The person comes up along with their position in the organization.
Ready Reference Sources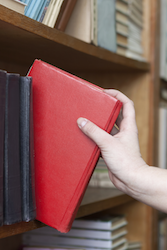 Ready reference sources are used to provide quick access to accurate factual information. Categories include almanacs, chronologies, directories, fact sheets, guides, handbooks, and yearbooks.
These books often answer who, what, where, when, which, and how questions.
As tertiary resources, specialized dictionaries, encyclopedias, and many other reference sources provide summarizes of information from a particular discipline.
While you may not find in-depth information, you will be able to locate summarizes of specialized articles or books. Use the citations provided in these summarizes to locate the original information source.
According to the Online Dictionary for Library and Information Science (Reitz, 2014), a reference book is "a book designed to be consulted when authoritative information is needed, rather than read cover to cover."
Almanacs and Factbooks
An almanac is an annual publication of facts and statistics. Weather forecasts, tide tables, astronomical data, and farmer's planting dates are often included along with other information.
According to (Reitz, 2014), an almanac is a book
"listing the days, weeks, and months of the year and providing information about festivals, holidays, astronomical phenomena, etc. In modern usage, an annual compendium of practical dates, facts, and statistics, current and/or retrospective, often arranged in tables to facilitate comparison."
Almanacs address a wide range of ready reference questions. They are concise guides structured for quick access.

Almanac Examples
Atlas and Maps
An atlas is a collection of maps based on a particular topic of theme.
According to (Reitz, 2014), an atlas is
"a bound or boxed collection of maps, usually related in subject or theme, with an index of place names (gazetteer) usually printed at the end... The term was also used in the wider sense of a collection of maps with illustrations of topographical features, portraits, and pictures of plants and animals, mythological scenes, historical events, etc... In most modern atlases, the maps are printed in uniform style and format, on a fairly consistent scale. An atlas may be issued as an independent publication or as accompanying material, with or without descriptive text, plates, charts, tables, etc.
ALA's Map & Geospatial Information Round Table (MAGIRT) "leads and inspires information professionals at all levels of expertise in their work with map and geospatial information resources, collections and technologies in all formats, through community, education and advocacy."
Try It!
Interest in map librarianship? Explore Basic Map Librarianship. Then, visit the MAGIRT LibGuides website and explore resources related to maps and geospatial studies.
Atlas and Map Examples
Digital Sanborn Maps (1867-1970) from ProQuest. Available through IUPUI.
DK

DK Great World Atlas

DK Traveler's Atlas


Hammond World Atlas

HarperCollins New World Atlas

Oxford


Oxford's Atlas of the World
Oxford's Atlas of the United States

Oxford Comprehensive Atlas of the World

Rand McNally Road Atlas

Times

Times Comprehensive Atlas of the World

Times Concise Atlas of the World

Open Access Map Tools
Biographical Sources
Biographical information is requested across subject areas. Online tools such as Biography Resource Center has made access to biographical information easy. Unfortunately, many users searching Google miss excellent subscription-based resources.
According to (Reitz, 2014), a biography is
"A carefully researched, relatively full narrative account of the life of a specific person or closely related group of people, written by another. The biographer selects the most interesting and important events with the intention of elucidating the character and personality of the biographee and placing the subject's life in social, cultural, and historical context. An authorized biography, written with the consent and sometimes the cooperation of its subject, may be less critical than an unauthorized biography."
A few reference databases are a good place to start your biography search:
EBSCO
Biography Reference Bank. Available through IUPUI.

Biography Source. Available through IUPUI.

Gale
Biography & Genealogy Master Index. Available through IUPUI.
Gale Biography In Context. Available through IUPUI and IUPUI.
ProQuest
African American Biographical Database
Literature Online (LION)
ProQuest Obituaries

Other Subscription-based Databases
Biographical Examples
American's Obituaries and Death Notices
Appleton's Cyclopaedia of American Biography, 1898 (Google Books, HathiTrust)

Dictionary of American Biography

Dictionary of American Scholars (contains sections on disciplines)
Biography Today

Cambridge Dictionary of American Biography

Cambridge Encyclopedia of Database

Chambers Biographical Dictionary

Current Biography
Encyclopedia of World Biography

Eric Weisstein's World of Biography
Marquis Who's Who on the Web

Merriam-Webster's Biographical Dictionary

National Cyclopedia of American Biography

Newsmakers: The People Behind Today 's Headlines

Notable American Women

obituaries.com

Scribner Encyclopedia of American Lives

The New York Times Obituaries Index

Who 's Who series

Who2? who2.com

World Biographical Information System
Read!
Read Soules, Aline (2012). Where's the bio? databases, wikipedia, and the web. New Library World, 113(1-2), 77-89.

Try It!
Compare three sources for identifying information about a person.


Catalog
A catalog (catalogue) is a list of the contents (i.e., books, musical compositions, artwork or other items of a collection. It may be organized by creator, theme, subject, or some other way.
Dictionaries and other Word and Phrase Sources
Word sources provide information about words.
A dictionary is a reference work listing words in alphabetical order. Dictionaries list words along with their meanings, usage, and other information. Dictionaries are used when the definition of a word is required or information about a word such as its origin.
The entries in a dictionary are shorter than an encyclopedia. Subject dictionaries focus on the vocabulary of particular subjects. Like other reference materials, they are increasingly available in electronic form.
Dictionaries are often divided into unabridged and abridged versions. An unabridged dictionary is broad, deep, and inclusive. Subject dictionaries are found in most disciplines. They provide more depth in definitions. A pocket dictionary includes 30,000-50,000 words in a compact format.
According to (Reitz, 2014), a dictionary is
"a single-volume or multivolume reference work containing brief explanatory entries for terms and topics related to a specific subject or field of inquiry, usually arranged alphabetically. The entries in a dictionary are usually shorter than those contained in an encyclopedia on the same subject, but the word "dictionary" is often used in the titles of works that should more appropriately be called encyclopedias.

A language dictionary lists the words of a language in alphabetical order, giving orthography, syllabication, pronunciation, etymology, definition, and standard usage. Some dictionaries also include synonyms, antonyms, and brief biographical and gazetteer information.

In an unabridged dictionary, an attempt is made to be comprehensive in the number of terms included. An abridged dictionary provides a more limited selection of words and usually less information in each entry."
Some dictionaries have more detailed information such as synonyms, antonyms, slang, and etymology. Thesauri assist users in finding the right word for a particular purpose. Each word is matched with related synonyms and antonyms.
Style and usage manuals help users identify the correct way to use words, phrases, and sentences. They may also provide citation guidance.
Keep in mind that some authors have called their works "dictionary" even though they may not have all the characteristics typical of dictionaries. In some cases, they may actually be encyclopedia or handbooks.
According to (Reitz, 2014), a glossary is
"an alphabetically arranged list of the specialized vocabulary of a given subject or field of study, with brief definitions, often appearing at the end of a book or at the beginning of a long entry in a technical reference work. Long glossaries may be separately published. Glossaries are also available online."
You should already be familiar with dictionaries, concordances, and manuals from your s501: Information Sources and Services course. You may wish to review Chapter 7 of Reference and Information Services: An Introduction by Cassell and Hiremath (2012).
Increasingly, online dictionaries and other reference tools are available for free with advertising.
Try It!
Go to Abbreviations.com and search for information based on your subject-matter area. The ads are annoying, but the tool is pretty comprehensive. The social media aspect adds another dimension. Think about how this reference source could be used to answer questions:
Humanities: Architecture, International, Music, Performing Arts, Religion
Social Science: Archaeology, Law, Psychology, Regional, Sociology
Science and Technology: Computing, Medical, Science
Business
Compare this website with AcronymFinder.
Now, compare these websites to a traditional paper or electronic book on abbreviations or acronyms. What are the advantages and disadvantages to using each of these online tools?
Dictionary Examples
Bartlett's Familiar Quotations

Acronyms, Initialisms, and Abbreviations Dictionary

American Heritage Dictionary of the English Language

Forvo (online dictionary with audio pronunciations)
Green's Dictionary of Slang

Oxford


New Oxford American Dictionary
Oxford American Writer' Thesaurus

Oxford English Dictionary through IUPUI
Oxford Dictionary of Modern Quotations

Oxford Dictionary of Phrase Sayings and Quotations


Random House

Random House Webster 's Rhyming Dictionary

Random House Webster 's Unabridged Dictionary

Roget's International Thesaurus

Webster's Third New International Dictionary, Unabridged
Ultimate Visual Dictionary
The Yale Book of Quotations
Try It!
Go to Oxford English Dictionary through IUPUI. Compare this subscription-based dictionary to the free ones you find online such as YourDictionary.com. How do they compare?


Try It!
Go to Visuwords and Visual Thesaurus. How well do these visual tools work for subject-specific terms?



Directory
Who is the president of X?
Where is the headquarters of Y?
What's the name of Z?
Directories provide access to contact information about individuals, businesses, organizations, and agencies. They normally contain addresses, officers, missions, activities, and other information.
Directories answer questions related to "who". Although paper directories still exist, they are increasingly being accessed online.
According to (Reitz, 2014), a directory is
"a list of people, companies, institutions, organizations, etc., in alphabetical or classified order, providing contact information (names, addresses, phone/fax numbers, etc.) and other pertinent details (affiliations, conferences, publications, membership, etc.) in brief format, often published serially. In most libraries, current directories are shelved in ready reference or in the reference stacks. An Internet directory is an online service that indexes publicly accessible Web sites and other Internet resources, usually by subject according to a hierarchical classification system.
Directories often provide information along with contact information. For instance, funding sources along with how to apply.
Community of Science (CoS) Pivot. A comprehensive world-wide database of funding opportunities, field experts, collaborators, and promote your research. This is a service that can be used across disciplines to seek project funding. Available through IUPUI.
Foundation Directory Online. Developed by the Foundation Center, a nonprofit organization with 50 years of experience connecting grantseekers and grantmakers, Foundation Directory Online is the nation's leading online resource for funding research. Available through IUPUI.
GuideStar. Provide a comprehensive data on more than 1.5 million nonprofit organizations, connecting them with donors, foundations, businesses, and governing agencies in a nationwide community of giving.
Directory Examples
Ayer Directory of Publications

Books in Print

Encyclopedia of Associations from Gale. Available through IUPUI.

The Europa World of Learning

Gale Directory Library

Gale Directory of Publications and Broadcast Media
Washington Information Directory
Online Directory Examples
AnyWho

SuperPages

Switchboard

Who's Who in America
Who's Who in the World
Specialized Directories
Try It!
Go to Gale Directory Library available through IUPUI. This valuable resource for locating a wide range of organizations and agencies. Do a search for an association related to one of your subject area disciplines. If you don't know the name, don't worry. Just search for the discipline and up with pop the association. This online tool searches many different encyclopedia and directories. This is also a good way to locate publications within a discipline.
Encyclopedia
Most of us remember growing up with World Book encyclopedia. However today's youth are more likely to use online encyclopedia including World Book online and Wikipedia than a print encyclopedia.
A encyclopedia is a compendium holding a summary of information in all branches of knowledge or a specific branch such as science. Generally encyclopedia are divided into short articles arranged in alphabetical order by article title. An encyclopedia summarizes basic knowledge related to a topic. It's an effective place to start for background information on a new topic.
According to (Reitz, 2014), an encyclopedia is
"a book or numbered set of books containing authoritative summary information about a variety of topics in the form of short essays, usually arranged alphabetically by headword or classified in some manner. An entry may be signed or unsigned, with or without illustration or a list of references for further reading. Headwords and text are usually revised periodically for publication in a new edition. In a multivolume encyclopedia, any indexes are usually located at the end of the last volume. Encyclopedias may be general or specialized, usually by subject or discipline. In electronic publishing, encyclopedias were one of the first formats to include multimedia and interactive elements."
Discipline specific encyclopedia continue to be produced on paper. However they are rapidly being replaced by e-book versions that are more easily accessible. Unfortunately, these encyclopedia are often buried deep in subscription databases. It's important that direct links are provided for easier access to these resources. One advantage of this approach is ease of searching and cross-referencing.
The Encyclopedia of Associations is an example of a valuable tools that can easily be buried. According to (Reitz, 2014), The Encyclopedia of Associations is
"an annual reference serial published by Gale providing detailed directory information on over 22,000 nonprofit American membership organizations of national scope. Each entry typically includes the organization's official name, address, and phone/fax numbers; the primary official's name and title; founding date, purpose, and activities; size of membership and dues; national and international conferences; and publications. Each edition includes an alphabetically arranged name index and keyword index and a separate volume containing geographic and executive indexes. Companion volumes are available from the same publisher for international organizations and regional, state, and local organizations."
Wikipedia is a commonly used example of a general encyclopedia. When searching Google, it's often the first item on the list. The collaborative nature of Wikipedia keeps it fairly accurate, but it's best to use it as a starting point only. Information should be checked using the resources provided as well as other resources.
Read!
Read Snyder, Johnny (2013). Wikipedia: Librarians' perspectives on its use as a reference source. Reference & User Services Quarterly, 53(2), 155-163.

Although the age of the print encyclopedia is over, both subscription-based and open source electronic encyclopedia are increasingly common.
You should already be familiar with encyclopedia from your s501: Information Sources and Services course. You may wish to review Chapter 5 of Reference and Information Services: An Introduction by Cassell and Hiremath (2012).
Specialized encyclopedia are important reference tools in many subject-areas. They are a comprehensive source that provides easy access to information. Subject encyclopedia provide in-depth information. This information may be related to a single topic. Or, multiple topics may be covered within a discipline. Many companies such as SAGE Knowledge provide subject-matter encyclopedia. Check out IUPUI's selections at SAGE Knowledge.
Encyclopedia Publishers
ABC-CLIO

Berkshire Publishing Group

Facts on File

Gale Cengage Learning

Garland Science and Routledge Reference (Taylor and Francis)

Oxford University Press

Scribner's (Thomson Gale)
General Encyclopedia Examples
Try It!
Select a person well-known in humanities (e.g., art, music, religion, philosophy, performing arts). Go to Wikipedia and a subject-specific bibliographic reference you find through IUPUI. Compare and contrast the results from these three sources. Which is most comprehensive? Are there discrepancies? Are references or external links provided? How does the structure of the articles compare? Are there illustrations? What are your conclusions?

Essays and Speeches
An essay is a short literary composition reflecting an author's viewpoint. Generally, essays focus on a particular theme. They are often published in books as a collection.
Gazetteers
Gazetteers are information sources focusing on geographic places and features. While the often contain maps, they may also include directories and lists of places.
Gazetteer Examples
Guidebook
A guidebook contains useful information for travelers to particular a geographic area such as cities, states, or countries. It often contains information about itinerary, lodging, restaurants, museums, historical sites, and other information useful to visitors.
Guidebook Examples
Baedeker Guides

Forbes Travel Guides

Fodor's Travel Guides

Michelin Green Guides
Lonely Planet
Moon Handbooks

Rough Guides

Handbooks, Guides, and Manuals
A handbook is a reference book containing factual information on a specific subject. These compact books are intended to provide quick access to information and are sometimes produced in a series. Ready-reference handbooks are sometimes called pocket reference books because of their small size. Handbooks are popular in scientific fields such as medicine. They are also common in language learning such as books that provide citation guidelines like the MLA Handbook.
Not all handbooks are small in size. For instance, many engineering and science handbooks are large volumes that provide quick reference to a variety of data and topics.
Handbooks are generally arranged by topic rather than alphabetically.
According to (Reitz, 2014), a handbook is
"a single-volume reference book of compact size that provides concise factual information on a specific subject, organized systematically for quick and easy access. Statistical information is often published in handbook form. Some handbooks are published serially."
How-to books provide useful information on accomplishing a task including step-by-step instructions. How-to books can be found across subject areas from medicine and theology to engineering and psychology. More than many other books, they are designed to actively involve readers by asking users to take action.
A manual is a book providing practical rules, steps, and instructions for performing a task or using a piece of equipment. Often produced by government agencies or companies that produce objects, these compact sized books may be pamphlet sized or large volumes.
The United States military is known for their field manuals. These works often have detailed illustrations to identify parts of objects. To see many examples, go to Archive.org and do a search for military manual.
According to (Reitz, 2014), a manual is
"a book of compact size, especially one describing in considerable detail the government of a state or the structure and functions of a government agency. Also refers to a book or pamphlet containing practical instructions, rules, or steps for performing a task or operation, assembling a manufactured object, or using a system or piece of equipment."
Reports and guides are published for consumers seeking information.
Handbook and Manual Examples

Famous First Facts

Notable Last Facts

Handbook to Literature

Emily Post's Etiquette

Peterson's Guide

Robert's Rule of Order
Emily Post's Etiquette
Purdue's OWL Online Writing Lab does a nice job reviewing the key formats.
To explore some examples, go to the SAGE Knowledge Handbook series available through IUPUI.
Textbook
A textbook is a book designed specifically for use by students in learning. Sometimes called coursebooks, they are designed for use in a specific course of study. Workbooks, lab manuals, and instructor manuals are often published in conjunction with a textbook.
Yearbook
A yearbook is an annual compendium of information related to a particular country, institution, or subject. Often containing facts, photographs, statistics, and other information, yearbooks are often documentary or memorial in nature. Thousands of examples can be found at archive.org.
According to (Reitz, 2014), a yearbook is
"an annual documentary, historical, or memorial compendium of facts, photographs, statistics, etc., about the events of the preceding year, often limited to a specific country, institution, discipline, or subject. Optional yearbooks are offered by some publishers of general encyclopedias. Most libraries place yearbooks on continuation order and shelve them in the reference collection. Yearbooks of historical significance may be stored in archives or special collections."


Resources
Cassell, Kay Ann & Hiremath, Uma (2012). Reference and Information Services: An Introduction (3rd Edition). Available through IUPUI.
Reitz, Joan M. (2014). Online Dictionary for Library and Information Science. Libraries Unlimited. Available: http://www.abc-clio.com/ODLIS/odlis_a.aspx.
---