Books & Ebooks and the Library Catalog

To read the transcript of this video, go to Transcripts.
Books continue be important tools in library research activities. However the introduction of electronic books have begun to change how people access information.
Types of Books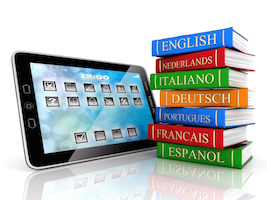 A book is a published collection of connected pages or screens. It may be written, illustrated, printed, or contain blank sheets. Although it may be made of ink on paper fastened together in a binding, it may a digital representation of pages on a screen.
A monograph is a focused scholarly work usually exploring a topic in-depth. They are a book written by one author on a single topic and normally published a "book".
A monograph series is a set of numbered monographs with a common theme or topic. The monographs share a common series title.
A anthology or collected work is a book containing chapters, essays, or other works written by various authors with a shared theme or topic. However, the chapters often represent different perspectives. The entries are compiled and edited by an editor(s).
A conference proceedings book is a published record of the full-text of papers from a conference.
Electronic Books
Today, books are being produced in the electronic book or e-book format as well as on paper. The advantage of this approach is easy access, anytime and anywhere. On the other hand, the logistics of providing access through libraries can be a challenge.
Read!
Read Walters, William H. (April 2013). E-books in academic libraries: challenges for acquisition and collection management. portal: Libraries and the Academy, 13(2), 187-211.

Although electronic books are gaining in popularity, print books continue to be used.
Read!
Read two of the following articles.

Goodwin, Cathy (2014). The e-Duke scholarly collection: e-book v. print use. Collection Building, 33(4), 101-105.

OR
Lamothe, Alain R. (January 2013). Lamothe, Alain R. (January 2013). Factors influencing the usage of an electronic book collection: size of the e-book collection, the student population, and the faculty population. College & Research Libraries, 74(1), 39-59.

OR
Zhang, Yin & Kudva, Sonali (2014). E-books versus print books: Readers' choices and preferences across contexts. Journal of the Association for Information Science and Technology, 65(8), 1695-1706.


Subscription Ebook Database Collections
Many libraries subscribe to ebook collections. Companies like Overdrive specialize in providing ebooks to libraries. In most cases, both a website and app interface is available for downloading books.
Try It!
Go to Overdrive and explore their nonfiction titles. You need an account at a library to download ebooks, but you can browse the half-million books for free. Choose PUBLISHER from the right navigation bar and find a publisher in your discipline of interest.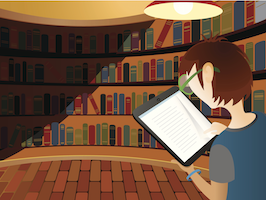 Many well-known database companies also have electronic book collections. Some examples include:
Try It!
The IUPUI Library provides an interface for conducting an e-book search. It's also possible to browse for ebooks. Use the BROWSE E-BOOKS BY SUBJECT option and do some exploring.

Identify two books on on the same topic from different subscription-based ebook databases. Compare the interfaces and options for searching, downloading, and ebook reading. Be sure to share the names of the databases and titles of the books.
Open Access Collections
The following sources contain electronic books.
Sources of Free Audiobooks
Library Catalogs
Most librarians maintain free access online catalogs. These are searchable databases of all the items in a particular library.
According to (Reitz, 2014), a catalog is
"a comprehensive list of the books, periodicals, maps, and other materials in a given collection, arranged in systematic order to facilitate retrieval (usually alphabetically by author, title, and/or subject). In most modern libraries, the card catalog has been converted to machine-readable bibliographic records and is available online."
Beyond your own catalog, remember to seek out other library catalogs.
National and Well-known Libraries
Try It!
Compare one of these national or well-known library catalogs with your local school, public, academic, or subject library catalog.
Searching the Library Catalog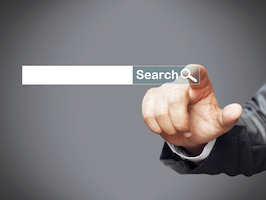 Consider whether or not controlled vocabulary systems might be useful such as Library of Congress subject headings.
When search for primary sources, use some of the following search terms:
catalogs
correspondence
diaries
interviews
personal narratives
sources
When searching for secondary sources, use some of the following search terms:
adaptations
book reviews
criticism
history
philosophy
reviews
When searching for people, use some of the following search terms:
censorship
characters
contributions in
criticism
influence
interpretation
knowledge
themes
views
When searching for interdisciplinary aspects, use some of the following search terms:
TOPIC in art
TOPIC in drama
TOPIC in economics
TOPIC in fiction
TOPIC in film
TOPIC in literature
TOPIC in music
TOPIC in politics
TOPIC in religion
TOPIC in society
Book Issues
What's the future of book? Do we need books?
Level of Depth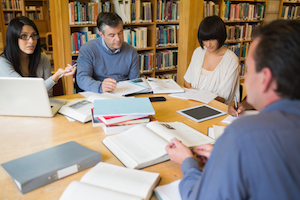 With Wikipedia just a click away, do we really need books? Yes!
The level of depth available in a 500 page monograph can't compare to a short Wikipedia article or even the article with the citations and external links. While many everyday questions can be answered using encyclopedia entries, a book is much more effective for scholarly activities that require breadth and depth.
Of course, the currency of information can be a problem in some disciplines. Like peer-reviewed journals, books published through traditional publishing houses can go through a lengthy editing process. Particularly in areas such as science and technology that demand up-to-date information, this can be a problem.
Browsing
Traditionally, browsing played an important role in research activities. Library users may browse books on shelves, then scan the table of contents and indexes of books. With paper books on shelves being replaced by e-books and titles being weeded to reduce shelf space, the act of browsing is slowing being lost. One primary advantage of browsing is the discovery of books that may be overlooked when searching online.
Increasingly, library catalogs and databases are providing interfaces that attempt to replicate the browsing atmosphere. They may provide different ways to display books on the screen including lists and book covers. They may also provide easy access to the table of content of books.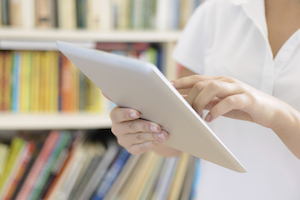 Lamb's Personal Connection
Personally, I love books in all their forms. I read hard cover books and soft cover books. I read ebooks on my laptop, iPad, iPhone, and Kindle reader.

One thing I love about ebooks is the ability to search. This is particularly important when thinking about books as information sources.

Another favorite feature is the option to increase the font size. However after working on a laptop all day, I also like a break from screens.

I do 15 book reviews a month for Teacher Librarian Magazine so I spend lots of time reading Advanced Reader Copies (ARCs) on both paper and electronic form. I can read either one while riding my exercise bike! The only books I avoid are mass market paperbacks. Even with my reading glasses, the font's just too small.
---