Humanities: Paper Books & Electronic Books
While some books continue to be published on paper, an increasing number of books are also available electronically. In the humanities, older books in the print format continue to be necessary for research. Even very old books are increasingly available in digitized format making access easier for many researchers.
Electronic books and open access options are broadening the options for humanities research. However at the same time, many specialty works are not yet available in electronic form. For instance, Jennifer O. Yao (2014) found limited access to e-books in art, architecture, and design.
Read!
Read Dougan, Kirstin (January 2010). Music to our eyes: Google Books, Google Scholar, and the Open Content Alliance. portal: Libraries and the Academy, (10)1, 75-93.

AND
Yao, Jennifer O. (Spring 2014). Art e-books for academic libraries: a snapshot. Art Documentation, 33(1), 27-40).

Types of Books
Beyond monographs, anthologies, and conference proceedings, there are other types of books specific to the humanities.
Art-Specific Books
An exhibition catalog (exhibition catalogue) is a published record of an art or museum exhibition. It contains reproductions of artwork or artifacts along with articles featuring research associated with the topic. While these books may be soft cover pamphlets, they may also be hardcover coffee table books.
Art catalogues typically contain high-quality images of every item in the display. They may also include other related works. Each item contains a description along with interpretive information. In addition, they generally contain essays, footnotes, bibliography, or other useful information. In many cases, the catalog is available in multiple translations. This is particular true in the case of traveling exhibits. Exhibit sponsors often finance these books. These books are often some through museum bookstores.
These books may be sought after editions or throw-away items depending on the importance of the exhibition. The popular works may be easy to access through museum libraries. However, others may be difficult to locate after the exhibition period is over.
Exhibition catalogs are popular with scholars. They may provide unique insights into a particular artist or theme. The essays are often written by people who work closely with the art and may provide interesting perspectives.
Many digital collections contain exhibition catalogs. For instance, Paul Klee: 1879-1940: A Retrospective Exhibition is available through Internet Archive.
Some examples include:
Lamb's Personal Connection
As a professor at the University of Toledo, I often visited the Toledo Museum of Art. I continued to do consulting with the University and enjoyed visiting the museum into the early 2000s. The internationally known art museum held a VanGogh exhibition 2003 titled Van Gogh: Fields, February 23-May 18, 2003. The catalogue was the first to investigate the landscape topic in Van Gogh's works by focusing on more than 50 paintings and drawings by Vincent Van Gogh.


Because of the popularity of this exhibition a large number of catalogues were printed. It's still possible to purchase one at Amazon more than 10 years later.

The soft cover book was published to accompany the Toledo exhibition 150 years after van Gogh's birth. It included landscape selections from his initial activity in The Netherlands in the early 1880s and his time in Paris. It also includes his stays in Arles, Saint-Remy, and Auvers-sur-Oise from February 1888 until his death in July 1890.

The book includes "Van Gogh: Biographical Sketch" by Dorothee Hansen, & "Van Gogh: Fields" an interview with Roland Dorn. Scholars seeking this interview would need access to this book to read it.

The Toledo exhibition book is a different version from the exhibition shown at the Bremen Kunsthalle, October 19, 2002- through January 26, 2003. Titled Van Gogh: Fields - The Field with Poppies and the Artists' Dispute by Roland Dorn, Wulf Herzogenrath, Dorothee Hansen, and Barbara Niefhoff, this 251 page hardcover book includes many of the same paintings but additional sought-after essays including a discussion between Roland Dorn and Dorothee Hansen regarding the symbolism in van Gogh's painting following the influence of Paul Gauguin.

From this example, you can see the importance of exhibition catalogues in art research. It's also apparent that librarians may need to dig for access to these books.
Try It!
Visit online sources of exhibition catalogues. Explore resources from MET Publications including 70 notable exhibition catalogues for free and 61 notable collection catalogues. Notice the standard format. Compare the contents. Skim the essays.

Try some Google searches. Use the term exhibition catalogue along with an artist's name.

Explore some of the large digital collections. Hathitrust contains nearly 10,00 exhibition catalogues you can explore by subject, author, and language including ones published through 1999. You'll find thousands through Google Books too.

Music-Specific Books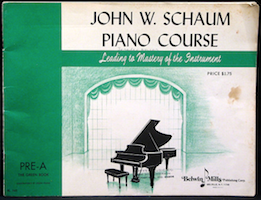 There are many types of books that are specific to the area of music:
A choirbook is a music manuscript. This large format book contains separate voice parts printed large enough so they can be sung from by the entire choir. They were popularized in the 15th and 16th centuries.
A partbook is one of a set of books containing music for a single voice or instrument part in an ensemble. They were popularized in the 16th and 17th centuries.
A method book is designed to help students develop their musical technique for a particular instrument or voice type. These instruction manuals may be focused on particular skills levels. Librarians often receive questions about the appropriate book for a new musician or singer.
A songbook is a collection of songs often illustrated with romantic images, coat-of-arms, or other emblems.
Lamb's Personal Connection
My grandmother was a piano teacher and my mother played the piano, so it was inevitable that I would take piano lessons. Like many children, I used method books John W. Schaum and John Thompson. Later, I began playing other instruments and enjoyed exploring the library for music books.

Today, many parents continue to seek out method books for use in their children's music education. When visiting my sister recently, it was interesting to look at my niece's piano books. Although some of the instructional techniques have change, the format is much the same as it was more fifty years ago when I first began to play.


Try It!
Go to a library, bookstore, or music store and browse the music method books. Compare and contrast the difficult presentation styles and instructional approaches.
Religion-Specific Books
A religious book is a work based on a particular religious faith. These include sacred texts, inspirational titles, and materials for clergy.
A bible is any book that is widely accepted as being authoritative. A pocket bible is a small, portable bible with condensed text and a small type. A prayer book is a collection of prayers intended for private devotion.
Sacred Books
A sacred book also known as scripture or holy book is considered to be of central importance to religious tradition. Many movements believe that their sacred texts were divinely inspired. Sacred texts can be found in most of the world religions including Hinduism and Buddhism.
In Judaism, the Tanakh is the canon of the Hebrew Bible and contains 24 books. The Torah is one element containing five books associated with Jewish traditions and teaching.
In Islam, the Quran is the primary holy book. However they also believe in four other book including the Torah as revealed to Moses, Zabur was revealed to David, Gospel as revealed to Jesus, and Quran.
The use of the world Bible (with a capital B) is used for the Christian scripture consisting of the Old and New Testaments. The Gutenberg Bible is the earliest known printed book. The King James Version of the Bible was first printed in 1611.

The Book of Mormon is a sacred text of The Church of Jesus Christ of Later-Day Saints church associated with the Mormon religion. Members of the church also use the King James Bible and other sacred texts in their religious worship.
Christian Religion Worship Books
Religious books can be useful to history scholar in exploring the culture of a particular country or region.
A Sunday school book is a religious book used to teach lessons to children and adults attending a Christian church. Reflecting the particular denomination, they often combine text and illustrations. In some cases they are specifically geared to children.
A liturgical book contains materials used during religious services of a particular religion. A pontifical book is used in the Catholic church to detail the order of service. A missal is a book used by the priest in the celebration of Mass. A homilary is a book containing a collection of sermons or bible passages used during religious services.
Protestant churches the book contains hymns sung during worship services.
A choir book contains songs used in religious services by a choir.

Electronic Books
When providing information sources to those with interests in the humanities, it's important to consider their format preferences. While it can be useful to read professional literature on the topic of e-books, it's equally important to remember that e-book use is changing rapidly. Rather than relying on older studies, use their approach to research design to help in planning your own local studies to determine user interests and needs.
Read!
Read E-Reading Rises as Device Ownership Jumps from PewInternet. This research is now more than a year old. Based on the data presented, can you predict the future of e-book use?
Try It!
Read articles about e-book usage and preferences. How has the use of e-books changed nationwide during this time? What are the implications for these two studies? If you were conducting a study, what aspects do you think have changed over the last few years? What's likely to change in the near future?

Read Corlett-Rivera, Kelsey & Hackman, Timothy (April 2014). E-book use and attitudes in the humanities, social sciences, and education. portal: Libraries and the Academy, 14(2), 255-286.

Government Ebooks
The U.S. Government Bookstore provides access to books for download and purchase. Although there's a charge for print publications, there are many ebooks that can be downloaded for free or at a low cost at http://bookstore.gpo.gov/ebooks.
The College Preparation Checklist is a free ebook exploring ways that youth can prepare for college.
For librarians and students seeking ebooks specifically, include the term "ebook" in the search of the Catalog of U.S. Publications. The ebooks can be downloaded free of charge on various ebook reading devices. Most books can be downloaded in the ePUB, MOBI for Kindle, PDF, or iBook format.
Although most of these ebooks aren't designed for children, many free books would be of interest to teens and adult. For instance, NASA has produced books like Dressing for Altitude by Dennis R Jenkins at focusing on the history and design of aviation pressure suits.
Baseball: The National Pastime in the National Archives is a book focusing on the history of baseball. The highly visual ebook incorporates a wide range of primary source documents such as patents, photos, letters, certificates, and report that bring history alive. This ebook provides an excellent tool for collecting primary source documents to an interesting theme.
The Catalog of U.S. Publications can be overwhelming. When working with the individual disciplines, consider going directly to government agency publication pages for ebook availability. Many of these publications are produced by the GPO. For instance, explore NASA ebooks. Earth as Art is an ebook that shows patterns and colors of the land and sea through satellite imagery.
The National Archives ebooks page provides access to books and exhibit guides. For instance, What's Cooking, Uncle Sam? is an interactive ebook with video, audio, and additional content.
IIP ebooks are designed for an international audience, but contain information such as foreign policy, society, values topics of interest to students. For instance, American Popular Music focuses on the various styles of music found in the United States.
Try It!
Browse the books available through the U.S. Government Bookstore. Also, explore ebooks in the Catalog of U.S. Publications. Try some other government websites. Are ebooks common or uncommon? Can you see any trends?
Subscription Databases
ACLS Humanities E-Book. A collaboration of eight learned societies, nearly 75 contributing publishers, and librarians at the University of Michigan's Scholarly Publishing Office. Titles can be browsed by Subject. Fields currently covered include Area and Historical Studies in the following: African, American, Asian, Australasian/Oceanian, Byzantine, Canadian, Caribbean, Central European, Comparative/World, Eastern European/Russian, Economic, Environmental, European, Jewish Studies, Latin American, Law, LGBT/Queer Studies, Medicine, Methods/Theory, Middle East, Native Peoples of the Americas, Science/Technology, Women's Studies. HEB also encompasses the fields of Archaeology, Art and Architectural History, Biblical Studies, Bibliographic Studies, Film and Media Studies, Folklore, Linguistics, Literature, Literary Criticism, Musicology, Performance Studies (theater, music, dance), Philosophy, Political Science, Religion, and Sociology. Available through IUPUI.
ArtSource. Available through EBSCO Host, you can narrow your search for books related to all aspects of art.
Brill Humanities and Social Sciences E-Books. Collections for the years 2007-2013: Asian Studies, Biblical Studies, Ancient Near East and Early Christianity Classical Studies European History and Culture Middle East and Islamic Studies Religious Studies, Theology and Philosophy Social Sciences. On campus-only access through IUPUI.
Project Muse from Johns Hopkins University Press. Provides books in some areas. It's not a huge collection, but it's worth exploring. Available through IUPUI.
Try It!
Go to ACLS Humanities E-Book collection. Choose BROWSE and choose SUBJECT from the left navigation bar. Seek out a work in a very specialized area. Then, do a Wikipedia search on the same topic. How is the level of depth in the book different than what can be found in an encyclopedia?
Rare Books
Many areas of humanities require access to rare books. In the past, these books were difficult to access without making a trip to a rare book library, archive, or museum. Increasingly, these books are made available online.
LibGuides for Rare Books
Major Digital Book Collections
Linguistics
Foundational texts in the area of linguistics include:
de Saussure, Ferdinand (1916). Cours de linguistique generale (Course in General Linguistics).
Bloomfield, Leonard (1933). Language.
Chomsky, Noam (1957). Syntactic Structures.
Harris, Randy (1993). The Linguistics Wars
Literature
Whether reading literature in print or electronic form, literature is often accessed through books. Attitudes toward reading ebooks and other etexts are changing in the humanities.
Read!
Read Sukovic, Suzana (2008). Convergent Flows: Humanities Scholars and their Interactions with Electronic texts. Library Quarterly, 78(3), 263–284.

Literature Online: Literature
Blanck's Bibliography of American Literature

Columbia Granger's Index to Poetry in Anthologies

IMB: International Medieval Bibliography

Index of Middle English Verse

Index Translationum Online

Literary History of the United States

MLAIB: Modern Language Association International Bibliography

NCBEL: New Cambridge Bibliography of English Literature

Short Story Index

Wellesley Index to Victorian Periodicals, 1824-1900

YWES: Year's Work in English Studies, 1919-
Reader's Advisory and Genre Indexes: Literature

Fiction Core Collection

Genreflecting: A Guide to Popular Reading Interests

The Real Story: A Guide to Nonfiction Reading Interests

Sequels: An Annotated Guide to Novels in Series

International Directory of Little Magazines and Small Presses

ILMP: International Literary Market Place

LMP: Literary Market Place

Publishers Directory

Writer's Market
Library Catalogs
Spend some time exploring library catalogs that have an emphasis on the humanities.
English and Literature
Music
Religion
Searching the Library Catalog
Finding art and music can be difficult. The key is developing specific search strategies.
Try It!
Explore Strategies for Searching Library Catalogs.

Go to Finding Music from Wake Forest. This guide provides excellent suggestions for searching for particular types of music in the library catalog. Try their suggestions with IUCAT.

---