Koyo Higashi Gyoen - The Imperial Palace East Gardens
The gardens were opened to the public in 1968. A moat surrounds on the Palace area. A moat is like a lake at that surrounds the area. We found a road, passed a few very nice guards, and found the bridge to the entrance. Although it was free, we still had to check in.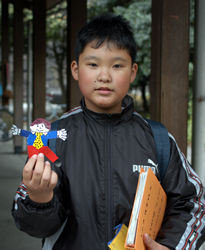 Once we got inside the gates, we bought a guidebook in English. We saw lots of tourists and school children on field trips. The children would wave and yell "hello" in English. They guessed that we spoke English. They thought Flat Stanley was funny and wanted to get their picture taken with him.
The children were all very nice. They were shy at first, but they were interested in getting to know us. They learn English in school, but are very hard to understand. We found out that they learn English in school. However, they are better at reading and writing, than speaking in English.
The fish in the ponds were huge. These varicolored carp had long fins and looked very hungry. They swam to greet us on the bridges.
There were many visitors from Europe and North America. One group from New Jersey took Annette's picture.