Community Bike Path
Eric has two passions: computing and biking. Having recently moved to the community, he was very disappointed to find the area lacked quality bike paths. As a high school senior, he's required to do a senior project. Can he combine his biking passion with the required senior project?
After some research, Eric learns about a federal program called "Rails to Trails" that assists communities in converting abandoned railways into bike paths.
Mr. Washington, the teacher librarian, suggests that Eric contact local city council members about the idea. After reviewing Eric's questions and providing suggestions, Mr. Washington helps Eric locate the phone numbers of council members and suggests a quiet place where he can make some calls. Although most of the council members has other priorities, he found one enthusiastic supporter. Eric arranged to meet the council member and design a plan.
Explore Mr. Washington's involvement as an instructional specialist.
Explore how telephones and laptops are used by student information scientists.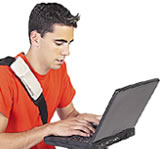 ---