National Forest Debate
Cody is a student information scientist. He's interested in the different perspectives related to the our national forests. What's the best way to manage our environment, yet still enjoy these natural resources? Cody lives in a wood structure house and reads books made of paper. These products came from wood harvested from our forests. Should he be concerned about where this wood comes from?
Through Inspire and the state of Indiana, the learning laboratory has access to Gale's Opposing Viewpoints Resource Center database (click the example screen below to enlarge). Cody is interested in different views on logging and the lumber industry in national forests.
He wonders what others think about lumbering in our national forests and is interested in conducting a survey.
Cody was very proud of his success on his national forest project. He decides to add this final report to his portfolio along with other documents that he's been collecting throughout his high school career.
Explore Mr. Washington's involvement as an instructional specialist.
Explore how electronic databases and portfolios are used by student information scientists.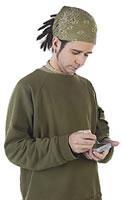 ---