Instructional Specialist:
Elementary Media Specialist
Ms. Anderson enjoys her position as a teacher librarian and instructional specialist. She views her library as only a part of the schoolwide learning laboratory that she's coordinating. Her library learning laboratory includes books, computers, and other traditional materials, but it's also the focus of science experiments and daily video programs.
A Center for Community Involvement
Ms. Anderson feels that developing collaborations throughout the school and community is essential to a building an active learning laboratory. She encourages community members and groups to use the library as a place to meet and share ideas. She uses these face-to-face gatherings to involve students. For example, community members have agreed to be judges for the annual art competition. Each year the art teacher, media specialist, and a member of the city council get together to discuss an focus for the year that can be connected to local events. In the past, students have worked to design costumes for the historical pageant, a pumpkin festival logo, pioneer toy replicas, a city mural, and local landscapes projects. Student artwork is displayed in the media center as well as in the hallway showcases.
Explore Katie's investigation for more detail.
Ms. Anderson encourages her students to use a wide variety of tools for information access and communication. When Isaac expressed an interest in conducting an interview for his oral history project, she encouraged him to use videotape in the process. Isaac's success with the video equipment made Ms. Anderson consider the development of a larger community oral history project. With Isaac's project as an example, they presented their idea to the senior center and soon had volunteers who wanted to share their life stories.
Explore Isaac's investigation for more detail.
A Beehive of Activity
Her library is a beehive of activity... literally. As part of a science partnership, the library media center has acquired a wonderful science materials collection (i.e., books, videos, software, maps, games) and also maintains a collection of scientific artifacts, a snake, and a beehive housed in the nature area just outside the center. These resources are maintained by a group of children called the Critter Wranglers along with a group of parent volunteers including a professional bee keeper.
The purpose of the Critter Wranglers was two-fold. First, to provide an organized method of caring for the creatures and artifacts. Second, to address the learning needs of a group of at-risk students. Working as a team, the teachers and media specialist identified specific activities to address commonly identified information literacy and content area standards deficiencies. These concrete, context-based review activities were connected to caring for these small creatures.
In addition to the snake project, they're also involved in the The Great Backyard Bird Count project.
Explore Taylor's investigation for more detail.
Explore Ms. Hamilton's involvement as an instructional specialist.
A Shared Commitment
Ms. Anderson spends much of her time exploring ways to partner with teachers on activities that will stimulate a love of learning in children. She explores connections between standards, textbooks, and the materials available inside and outside her center.
Many of her projects are small and ongoing such as the Super Science Center that contains the basics needed for students to run their own science experiments including chart paper, clipboards, post-it notes, laptop with probes, and marked materials cartons. Located near the non-fiction science book collection and close to a sink, the materials in this area are constantly updated and rotated with the interests of children and teachers. For example, Jasmine after reading a book about bubbles and creating a creating an empty chart on a clipboard, she's ready to conduct a bubble experiment on the mat near the sink.
Explore Jasmine's investigation for more detail.
The media specialist along with the third and fourth grade teachers have been working on a program to promote student interests related to classroom content. When a student expresses an interest, the teacher gives the child an "Information Investigator Badge" noting the topic the student is seeking. The child then works with the media specialist to find books and other materials that might trigger an expanded interest.
Explore Maya's investigation for more detail.
Open Access
Ms. Anderson has invested in laptop computers for her media center. Students can check these out from the front desk allowing them to take computers to any area of the center where they may be needed. Jacob is a very active, intelligent student who needs a challenge but sometimes has a hard time focusing his efforts. Ms. Anderson has found that he's much more productive when he can take a laptop and find a quiet place in the corner of the center to work.
Explore Jacob's investigation for more detail.
Explore Hannah's investigation for more detail.
Explore Alyssa's investigation for more detail.
Reading Connections
Throughout the school, an emphasis has been placed on the importance of reading. Ms. Anderson is committed to finding ways to stimulate the reading interests of all students. In addition to focusing on content areas standards connections, she's also exploring ways to encourage even the most reluctant reader. From Captain Underpants to Harry Potter, Ms. Anderson seeks out popular titles that will be appealing to even the pickiest reader. Through these free reading activities, she's found a growing interest in book clubs and reading programs such as voting for their favorite Hoosier book nominee. They're even decorating the ceiling of the media center with book characters tiles created by students.
Explore Vanessa's investigation for more detail.
She's also working hard to keep new readers coming back. For example, she encouraged students to find a series of books they might like to read. Ryan is reading the Scientists in the Field Series.
Explore Ryan's investigation for more detail.
Communicator's Castle
Ms. Anderson feels that it's important to promote a connection between reading, writing, and information inquiry. She also wants to stimulate a love of all forms of communication such as written, visual, audio, and video. Her Communicator's Castle is designed to facilitate all forms of communication. This area is filled with resources to support reading, communicating, and thinking. For example, Haley loves to read and write. She calls herself the Queen of the Communicator's Castle because every free moment she spends exploring the books and activities in the castle. Alyssa is planning a puppet show called "Fish are friends". She's decorating the puppet show area like a coral reef.
Explore Haley's investigation for more detail.
Explore Zach's investigation for more detail.
Explore Alyssa's investigation for more detail.
Differentiation
Teachers are increasingly seeking ways to meet the varied learning styles of children.
Explore Isabella's investigation for more detail.
While working with a number of different teachers, Ms. Anderson has found a growing interest in high-quality instructional audio materials. She's begun investigating the different types of audio books and which might best meet the needs of her diverse students population.
Explore Michael's investigation for more detail.
A Guide on the Side
Ms. Anderson feels one of her most important roles is as a guide for student information inquiry. When she sees a student bound into the library bursting with enthusiasm, her goal is to do whatever she can to promote and extend this positive momentum. When she's not able to provide the necessary resources, she goes out of her way to help the child locate materials at another library or provide a suggestion. In the same way when a child enters the library with a long face or bewildered look, she considers all the ways that she can help that student through the confusion or frustration of that phase of inquiry.
Explore Christopher's investigation for more detail.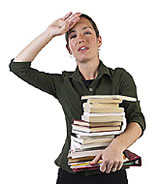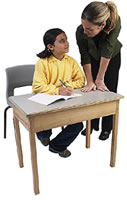 ---