Inquiry 8: The Freedom to Choose
Click the comic link or comic image on the right to view the graphic version of The Freedom to Choose inquiry. Read the narrative below.
From guitars and skateboards to diets and animal neglect, eighth graders were giventhe freedom to choose any topic for inquiry. The young people were excited about selecting a topic based on their personal interests.
Task definition
Before jumping into the project, students completed a pre-search activities and discussed project possibilities with their teachers, Alison Hart, Erin Nieten, or library media specialist, Leslie Preddy.
Since the Big 6 approach is used throughout the school, they were familiar with the approach. They were told that they could research anything - a person, place, or thing that interested them. The only constraint was that the topic had to be "researchable," with the community and school resources available to them.
During the first week, students completed three pre-search activities. Leslie with Alison and Erin modeled the assignments with an example on the overhead projector, while the classroom teacher assisted individual students.
In their first pre-search activity, students brainstormed everything they could think of to fit the description. They were told to match what they were thinking, dreaming, doing, wishing, studying, living, or wish they were living. Finally, they were reminded that the possibilities were limited only by their imagination. They started with three lists:
The types of reading, Internet websites, TV, games, movies, DVD's and music I like most.
The activities, crafts, hobbies, and sports I like participating in, watching, or wished I was involved in.
My favorite animals, inventions, discoveries, famous people (living or dead), places in the world (or universe), careers, etc.
Next, the students put their lists into categories. They grouped their words by a common characteristic and gave the group a name and theme. They were asked:
What are the four themes or topics that interest you most?
What category or name would you give each of those theme?
Name your categories, add the words, and other words that come to your mind when you think of that category.
List 3-5 sentences describing what you think about each category.
Below are examples from student pre-search activities: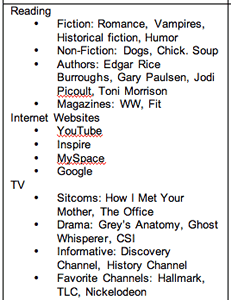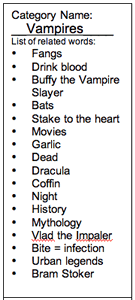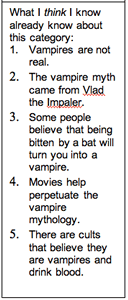 A third pre-search activity involved students in narrowing their choices from four to two. The media specialist and classroom teacher talked with students about whether their topics were researchable and guided young people away from topics that might be too difficult.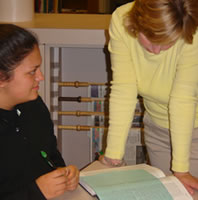 Finally, students selected a topic, gathered background knowledge about their interest area, and developed preliminary research questions. They used reference tools such as encyclopedia articles to gather background information. This information helped students develop more effective, age-appropriate, yet researchable questions. Again the library media specialist modeled the assignment and shared strategies for developing research questions. The students met with the educators throughout the process.
Since the project was very open-ended, a contract was used as an agreement between the educators and the students. The project involved both written and visual aspects. It would also be shared through visual and oral presentation.
Students signed a contract that included a rubric with the following categories: effort, inquiry, written, oral presentation, final product or project, bibliography, and journal/notebook. An excerpt from the contract is shown below.
Information seeking strategies
Leslie highlighted sources that would be effective in addressing research questions. Students determined the sources that might be useful for identifying information about their topic. Then, they chose the best information tools based on their needs. Students were encouraged to think about the differences between primary and secondary sources.
Because the range of student topics was broad, students used a wide variety of resources from books and electronic databases, to websites and personal interviews.
Students revised questions based on suggestions Alison, Eric or Leslie. They used a worksheet to share their research topic, questions they wanted to answer, keywords related to the question, sources they thought would be best for finding answers, and and a note about why they thought the source would be useful.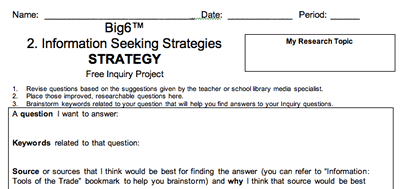 Location and access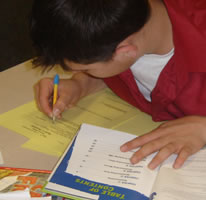 With the help of the classroom teachers, the library media specialist led mini-lessons for various information skills and strategies for sources including books, encyclopedia, and web sites. She also pointed out that students could conduct interviews, surveys, or site visits. As students accessed information sources, they focused on using appropriate keywords to help broaden and narrow their search. They also looked for synonyms and related to words that might be helpful in locating information.
The library media specialist embedded mini-lessons on the topics of skimming and scanning information, reading for understanding, taking notes, and source usefulness.
Use of information
Alison, Erin and Leslie encouraged young people to examine materials. Students were encouraged to take notes and cite their sources. They used the dictionary to look up unfamiliar words.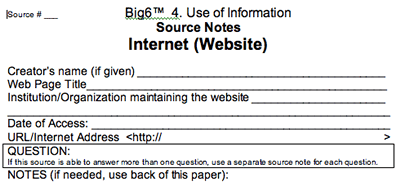 Students used tools like Inspiration to focus on relevant information and identify areas where additional information was needed.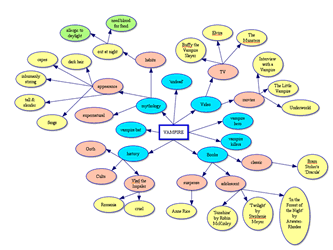 Synthesis
Students organized information from various sources and presented the information in a form they could share in written and visual formats. Each student went through the process of creating a rough draft in the form of a storyboard and graphic organizer.
Students participated in peer conferences to help them discuss their progress and outline their final product.
Although all the students were responsible for a final product, the guidelines were flexible enough to address individual differences. Students were asked to create a product to best suit their topic and talents.
Many students created display boards, others developed PowerPoint presentations. Many students included photographs, primary source documents, artifacts, and objects such as guitars and basketballs.
Evaluation
Student work was judged based on both their process (efficiency) and their product (effectiveness).
Young people were asked to check their work against the criteria given before sharing it with the class.
In addition to the final product, students also turned in a research folder to reflect the research process.
Below is an excerpt from the project criteria used by evaluating educators.
As a culminating activity, students shared their projects in the school library media center. Students participated in a Gallery Walk where they examined and evaluated peer projects and presentations. A seventh grade class had simultaneously finished their research project, so the classes took this opportunity to take turns on alternate days setting up their Gallery Walk and evaluating each other's presentation and project. Below is the form used by students as they participated in the gallery walk.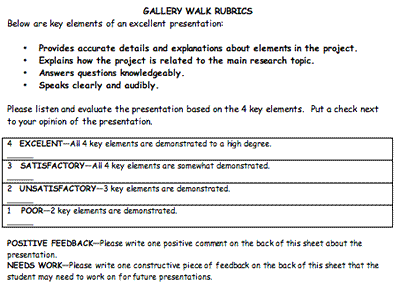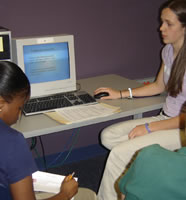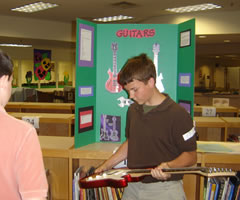 Worksheet images were excerpt from documents created by Leslie B. Preddy. The Big 6 was created by Michael B. Eisenberg and Robert E. Berkowitz.