Classroom Teacher-Media Specialist Collaborative Planning
Information linkages maps can be developed by teacher librarians during the revision of collaborative instructional units. For example, as the teacher librarian and classroom teacher reflect on their digital oral history projects, they wonder how the unit could be enhanced to go beyond simply video recording a family story. They identify specific standards related to using nonfiction resources, distinguishing fact from opinion, and understanding different perspectives on historical events as areas they wish to emphasize.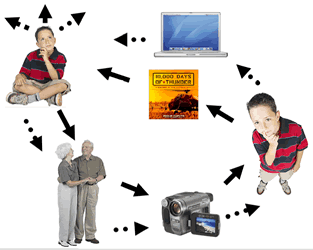 Digital Oral History Collaboration Information Linkages Map. Click to Enlarge.
The teaching partners begin by reflecting on the current student inquiry assignment as shown by the solid arrows in the Figure above (Click to enlarge the figure). Students begin by identifying a person they'd like to interview and developing effective interview questions. Next, they conduct their interview using technology to record and edit stories. Then, students generate questions about the time period related to the interviews and use nonfiction books to address these questions. After examining this process, the teachers decide to add another cycle. This proposed cycle is shown by dotted lines. Equipped with new information and ideas, students may wish to develop additional interview questions for the same person or interview others who experienced the same time period. As students gather and edit these new interviews, they are asked to identify the fact, fiction, perspectives, and arguments found in these stories. Then, use other resources to make comparisons and extend the experience. An optional third round is also built into the lesson to allow for clarification of information and perspectives. The linkages map can be enhanced to include specific sources to be used in assisting students with particular information needs.
Information Fluency and the Curriculum
Content area teachers and media specialists must coordinate their efforts to achieve information fluency in their learners. For example, a language arts or social studies teacher might create an assignment that asks students to interview an adult about their career. This project might address a specific subject area standard. However without information skills related to conducting an effective interview, students will be unable to reach their content-area goal. In the same way, a media specialist can ask students to memorize interviewing techniques, but these strategies are meaningless without an authentic project.
Carol Kearney (2000) identified a series of steps in planning with teachers:
Understand and work with teachers' different planning styles.
Allow teachers to take the lead in the planning process and accommodate different styles of planning.
Agree on clearly stated learning outcomes from the onset.
Develop the essential questions based on the problem or issue being studied.
Decide on appropriate assessment criteria and assessment formats.
Design the learning activities based on the targeted learning outcomes.
Link resources.
The following two videos reflect the importance of collaboration between content area teachers and media specialists.
View Interviewing Part 1 (0:32).

In this video, a student interviews an author, but it lacks good questions and organization. Was the student well prepared? What tips would you provide for the student? – Excerpt from "Getting It All Together", Pt. 6 of Know It All Series by GPN / Univ. of NB

View Interviewing Part 2 (2:50).

In this video, a student conducts a more effective author interview that is better organized. – Excerpt from "Getting It All Together", Pt. 6 of Know It All Series by GPN / Univ. of NB

Use of this video clip complies with the TEACH act and US copyright law. You should be a registered student to view the video.
View Planning with the Classroom Teacher (0:53).

What is involved with media specialists planning with the classroom teacher? Danny Callison interviews Mary Jane McNalley, a high school media specialist about ways media specialists work with teachers.

Use of this video clip complies with the TEACH act and US copyright law. You should be a registered student to view the video.
---