Seminar on Lit for Youth: Tech Connections

Watch the video, then read the page.
In this world of 24/7 access to digital information, is there still room for books? Yes! The key for getting youth excited about books may be the combination of books with technology.
Read!
Read Aronson, Marc (April 2007). Do Books Still Matter? School Library Journal, 53(4), 36-39. IUPUI students can view the article online. This article was written 6 years ago. What's changed in that short period of time?
Lauren Barack (2016) notes that many school libraries are increasing their digitial nonfiction resources.
"Digital nonfiction use also appears to be growing. Educators are dedicating funds to purchase online reference sources, choosing digitized options over print. About one third, or 32 percent, of reference materials in all schools are now digital, compared to six percent just five years ago, according to SLJ's survey. As some respondents noted, accessing these online databases is easier, not to mention the fact that students and teachers are simply more comfortable using digital sources now... School librarians spent, on average, $1,014 in 2014–15 on ebooks—with 21 percent saying they plan to spend even more this year. The majority, 63 percent, say they have no plans to allocate more money to digital books, and 16 percent of school librarians say they'll spend less on ebooks. Educators may be taking advantage of free or lower-cost options instead."
Technology as Springboard
Use technology as a springboard to literature for youth.
In many cases, students have a difficult time narrowing their topic and choosing a focus for their research. Use technology as a way to jumpstart inquiry.
Infographics are an effective means of conveying complex ideas in a highly visual way.
An infographic is a graphic representation of information. It provides the "big picture" that might otherwise be difficult to understand by using visuals to quickly convey the key ideas.
Visualizations help youth examine data. Go to the Mapping the Human "Diseasome" page. Examine how different diseases are linked. What are your questions? What could you investigate? What books and other resources might be useful?
There are some great infographics out there related to literature Go to the NPR's Fantasy vs SciFi (click the image below) flowchart. Think about how a flowchart like this could be used to help youth locate a particular type of nonfiction. You might focus on a type such as narrative nonfiction or a genre such as biography. How could this type of approach could be used as part of your readers' advisory program?
Explore the following book-infographics connections:
Try It!
Infographics are a wonderful tool to jumpstart information investigations. Go to Google Images and search for a topic adding the word "infographic" such as disaster infographic, war infographic, or bird infographic. You'll be amazed at what you find and the many ideas that the visuals will generate.

Generate a list of a dozen favorite nonfiction books. Identify an infographic to go with each book. The visual should extend the reading experience in some way. Explain the connection between each book and its infographic. Provide the URL to access each infographic.
E-books
Many works of nonfiction are being published simultaneously as print books and e-books. In some cases, enhanced versions with audio, video, and interactive elements are published with the e-book versions.
Read!
Read Uhlmann, Douglas (April 2011). Pick me! Pick me! School Library Journal, 57(4), 80-83.
Since this article was published a couple years ago, many new publishers have emerged. Discuss the issues in choosing an e-book service. IUPUI students can view the article online.
Many companies are producing content for iPads and other tablets. For instance, the Lerner Digital eReader App contains 237 interactive titles for the iPad. You can get a 30 day trial to evaluate the program.
TrueFlix from Scholastic goes beyond the traditional ebook. Students start by watching an informational video, then read a work of nonfiction. These informational texts contain interactive elements, voice-over reading features, and other elements. This subscription service enhances learning of subject-area content. Aligned with the CCSS standards, the resources are connected to science and social studies content.
Along the same lines as TrueFlix, is Scholastic's FreedomFlix. Focusing on CCSS aligned social studies content, the resources includes dynamic e-books from the Cornerstones of Freedom series. The works embed popup features including maps, timelines, virtual tour clips, as well as primary source audio and video clips.
XBooks by Scholastic provides both print and digital nonfiction along with instructional materials that are CCSS aligned. Each strand includes a video introduction, a lead book, activities, stretch texts, reader's choice books, and class chat. The program includes five high-interest areas including strange, medical, forensics, total war, and tyrants.
Try It!
Use a trial to explore a couple of the new digital services for young people that provide access to nonfiction works along with enhanced featured. First explore Lerner Digital using their free trial. Then, compare this service to one of Scholastic's Digital Options including TrueFlix, FreedomFlix, BookFlix, and Xbooks.

What are the benefits of using this type of service rather than simply using print materials? What enhancements could you build for print books? How could you tie in websites, maps, online videos, primary source materials, real objects, and other materials to create a similar yet different experience?
Audio Books
When librarians think of audio books, works of fiction often come to mind. However some wonderful nonfiction books are also produced for this format. Today, audio books are available in many forms including CD, digital downloads, and stand-alone PlayAway devices. Claudette Colvin: Twice Toward Justice by Phillip Hoose is an example of an award-winning work of nonfiction in the narrative format. It's available as a CD, in Playaway form, and as a digital download.
In some cases award winning books don't translate well to the audio format. However in other situations, the audio format enhances the experience.
Ballet for Martha: Making Appalachian Spring by Jan Greenberg and Sandra Jordan is a great example of a Robert F. Silbert honor books that works well in the audio format. Listed on the 2013 Notable Children's Audio Recordings list, the nonfiction picture book tells the story of Martha Graham and Aaron Copland's work on this ballet. Narrated by Sarah Jessica Parker, the book contains music by the Seattle Symphony.
Narrative nonfiction may be the most popular form of nonfiction audiobook. For instance, narrator Mark Bramhall brings the suspense and intrigue of the historical nonfiction narrative The Notorious Benedict Arnold alive for readers. This book written by Steve Sheinkin is available in both the Audio CD and digital Audible format.
Kakapo Rescue: Saving the World's Strangest Parrot (2011) by Sy Montgomery is a great example of a book that works well in the audio format. Narrated by Andrea Gallo this 2 hour and 15 minute author book explores the work of rangers and volunteers attempting to save a population of parrots off the coast of New Zealand.
Because the book contains wonderful photographs by Nic Bishop, consider using the print book along with the audio book. To extend the experience, visit the Kakapo Recovery website to learn more about bird conservation.
The book is available in many audio formats including digital, CD, and cassette.
In Life in the Ocean: The Story of Oceanographer Sylvia Earle (2012), Claire Nivola combines the story of the scientist with information about the ocean and conservation. Read by Nicole Poole, the 30 minute audio book is a short read. This is another book with great illustrations were students examine the images while listening to the story.
When the author of a work is also an engaging reader, audiobooks are doubly effective. For instance, Reaching for the Moon (2006) was written and read by astronaut Buzz Aldrin. Ask readers to compare what they've learned in the book to the NASA Apollo 11 website and explore related books such as
Chaikin, Andrew (2009). Mission Control, This is Apollo.

Floca, Brian (2009). Moonshot: The Flight of Apollo 11.

Thimmesh, Catherine (2006). Team Moon: How 400,000 People Landed Apollo 11 on the Moon.
Seek out audio books containing short segments read by a number of different readers to sustain interest. For instance, We Are America: A Tribute from the Heart (2013) by Walter Dean Myers includes a number of different narrators reading poems and quotes about what it means to be an American.
Occasionally, the YALSA Odyssey Award will go to a work of nonfiction like We Are the Ship: The Story of Negro League Baseball (2009) and Jazz (2008).
Books with CDs
Seek out interesting new formats of literature that combine text with technology elements. Mighty Sky (2012) is a great example. This album-book is intended to help users experience the science of astronomy through song.
From music and poetry to great speeches, many children's books contain supplemental CDs that add to the power of the book through spoken word or music enhancements.
I Have a Dream (2012) by Martin Luther King Jr., contains amazing paintings by Kadir Nelson. The power of the book is increased through the use of an accompanying audio CD of the I Have a Dream speech.
Readers can also enjoy a YouTube video by illustrator Kadir Nelson. The video provides insights into how the book was made.
Books with DVDs
In addition to books with CDs, an increasing number of nonfiction works come with DVDs.
Snowball the Dancing Cockatoo (2013) by Sy Montgomery tells the story of the dancing cockatoo made famous on YouTube. The true story provides an engaging story arc while also providing interesting information about this now famous bird. The book also contains a bonus DVD.
A number of books by DK contain DVDs. The Human Body Book (2nd edition) by Steve Parker is a great example. Exploring the 10 body systems, the book includes attractive illustrations and current medical information. The DVD contains animation showing process such as breathing and digestion.
Books with Web-based Resources
Websites can extend the informational reading experiences of children.
While many children prefer to start their research activities with a Google search, think about ways to encourage students to start with books. Particularly for young children, nonfiction books are effective research tools. They provide well-organized, age-appropriate content specifically designed for the informational needs of youth. However, in many cases young researchers want or need to to extend their exploration to web-based materials. Consider pre-selecting materials that connect with popular topics.
For instance, students might each select a state such as Utah or Iowa from a state book series to kickoff a state research project. Then, use online resources to extend the experience. Lerner's Our Great States series explores the question "What's so great about ...?" Rather than exploring basic facts about the state, each book in this series takes a travel guide approach and could be connected with websites related to state departments of tourism.
Read!
Read Lamb, Annette & Johnson, Larry (2015). From sea to shining sea: online resources for states projects. Teacher Librarian Magazine, 43(1), 60-63.
Books with Websites
Many books now have accompanying websites. In the case of Howtoons, the website actually came first. Howtoons: The Possibilities Are Endless! (2007) by Saul Griffith and Joost Bosen is based on the Howtoons website.
Game and Activity Connections
How We Crossed the West: The Adventures of Lewis and Clark by Rosalyn Schanzer is one of many books from National Geographic that contain associated web-based activities. Play the Go West Across America With Lewis & Clark! game that goes with the book.
Map Connections
Literature connections to Google Maps and Google Earth are becoming increasingly popular. Sugar Changed the World: A Story of Spice, Magic, Slavery, Freedom, and Science by Marc Aronson and Marina Budhos has a website companion specifically designed for this book. Visit the website, then take the GoogleLitTrip.
Other Google Lit Trips for non-fiction works for youth are available at the website.
Try It!
Go on a Google Lit Trip. Explore by grade level. To download the Google Earth files, find the link in the upper right corner of the project page. Think about how the maps enhance the reading experience.
Then, try building one yourself!
Go to the Civil War Literature Wiki. Explore historical fiction books set in different regions of the United States. Use Google Earth to explore specific battles and explore relationships. Examine books with a midwest setting:
Across Five Aprils by Irene Hunt (Illinois)

Captured! A Boy Trapped in the Civil War by Mary Blair Immel (Indiana)

Guerrilla Season by Pat Hughes (Missouri)

The River Between Us by Richard Peck (Illinois)

Soldier's Heart by Gary Paulsen (Minnesota)

Multimedia Connections
Use Google to locate a wide range of multimedia resources including visuals, maps, and videos. Let's say you're doing literature circles on the topic of Civil War and students are working on the CivilWarLit wikispace. One group might be reading the book "How I Found the Strong" by Margaret McMullan set in Mississippi during the Civil War. Another group might be reading "Shiloh Attack: Battle of Shiloh" by Hama, Wagner, and Moore. You might also be using informational books on the Civil War. Students might search for resources about the key battles (Battle of Shiloh) discussed in the book.
US Government Google Search

Search for government resources from National Parks, the Library of Congress, NOAA, NASA, CDC, Military sources and more.

Google Earth

Search for "Smith County Mississippi"
Search for "Battle of Shiloh"
Connect works of nonfiction with audio, video, websites, and other elements.
Watch NOVA Ice Mummies program on DVD and explore the NOVA Ice Mummies website. Watch The Ice Mummy from Discovery channel. Explore general ice mummy resources: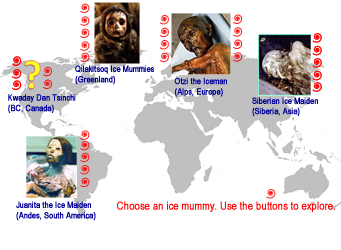 Author Connections
Use author websites to enhance the reading experience. For example, What Darwin Saw: The Journey that Changed the World by Rosalyn Schanzer (2009) is published by National Geographic. The author took photos as part of her writing process. You can see a slideshow of her photos online.
Of particular interest are scientists, historians, and other professionals who choose to write children's books. The websites of these professionals often contain audio, video, photographs, and other materials that bring the author and their work alive for readers. For instance, Chris Hadfield's picture book biography contains a link to his website.
Book Spotlight

THE DARKEST DARK by Chris Hadfield is based on the true story of a young boy who became an astronaut.

Set in the late 1960s, this beautifully illustrated picture book follows a young boy who pretends he's an astronaut. His fear of the dark keeps him up at night until he dreams of being an astronaut. Discovering the beauty and power of space helps him overcome his fear.

The book concludes with a short biographical sketch by the author and family photos. Hadfield became the first Canadian to walk in space.

Librarians will find this attractive picture book to be an effective way to introduce biographies to young children. After reading the book, share photos and short videos from the author's website to extend the experience.

To learn more about the astronaut author, go to http://chrishadfield.ca/.
Primary Sources and Digital Collection Connections
Whether exploring historical documents or looking at current government documents, primary source materials can bring a topic alive for youth. Kick off the learning experience with a work of nonfiction, then get young people involved with exploring online resources that extend the experience.
Read!
Read Lamb, Annette (2017). Informational reading in social studies: Connecting nonfiction books with digital collections. Teacher Librarian Magazine, 44(3), 56-60.
Ebola: Fears and Facts by Patricia Newman is an example. The Center for Disease Control website contains infographics, fact sheets, and other primary source information about this disease. Medline from NIH includes fact sheets and statistics. The NIH Digital Collection contains posters. The US Dept of Labor contains standards for handling patients and the White House website contains official government statements.
Many works are connected with historic sites such as Stonewall by Ann Bausum. Government information about the new Stonewall National Monument can be found at the National Park Service website.
Book Spotlight

STONEWALL: BREAKING OUT IN THE FIGHT FOR GAY RIGHTS by Ann Bausum is a powerful and timely work of nonfiction for today's teens.

Bausum's compelling narrative begins in the summer of 1969 at a bar in Greenwich Village, New York. What begins as a police raid on the Stonewall Inn soon erupts into riots in the street and cheers of "gay power." In the days following the raid, emotions continued to run high as frustrated LGBT citizens began to organize. The raid had become a symbol of the oppression felt by thousands of gay and lesbian community members in the city. The rest of the book describes the gay pride movement of the 1970s, the impact of AIDs in the 1980s and 90s, and the changing public attitudes of the 2000s. The book concludes on an optimistic note focusing on the LGBT community's rainbow symbol of diversity and unity.

Bausum is known for her carefully researched books focusing on social justice. From carefully describing the oppression experienced by generations of gay individuals to clearly explaining the tireless work of gay advocates, Bausum does a masterful job helping today's young people understand how decades of struggle led to recent societal changes. In the book's author notes, Bausum explains her motivation for writing a book about the gay rights movement at this point in American history. Her timing is perfect.
Librarian who have been waiting for an up-to-date LGBT history will be quick to add this outstanding work of nonfiction to their library collections. Filled with first hand accounts, historical quotes, and primary source documents, social studies teachers will find this book to be an excellent addition to their social justice curriculum.

To learn more about the author, go to http://www.annbausum.com/.
Crowdsourcing Activities
From identifying space objects such as comets to transcribing primary source documents like historical letters, young people around the world are involved in volunteer activities that help researchers generate, organize, and analyze data. These activities provide students with a unique opportunity for authentic learning experiences. Think about ways to connect informational reading experiences with hands-on crowdsourcing projects.
Set up an area of the library for a crowdsourcing station. Fill the area with engaging works of nonfiction connected with the project.
For instance, the crowdsourcing project Operation War Diary asks participants to help transcribe diaries written by soldiers during World War I. Feature works of nonfiction about World War I along with guidance in getting started with this worthwhile crowdsourced project. World War I for Kids by Kent Rasmussen provides an overview of this war and hands-on activities.
Read!
Read Lamb, Annette (2017). Crowdsourcing and the school library part 1: From ancient history to space science. Teacher Librarian Magazine, 44(1), 52-56.

Read Lamb, Annette (2017). Crowdsourcing and the school library part 2: Connections across the curriculum. Teacher Librarian Magazine, 44(2), 56-61.
Try It!
Visit Zooniverse.
Explore crowdsourcing projects and think about a station you might set up on your library to encourage youth to connect books with online activities.

Transmedia
Transmedia storytelling occurs when readers seamlessly move from technology to technology experiencing and sometimes participating in the narrative. These transmedia experiences may include both fiction and nonfiction environments.
The book True Spirit: The True Story of a 16-Year-Old Australian Who Sailed Solo, Nonstop, and Unassisted Around the World is an example. It can be read on paper or ebook for Kindle. Watch the videos throughout the e-book when the enhanced version. Go to Jessica Watson's website. Track Jessica's Voyage on a map.
Read!
Read Aronson, Marc (July 15, 2015). The Nonfiction Transmedia Challenge. School Library Journal. Available through SLJ.
Online Experiences
Some authors are skipping books entirely and developing immersive, online reading experiences.
Spotlight
MAWAH: WHEN EBOLA CAME TO OUR VILLAGE is an amazing, interactive storytelling experience.

This true story is told in ten engaging chapters. The experience begins in the summer of 2014 with a prologue explaining the beginnings of the Ebola outbreak in West Africa. Then, readers work their way through ten, interactive chapters featuring a narrative along with background information, videos, photographs, infographics, and links to additional information.
The subdued watercolor illustrations weave the narrative together in this ground-breaking approach to nonfiction storytelling.

Librarians will find this online experience to be an excellent way to introduce high school students to both the science and social issues associated with Ebola. The mixture of the compelling narrative with the informational segments will attract many students to this important and timely topic.

To visit the website, go to http://www.mawahtale.com.
Resources
Aronson, Marc (April 2007). Do Books Still Matter? School Library Journal, 53(4), 36-39.
Barack, Lauren (April 13, 2016). Library Budgets Rise 20%, yet Challenges Remain. School Library Journal. Available through SLJ.
Grover, Sharon & Hannegan, Lizette (October 2012). Taking the plunge. School Library Journal, 58(10), 50-54. Available
Mandell, Phyllis (November 2012). Now you're talking. School Library Journal, 58(11), 32-38. Available
Uhlmann, Douglas (April 2011). Pick me! Pick me! School Library Journal, 57(4), 80-83. Available
---