Alex, the wii and 2009
During the past year millions of children as well as adults have become addicted to the wii. At first I was concerned that Alex would become a video game junkie. However after seeing the problem solving skills that go into games such as Super Mario, I'm sold.
Now 4 years old, Alex can describe the steps he follows to accomplish each level and was thrilled when he unlocked a new chapter to read at the virtual library. He even got his little sister involved playing road games with the new cart accessories.
It was amazing to see how quickly he could transfer his skills from the joystick to the cart to the guitar. Although he enjoys the technology, he also likes science and spends lots of time with science experiments including his new dinosaur and volcano kits.
The children play with a wide range of electronic devices and new types of tools. Alex enjoys remote control cars and his hand-held Nintendo, while Kaylee likes her drawing tools.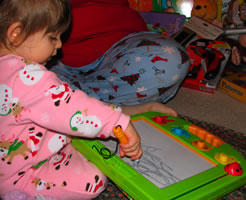 Five year old Alex is now a computer pro. His favorite websites are bookmarked and he can use them independently. He likes to write stories using the PBSkids website and email them to Annette and Larry. His goal is to be a medical officer on the International Space Station or a research scientist like his dad.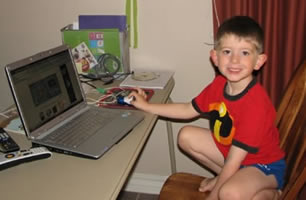 It's interesting to see how the virtual world impacts the physical world. Alex loves to use wii Fit and was excited to see a "real" hulu hoop at the sporting goods store. Although it took him a while, he was able to transfer his game skills to the "real world" of hulu hoop.
Although Kaylee is a much more "outdoor" child than Alex, she still loves the computer.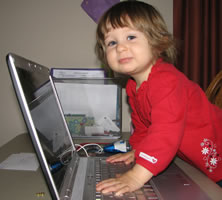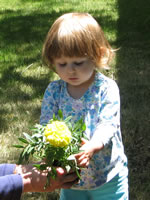 Alex, Kaylee and January 2010
As Alex grows older, his interests have become more varied. He enjoys reading, drawing, science, and piano. However given the choice, he would play wii games all day. It's becoming increasingly important to schedule time away from computers and wii games.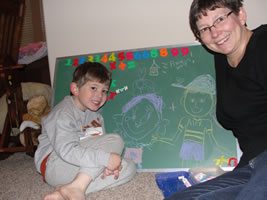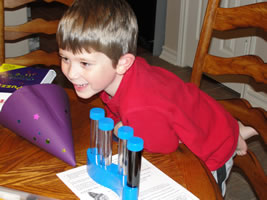 His off-computer and on-computer activities are merging. He builds Lego cities, then plays Lego wii games.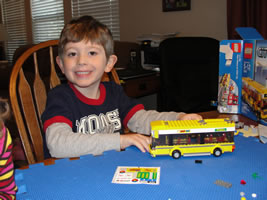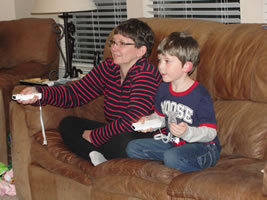 Two year old Kaylee has exceptional fine motor skills that she applies to making crafts, coloring, and mousing on the computer.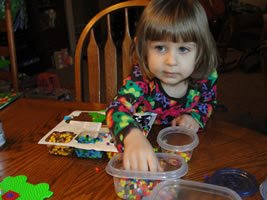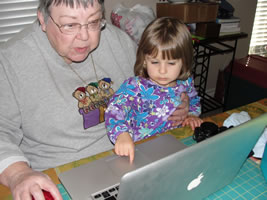 She moves seamlessly from dressing up as a princess, to serving tea, to working on the computer. Notice that she automatically places one hand on the keyboard and the other on the mouse.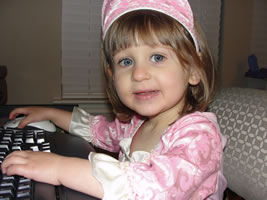 Regardless of their love of wii and computer time, they're most creative when given boxes and paper.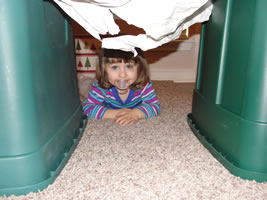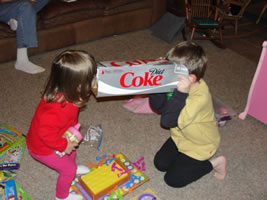 Alex and I recently combined out his love of drawing and computers. We made a story that you won't want to miss. Check out Alex's Pet Shop.
Alex, Kaylee and Christmas 2010
As Kaylee moves into pre-school age, she's enjoying books in a number of formats including both print books as well as ebooks. Her future will include many different ways to read and write. Although she's surrounded by technology, she also likes the traditional activities such as making binoculars from toilet paper rolls.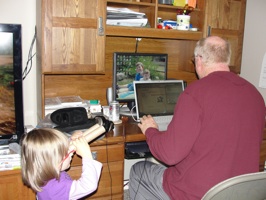 The iPad is easy enough for Kaylee to use on her own. Technologies like wii and smartphones have been around her entire life.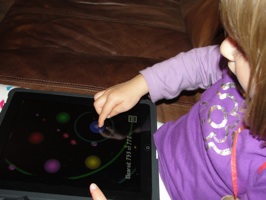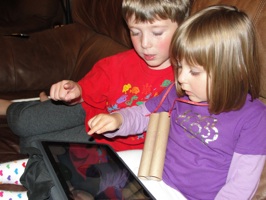 Alex continues to use a wide range of technologies. He's even helping his younger sister learn to use the iPad. At Christmas he used Google Earth to track Santa's sleigh on the family laptop.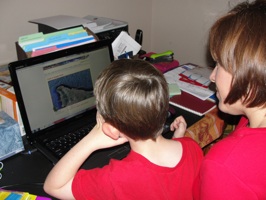 Alex, Kaylee and 2011
The kids are growing up quickly and move seamlessly from one device to the next. Regardless of whether they are working on the Nintendo DS, wii, iTouch, iPad, or laptop, they seem at home with technology.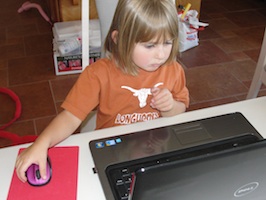 At the moment, their preference is the iPad. The family shares one iPad, so Alex and Kaylee are in heaven when Aunt Annette visits with hers.
Alex is moving beyond simply playing games and looking for other applications of technology. He likes to play a game he calls Google Search. He asks a question and we see how long it takes us to answer it using Google's search tools.
For the past couple years, Alex has been interested in making web pages and building his own game. We combined these interests to create a game called World Up!. Go to Alex's World Up! page. Click the first level called River World. When you click on a number, it goes to a game at the Cool Math site. Eventually he wants to create ten levels with a different "world" and series of game challenges on each page.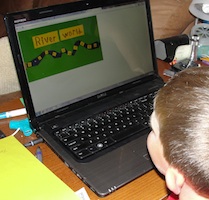 Larry and I hosted a large family gather in Utah where Alex and Kaylee met their cousins for the first time. When the kids said they were going to play Monopoly, I was expecting them to get out the board game. Instead, they got out their iPads and played Monopoly through the wifi. They spent the week playing wii and iPad games. We scheduled non-screen time for hikes and outdoor activities. Otherwise, they would have spent the entire vacation with technology.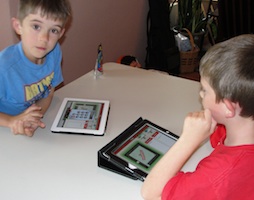 Although the kids love their technology, they also enjoy spending time with other childhood activities like reading, Lego, and dolls. However when given the chance, they go directly to the iPad. When it's time for supper, Kaylee isn't happy about giving up her game and coming to the dinner table.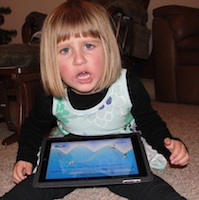 Alex, Kaylee and 2012
The children continue to grow and their interests broaden.
Kaylee has discovered the connection between off-computer resources and online materials. She assumes that everything has an online component. For instance, when she saw the new Disney television series "Sofia the First", she asked if we could find the online games and activities. When I asked what she wanted for her birthday, she said we needed to go to the Lego Friends website so she could show me.
Alex's interests have expanded to include reading on his Kindle. However he's also increased his paper-based reading by being introduced to graphic books like the Bones series. In the photo below, he's reading the graphic history Annie Sullivan and the Trials of Helen Keller.
His current online passion is the multi-user virtual environment (MUVE) known as Minecraft. He can spend hours online with his friends. For instance, George is in his class at school and lives in the neighborhood, but they call each other on the phone and talk while they play create and explore online together.
Although technology is woven throughout their lives, it's balanced with other types of activities like board games, puppet shows, and outdoor play.
Both children enjoy hiking, camping, and playing in nature.
Alex and Kaylee in 2013
Alex continues to enjoy science and technology.
He routinely uses the computer in his school work. For his science fair project he used PowerPoint. His dad taught him some Excel so he could make graphs.
Kaylee likes playing iPad and wii games, but she also likes to write and draw on paper. She is discovering many uses for the computer beyond games. She particular enjoys recording her voice and playing it back. She likes both pop songs and inventing her own music.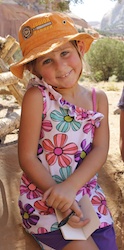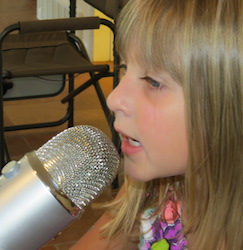 Alex and Kaylee in 2014
Now in 4th grade, many of Alex's school assignments are computer-based. For instance, he shares assignments on the class wikispace.
At home, he enjoys a range of technology including wii, Nintendo DS, and ipad games, Minecraft on the family computer, and exploring Steam, a web-based gaming environment where people create and share games. In the photo below he's playing Minecraft while talking on the speaker phone with his friend George who lives a few blocks away.
Like many pre-teens, Alex enjoys music on his iPod. Although he doesn't have phone service, Alex uses his dad's old iPhone for texting, FaceTime, games, and iTunes.
Alex is still an avid reader. He reads on both paper and his Kindle.
Although Kaylee loves wii and ipad games too, she also enjoys arts and crafts. Notice that the electronic games like SIMON and the television remote aren't far away. As Alex and Kaylee grow older, they enjoy playing wii games together.
As a kindergartener, Kaylee enjoys reading. She's been reading with her parents every night before bedtime since she was a baby, but she's now close to reading on her own.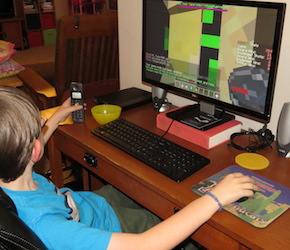 Both Alex and Kaylee continue to enjoy Lego and other building activities.