Lamb Update: October 2003
Massacre Rocks State Park
The first of October we moved from North Folk, ID to Massacre Rocks State Park, ID. This state park is on the Oregon Trail. We hiked and viewed the Oregon Trail ruts, Register Rock, and the site of Shoshone Indian and Pioneer skirmishes. In the photo (below left), Annette is standing on the ruts of the Oregon and California trails.
Below right is view of the Snake River out our front window: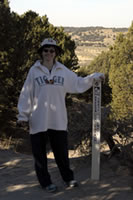 Although we loved the campground at the Massacre Rocks State Park, we were frustrated by their construction. The water and electricity weren't working most of the time because of construction, so we had to dry camp. On the other hand, it was quiet and the views were great. They promise all the construction will be done before we come through next time.
The campground was filled with rabbits. In the evening and early morning they appeared from under bushes everywhere. The area was great for hiking. We took lots of pictures from the top of the area hills. In the picture on the right you can see the RV. We loved the park because no one was around. At times, we were the only ones in the park.
From Massacre Rocks State Park, we headed to Salt Lake City. Annette's sister Arrion flew in for a conference so we had a chance enjoy some restaurants and shopping.
After dropping Harvey RV off to have a new satellite dish installed, we flew to Anaheim, California for the annual AECT conference. While we were there fires extended from the Mexican border to northeast of Los Angeles. The smoke from the wildfires was bad even in the hotel. Soot and ash covered the car. As we got ready to board our plane for Salt Lake City we were informed that the airport was closed. They had to evaculate the air traffic control station near San Diego because of the fire. After fire delays, hours on the runway, and maintenance delays we finally arrived back in Salt Lake City.