Lamb Update: November 2003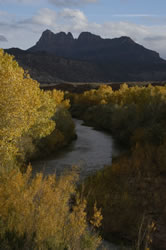 Fall Colors
The peak season for fall colors in southern Utah is the beginning of November. During the first few weeks of the month, we completed a couple of short hikes and drives to photograph the yellow cottonwood leaves.
The photograph on the left was taken along the highway leading to Zion National Park between the towns of Virgin and Rockville, Utah.
Grafton, Utah
A few miles from our campsite is an area known as Grafton, Utah. This ghost town is best known as a movie location for Butch Cassidy and the Sundance Kid. The "Russell House" (Below left) was in the scene where Paul Newman rode around on a bike to the song "Raindrops Keep Falling On My Head". Workers were busy stabilizing and restoring the house. It was interesting to talk with them about adobe brickmaking and see some mortaring techniques. Work on the restoration will continue a few weeks until winter weather arrives - - the project will be completed next year.
Along the gravel road leading to Grafton we saw this pair of young goats along with a dog.