Update: The New Year 2004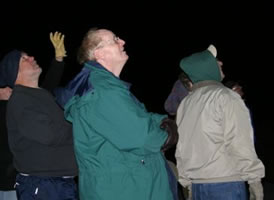 New Year's Eve
This year turned out to be one of our most memorable New Year's Eves.
We flew back to southern Utah a couple days before December 31st. We arrived to find 3 inches of beautiful snow on the RV park and the surrounding mesas. Our campground friends welcomed us and immediately invited us to a New Year's Eve night-hike and party. What a cool idea!
We met in the campground meeting room at 9:30 PM. The photo below shows our group (All except our cameraman / hike leader Jim) just before boarding the bus. Joe (extreme right in photo below - - He and wife Sue, immediately to his left, are the managers of our RV park) drove the campground bus, and we headed down the mountain, thru LaVerkin and into Hurricane. There we turned onto a secondary road and traveled a few miles southwest to reach the cattle guard gate of a local park. On the bus trip, we celebrated the "east coast" New Year. Then Jim and Sueann, our hiking tour leaders, started us down a wide, empty road. Plenty of space to spread out and there was smooth walking for everyone. The moon and stars could be seen through a light cloud covering. Shortly our eyes adjusted to low light levels and we were able to see our surroundings. Although it was only in the mid to low 30s temperature, it did not feel all that cold because we were dressed in layers, the exercise kept us warm, and there was no chilling wind. After walking about 1.5 miles, we crested a low hill. A few of us traveled off the roadway a short way to find a great view of the lights of St. George and view the mountain shadows in the distance.
One of our fellow hikers gave a quick talk on the different stars (above left, Larry in center). For instance, it was easy to see Orion and identify his Beetlejuice shoulder. The walk back to our bus was mostly downhill. We arrived back at our campground about 20 minutes before midnight. Just enough time for us to go to our RVs, pick up our food dishes, and return to the meeting room for hot snacks and other munchies for the midnight celebration.
It was a great, unique way to spend New Year's Eve! We won't forget it. Hey, someone suggested having another night hike when the moon is full. Great idea!