Schoodic Unit of Acadia National Park
Although we enjoy National Parks, we hate the crowds so we were excited to find that the Schoodic Unit of Acadia National Park was relatively nice and quiet.
We drove the Schoodic Scenic Byway from Ellsworth to Schoodic. We stopped along the road and enjoyed the view of Cadillac Mountain on Mount Desert Island while exploring the tide pools.
We found mussels, barnacles (below left), starfish (below right), periwinkle (bottom row), whelks, sea urchins, moss, rockweed (middle row), and many other sea creatures and plantlife.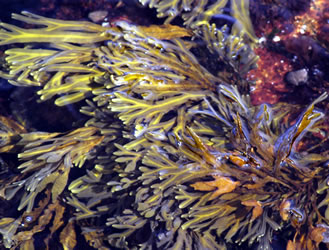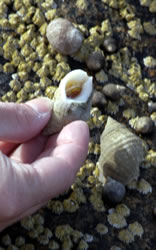 We drove up the road and made another stop across from Mount Desert Island. We could see Winter Harbor Lighthouse on Mark Island with Cadillac Mountain in the background.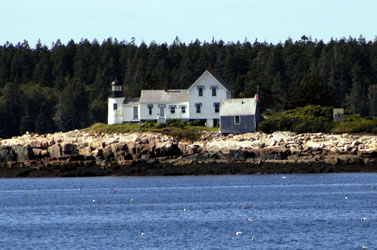 At Schoodic Point, we watched sea birds and explored the rocks. Dark bands of rock are a sharp contrast to the pink granite. The dark bands are called "black dikes" and were formed when magma filled cracks in the rock.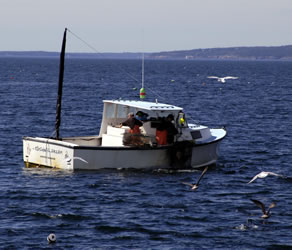 We could see a variety of boats in the distance including sail boats and fishing boats. It was interesting to watch the lobster boats. We learned that each fishing company has a color-coded buoy that is used to mark their lobster traps.
They bring the boat close to the buoy, pull up the traps, open and gauge and place the lobster in a holding box, toss the junk, scrap and other sealife overboard, rebait the trap, and drop it back into the water. A flock of birds follow the boat hoping to get some of the bait remnants and other bits that are being thrown back into the water.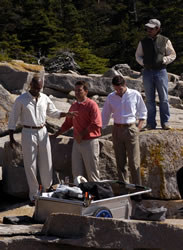 While in the area, we watched two boats. It was interesting that one group was much more organized and efficient than the other. We wondered whether the faster group was being paid by the pound.
At the Schoodic Point, the people from LLBean were doing a photo shoot for an upcoming catalog. The park ranger said that they had to get permission to do the photo shoot. Can you identify the models in the photo; clue, there were three.