Update: February 2004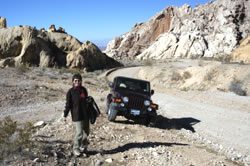 Back Road Get Away
January was hectic. We decided it was time to take a couple days away from civilization and head to some of the most remote areas of Arizona/Utah/Nevada.
Our adventure began on Old Highway 91 west of St. George, Utah. When Annette's family lived in this area in the mid 1960s, this was the only road from Salt Lake City to Las Vegas. The highway runs through an Indian Reservation (Shivwitts band of Paiutes), meanders around mountains and through the high desert scrublands featuring a Joshua Tree forest. Today, Interstate 15 cuts right through the mountains to the east, so few people use this two-lane road.
Although the drive was nice, it wasn't quite as scenic as we had hoped. Trash along the road, recent fire-burnt areas, and abandoned buildings were scattered along the roadside.
Warm Springs Geocache
After several miles of travel, we rejoined I-15 and continued west to the Glendale exit in Nevada. We followed GPS coordinates to reach our first stop, the Warm Springs View geocache. Hidden at the top of a hill, the geocache location (Photo to right) provided scenic views of mountains in the distance.