Update: Extreme RV Makeover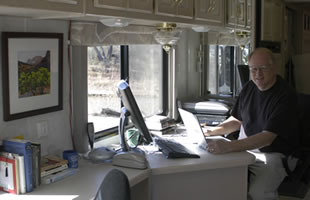 After five years on the road, we were ready for an "extreme RV makeover." We needed to clean out the junk, replace the carpet, and redesign our work area. Since we were going to be situated in Utah for 4 months in one location, we figured we'd have time to get everything scheduled and completed. We got done with one week to spare in our schedule.
The Design
First, we started by brainstorming our needs. We wanted lighter-colored and durable replacement carpeting. We also wanted to remove the existing kitchen table and expand our work counter into our dining area. Here we needed an expanded work area with strong but relatively lightweight construction. We also hoped this new furniture would fit with our existing cabinets and counter areas. Larry enjoyed designing the desk area. With his industrial arts background, he was able to create a complete set of diagram/drawings of our concept.
The first consideration was new carpet. The gray carpet that came with the RV was worn and really not the best for high traffic areas. We went to Home Depot and picked out some rugged, multicolored berber carpet. They even had local installers with experience doing RVs.
Next, we found a local cabinetmaker who could fit us into his busy schedule. The St. George area has lots of new home construction going (the area is in a 15 to 20 year building boom), so we knew it might be difficult to get someone do to our small, odd job. Although it got pushed back a few weeks, we made it!
One of our big issues was where to put all of our stuff while they installed the carpet and desk area. Joe and Sue Bomers, the managers of the Zion River RV Park, volunteered the use of the resort bus as a temporary storage place. Wow, what a great idea! The bus pulled up next to the motor home, and we spent 2 hours filling it with everything from the living room and bedroom areas. Next we unbolted and removed the two front chairs and the couch.