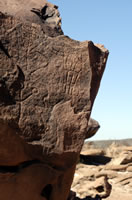 Little Black Mountain Petroglyph Site
We found another back road south of Hurricane for our next adventure. Again, we headed southeast of St. George on gravel, dirt, and sand roads. Little Black Mountain is a 500 foot mesa that stands alone in a huge area of old pastures and scrublands including creosote bushes. The top of the mountain is Chinle formation and the lower slopes are Moenkopi formation. Large boulders and rocks have fallen to the base of the mountains. Many of the rocks are covered with lichens. Birds, lizards, and small animals were found throughout the area.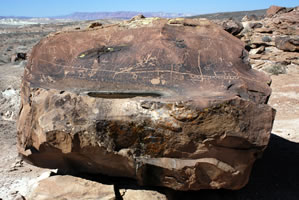 Here, we could see that BLM workers or volunteers were working on building a new shelter house.
The Little Black Mountain site contains over 500 rock art designs on boulders scattered around the base of the south side of mountain. The designs include sheep, lizards, bear paws, turtles, people, and geometric designs. This rock art has been associated with the Great Basin, Western Anasazi, and Lower Colorado River cultures and may have social and religious meanings.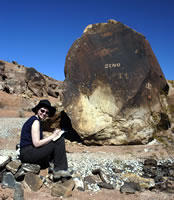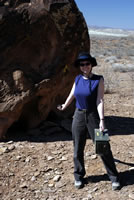 Using a brochure from the BLM office, we explored the three main petroglyph sites here. We also explored the unimproved area and located a geocache hidden there (Photo - above right).