The Whales
Our boat slowed to a stop at the edge of a deep shelf (500 feet deep) in the ocean that was a known feeding area for whales. Almost immediately, a female humpback and her baby appeared on the horizon. Siphon and her baby are well-known to the naturalist who identified them right away.
After a few minutes on the surface both mother and baby dove under the water revealing their fluke/tail. The display was met with ooh's and ahh's from the crowded whale watching tour.
The captain was careful to move the boat so that each side got an equal number of whale views. The whales stayed under water for 4 to 12 minutes before reappearing. In between we were entertained by seabirds, seals, and interesting information from the naturalist.

Notice the blowhole on the whale above. The whale below is getting ready to dive.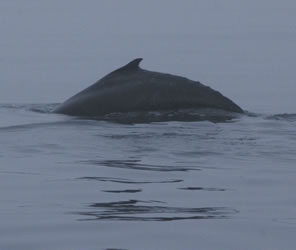 Larry took still photographs while Annette used the video camera to record the event. Although Blake got the binoculars out once, we really didn't need them most of the time.
In addition to Siphon and her baby, we saw another humpback as well as a fintail whale.
Although it was overcast, the sea was calm so it was easy to see the whales. The sun came out briefly at the end of our viewing time.
Photo-identification uses the natural markings on individual whales to identify them. For example, each whale has a specific pattern on its fluke similar to a fingerprint. We were able to go to WhaleNet and find photographs of Siphon in the Humpback Whale database. Do a search for siphon and you can compare the whale tails!
Check out our short whale videos! These are QuickTime movies.