Canyon Country Western Arts Festival
For years we've enjoyed the cowboy poetry of Baxter Black and others in books and on CD. We've even talked about going to the Elko Cowboy Poetry festival. Although we haven't made it to Elko yet, we did get as far as Cedar City, Utah and the Canyon Country Western Arts Festival. The event celebrates the culture of the American West including the American Cowboy.
We enjoyed an afternoon browsing arts and crafts, watching demonstrations, and listening to western music. The stage in the demonstration area was fun because they had a number of children participating. The little boy above was both a poet and singer. After his session, he was joined by his older brother with a guitar and younger sister playing the fiddle.
The best group we saw was the Durfee family. The group consisted of a father (an economics professor at SUU) and two daughters.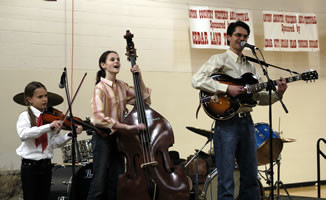 In the evening we enjoyed a great program. It started with the local MC Curly Syndergaard. He introduced two cowboy poets: Ken Romriell and Deanna McCall. The main acts were "The Cowboy and the Kid," Waddie Mitchell and Brenn Hill. Singer/songwriter Brenn Hill started with great western music. Then, Waddie Mitchell joined him on stage to create a blend of western music and cowboy poetry. Brenn Hill played his guitar in the background.
For more information about cowboy poetry, check out the following websites.
Western Folklife Center
http://www.westernfolklife.org/
This website highlights the art and culture of the American West. It includes information about the National Cowboy Poetry Gathering, Cowboy Poetry History, and lots of other information and resources.
Western and Cowboy Poetry at the Bar-D Ranch
http://www.cowboypoetry.com/
Information about any Cowboy Poets, News, and Festival Calendar. Read poems and listen to music.