Antelope Canyon
We drove east on Highway 98 toward the Navajo Powerplant and arrived at the parking lot at 9:50AM. We paid a Navajo guide for a photo tour. He drove us the 2 miles through a sandy wash to the entrance of the Upper Antelope Canyon. Along the way he entertained us with Navajo history and stories. The narrow slot entrance could easily be missed if it weren't for the wash filled with tire tracks of SUV and jeep tours.
As soon as we entered the slot canyon, we knew we were in a special place. This canyon is sometimes called the corkscrew, and we could see why. The brillant orange colors, smooth curves and textured colors were beautiful. Although it was warm outside, once we got inside the narrow slot canyon we were glad we wore our long pants.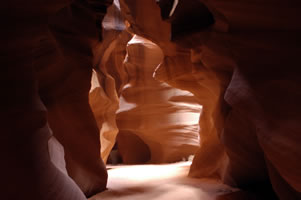 The canyon was exciting from every angle. One of the most interesting perspectives was the view directly overhead. As the sun rose in the sky, the angle of the light entering the canyon changed. The photo below shows a view straight overhead.