Update: March 2004
Navajo National Monument
The Navajo Reservation is the largest in the country. It covers much of northern Arizona. After driving the open spaces east of Page, Arizona, it was a pleasant surprise to see the beautiful mesas of Navajo National Monument.
The Monument protects three ancient Ancestral Puebloan sites. Inspiration House is closed to the public, but Betatakin and Keet Seel ruins are open to the public. In the photo above you can see the Betatakin ruin in the lower left corner.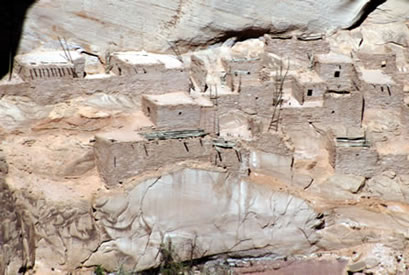 Because we were limited on time, we weren't able to take a guided tour to the sites. Instead, we explored the Visitor Center. Then, walked outside to see the hogan, wagon, and sweat hut. We walked down the half-mile nature Sandal Trail to the overlook to see the Betatakin pueblo across the canyon (above left and right).
Someday we want to return and take the 17 mile round-trip hike to Keet Seel. It's one of the largest and best-preserved ancestral Puebloan sites in the Southwest.