Our first stop was the Eastern Shore of Virginia & Fisherman Island National Wildlife Refuges. The southern tip of the Delmarva Peninsula is located between the Chesapeake Bay and the Atlantic Ocean. The area contains grasslands, croplands, maritime forest, and thickets. This land has been used for farming for hundreds of years. Captain John Smith described the area as "fruitful and delightsome land". At the mouth of the Chesapeake Bay, it was been used for military purposes throughout history.
It wasn't possible to stop on Fisherman Island so we continued onto the Peninsula. A nice Visitor Center greeted us. The butterfly garden next to the Visitor Center was beautiful, but we missed the butterfly migration. We only saw a few butterflies along the trails.
The 1/2 mile interpretive trail included a walk through the woods, past an old cemetery to a salt marsh overlook. We could see ducks, geese, egrets, herons, and other birds. We also climbed to the top of a WWII bunker. We could see salt marshes, barrier islands, bays, inlets, and the Atlantic ocean from the top of the bunker. The photo below shows a cute little green tree frog that Larry discovered when looking at the plants along the trail. The 1-2.5 inch green tree frog prefers moist shady areas.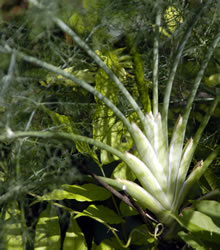 It's amazing how much you miss when you don't look closely at the world. We heard people complaining because the butterflies were gone for the season, but we discovered quite a few were still left. We just had to relax and observe. Learn more about the Biology of the area at the Eastern Shore website.