First Day Home
Although she didn't make it for the birth, Annette was there to record Alex's trip home from the hospital. The photo below shows Annette videotaping the new parents and baby. Notice that the world revolves around Alex's new bed on the coffee table in the living room.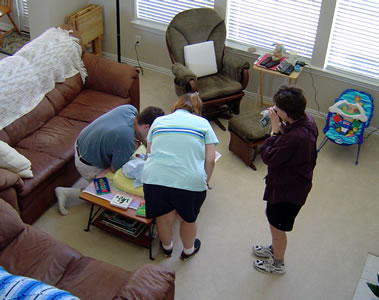 It's lucky that digital camera pictures are free, because we took a zillion photographs. Check out the new proud Grandma with Arrion, Alex, and Annette.
The Firsts
It was fun recording all the "firsts". Below Annette is reading Alex the book Brown Bear, Brown Bear for the first time. Notice how hard he is concentrating... or is that sleeping? In the other photo, Alex is getting his first bath.