Asheville, North Carolina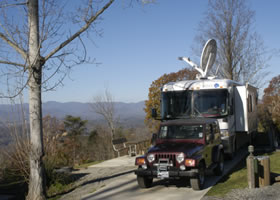 We continued south from Virginia and stopped for a couple weeks in Asheville, North Carolina.
We enjoyed revisiting a favorite RV park on the top of a mountain overlooking the French Broad River. The Campfire Lodgings Park had undergone some renovation since our last visit. We liked walking the hiking trails through the woods.
Although we didn't have much time to enjoy the area, we couldn't leave without shopping at the Folk Art Center on the Blue Ridge Parkway. We thought about a drive up the parkway, but heard that the road was closed because of damage from flooding. Unfortunately, no money will be available for several years, so it may be a while before people get to enjoy driving the entire parkway.
When we were in Utah last year, a friend told us about a type of circular dwelling manufactured by a company called Deltec. Since their headquarters is located in Asheville, we thought it would be fun to visit. These innovative homes (like the one from their website on the left) are economical, strong, and unique. They're known for surviving hurricanes. We're ready to build one! The only problem is that we need some great land in the Rocky Mountains and a bunch of money. Guess we'll have to wait a few years.