Update: April-May 2004
Midwest
From Colorado, we headed back to our cabin in southern Missouri for a couple of months. Between teaching classes, completing some maintenance on the cabin and motorhome, and taking trips to Illinois and Texas, it was a busy few weeks.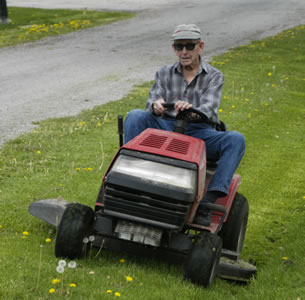 Illinois in April
In late-April we took a trip in the Jeep to Illinois for both work and family time. Larry spent some time working on finishing the remodeling of his dad's bathroom.
Sylvester (photo on right) still enjoys mowing the lawn and tending to his large garden.