Update: June 2004
Illinois, New Orleans, and Orlando
After Memorial Day, we headed back to central Illinois for a few weeks. This time we took the RV and parked at a great Army Corps of Engineers campground called Lithia Springs - - just a few miles from Larry's dad's house. We were a little concerned about whether we could get the satellite onto signal through the trees there, but it worked fine. We were busy online working on our summer classes much of the time, but took time out for visits with Sylvester (Larry's Dad), got to see the kids, held a family picnic at our campsite, and attended a class reunion.
Larry's 40th Class Reunion
Larry's 40th Class Reunion was held the second week of June. This was the first reunion after the closing/consolidation of their high school in Findlay, Illinois.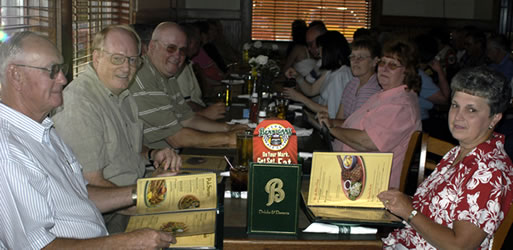 Shown above are some of the diners at one meal at the two-day reunion event.