Return Trip
After a couple miles, we reached an area of rapids and decided it was time to turn around. Annette thought it would be fun to include her feet in one more photograph (right after the photo below) and leaned back for the shot. This time she leaned a little too far to the left.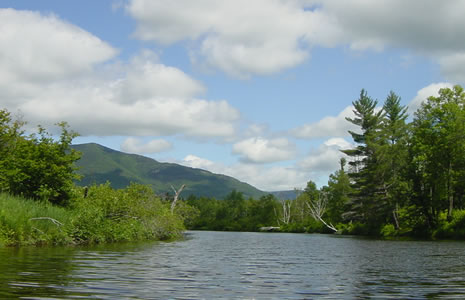 Remember, how tippy the canoe was? Well the canoe tipped; actually it kinda flipped and two surprised passengers found themselves upside down in the middle of the river. Luckily this occurred in a wide area where the river was only about 4-5 feet deep. After the initial shock of the cold water dunking, we had a good laugh. The only real casuality was Annette's old digital camera. Larry was already planning to buy Annette a new camera for her birthday.
We tried bailing with our cup holders but that was too slow, so we ended up turning the canoe upside down. After a couple attempts to jump back in, we were on our way home. We made jokes all the way such as "Tippey-canoe and Annette and Larry too"... Ha-ha, groan. You probably had to have been there! We laughed at ourselves, because we have canoed on several fast-running streams but here we capsized in relatively calm water. It must have been a sight . . .