Update: Seal Cove Summer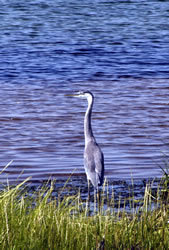 When we first made the decision to come to PEI (Usually pronounced as P-I), we expected cool summer days. This year was unusually wet and cool, but we like cool weather so it was perfect for us.
We chose an east-end campground that was off-the-beaten path for most US tourists. Those RVers that showed up were usually only there for a day or two. Most felt like they needed to keep moving. We thought that was silly since you could drive across the entire island in a few hours.
The campground owner thought the government maps should be rescaled because the map made the island look much bigger than it was.
The campground was very popular with local PEI campers and was usually filled on the weekends with people golfing, kayaking, and just enjoying the beach. Canadians love their beer and campfires. People dug clams on the beach and steamed them over open fires.
We enjoyed walking on the red sand beach during low tide when you could see the many razor clams (photo below left), star fish (photo below right), snails, and other tidewater life such as mosquitoes and huge biting horse flies.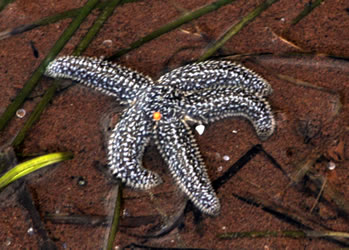 Early mornings it was a treat to see the seals sun and play off the swim dock in front of the campground. The seals disappeared during the day once people entered the water in kayaks and tour boats came by. They usually reappeared late in the afternoon on the island across the harbor.