Peggy's Cove
Even though part of Annette's hearing was gone, we decided it was no reason to be depressed! We decided to take one last excursion before leaving the Canada. We'd planned on an overnight trip, but quickly decided that a day trip made more sense given our limited time.
Locals all agreed that a stop in Peggy's Cove was essential, so the day began with a drive down to this historic and scenic area (photo below).
This quaint little fishing village has strict building codes, so it has remained relatively unchanged for over 100 years. A popular tourist destination, the parking lot was filled.
Our first stop was an interesting relief sculpture called Fishermen's Monument by William E. DeGarthe (photo below). This work was created as a memorial to the "gallant men of Peggy's Cove, Nova Scotia, who harvest our oceans." In the center, you'll see Peggy of the Cove and fishermen at work.
A short walk through town takes tourists through the fishing village, protected harbor, and up to a lighthouse sitting amongst huge rocks. The village has a few cute craft and gift shops that we enjoy exploring. Larry quickly filled his camera with photographs. Annette could see a sketch in her mind everywhere she looked. The next time we visit she's planning to bring pastels and watercolors!
The scenery was colorful in every direction. The village reminded us of some of our favorite jigsaw puzzles filled with tiny houses, water, boats, and other colorful objects.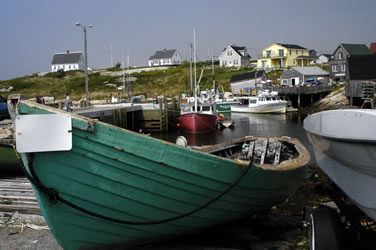 We were reluctant to leave the little village, but we headed up the hill to the lighthouse. There were lots of tourists climbing around the rocks. The lighthouse has an active post office so many people were writing postcards. Learn more about all the lighthouses at the Nova Scotia Lighthouse Preservation Society website.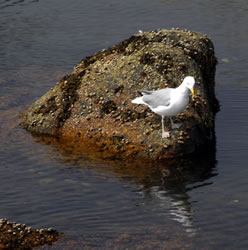 We found some quiet spots to enjoy the waves on the Atlantic Ocean. Then, we took a quick break for lunch at the Sou 'Wester Restaurant next to the lighthouse. We split crab cakes and a veggie plate. Yummy!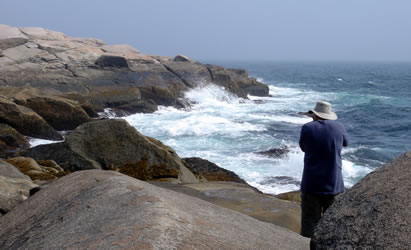 In the interest of time, we skipped some of the other little towns along the coast. We stopped in a couple campgrounds. We thought it would be fun to stay at the King Neptune RV Campground right on the ocean.