Larry's Lens Mishap
The hike ended at a beautiful tiered waterfall. After viewing the falls from a distance, we walked to the top of the falls and sat on the rocks near the edge of the falls. As usual, Annette was sketching and Larry was photographing.
Suddenly, Annette saw the polarizing lens from Larry's camera roll by with Larry close behind. The lens plopped into the water and began floating toward the edge of the waterfall. Before it could reach the dropoff, it came to rest in the gravel at the bottom of the stream. We feared that it would start moving again at any moment.
Luckily, Larry was wearing those popular hiking pants that convert to shorts. Larry began throwing off his shoes and socks, while Annette unzipped the legs of his pants. She also grabbed his wallet and car keys out of his pockets.
Larry worked his way into the freezing and swift water. Annette was concerned that Larry was too close to the edge so she kept a tight hold of his shoulder, then arm, then hand as he worked his way toward the lens. He grabbed the lens and returned to the ledge.
Once he was safely holding onto the rock, Annette decided the moment should be recorded. She got out her camera and began snapping "re-enactment" shots to include on this page. Larry's feet were going numb as she asked for additional poses. Larry kept asking "can I get out now?"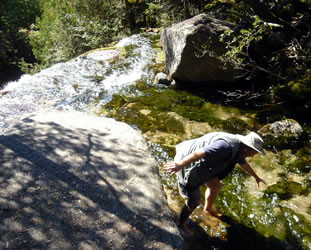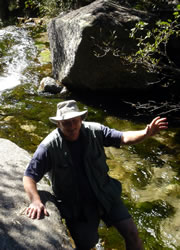 Some water got between the lens elements. Even though the lens dried out, it will need a professional cleaning. Thankfully the lens and Larry both survived.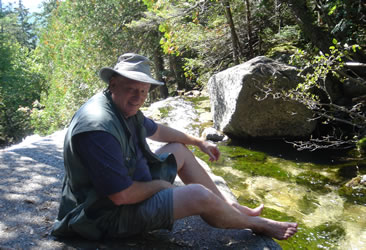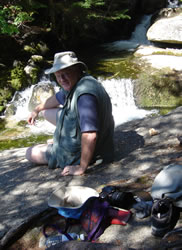 After Larry warmed up and recovered from the near disaster, Annette began to reflect on the experience. For some reason she found it hilarious and couldn't stop laughing (as shown in the photo below). Luckily she didn't roll over during her laughing fit because the edge of the falls is right behind her!