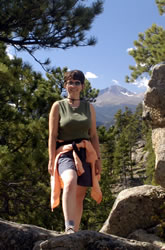 Gem Lake -
Rocky Mountain National Park
Our adventure began at the Twin Owls trailhead. After parking the Jeep, the trail to Gem Lake led us up through a thin forested area filled with wildflowers. Quickly the nice flat walk gave way to steeper mountain hiking through a sparse forest of Ponderosa pine and slopes covered with sage, chokeberries and other shrubs, and grasses.
After almost a mile, we passed the Devil's Gulch fork. The trail continued to be steep, but we didn't mind because the views were spectacular. We could see more and more of Estes Park and Longs Peak looms in the background.
After about a mile and a half, we met a couple who said that we were getting close to the steep part of the hike... the steep part?? We thought it was steep enough already, but we soon came to an area that was more like rock stairs than a trail.