Hollister Hideout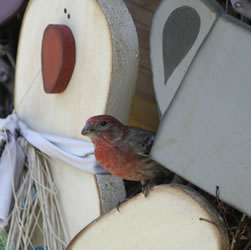 While the motorhome got needed TLC at the factory in Indiana, we were fortunate to be able to spent the winter and early spring months at our "Hollister Hideout." We were glad the cabin was equipped with wireless cable and all the other necessities because we needed to stay on top of our spring semester classes.
We enjoyed watching and feeding the wild birds. We saw cardinals, woodpeckers, house finches (photo to right), goldfinches, hummingbirds, robins, nuthatches, bluebirds, and many others - - and lots and lots of squirrels. We fed them too! The area is also home to larger birds such as hawks and turkey vultures.
Larry was happy to locate an excellent chiropractor who was able to help him deal with an increasingly frustrating lower back ailment.