Capitol Reef National Park
September 2005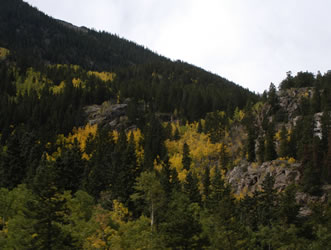 The first part of September we spent Estes Park, Colorado. Mid-month we got up early and headed south through Boulder to catch I-70 at Golden. The drive was beautiful and traffic was light. Annette hung out of the RV window to take photographs of the golden Aspens.
We were actually ahead of schedule by the time we got to Grand Junction, so we decided to continue on to Torrey, Utah. The drive from Hanksville to Torrey through the Capitol Reef National Park was beautiful in the late afternoon.
It was dusk when we arrived at the Thousand Lakes campground so we only had a little light to set up. We had nice views of mesas and mountains all around, but we didn't see those "thousand lakes". We found out that the name comes from a mountain to the north.
A ten hour drive is unusual for us, but it went very fast! We hadn't made a reservation because we weren't sure how far we'd make it that day. The full-hookup campsites were all taken, so we backed into an "electric/water only" site for one night. The next day we moved into a full hookup site where we spend almost a week, allowing us to explore and enjoy the area.