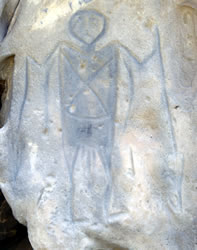 We headed through an open area then up to the top of the canyon. After a long hike across slick rocks and across another open plateau area we became discouraged. We hadn't seen any rock art. We decided to turn around.
On our hike back toward the Jeep, we walked along a cliff and finally found a cavern with rock art.
Although we enjoyed a great hike in a beautiful canyon area, we were a little disappointed by the rock art. Although there are a few excellent drawings (at top of page and on right), there were many areas that had been defaced. Hopefully this is not representative of the other two sites we plan to visit tomorrow.