A Storm Rolls In
Near the bottom it was evident that a storm was rolling in. Luckily, each horse had a slicker tied to its saddle, so we made a quick stop to don the bright yellow raincoats. After crossing the river into Glacier Basin area it began to rain. It was slow going for a while because we ended up behind a large group of beginning riders from another group. When the storm became severe, we decided to stop in some trees. After the thunder, lightning, and hail subsided, we continued our adventure.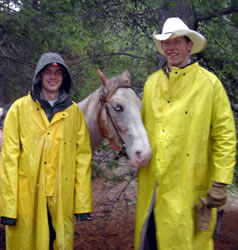 Close to Home and Still Lost
We were already way behind schedule from earlier off-trail adventures and hail delays, but we were in for one last adventure. After getting back on the trail at the end of the storm, we apparently once again took the wrong fork. This time we were headed toward Wind River, which would have taken us another couple hours in the wrong direction. Luckily, a seasoned guide had been sent out to make sure we made it in. He came to the rescue and turned us around before getting more than a half mile down the wrong trail.
Although we were damp, tired, and a bit saddle sore when we got back to the stable, we were laughing and joking with our guides. Even Ben who had limited riding experience had a wonderful time and proved himself a real trooper.
Our 5-hour ride ended up as a 7-hour expedition, but it was truly an adventure we'll remember!