Bighorn Sheep in Endovalley
One of our favorite spots is Endovalley at the entrance to the Fall River Road. As we approached the area we noted a number of people pointing up into the rocks on the side of the hill at the base of a mountain. We looked up to the scene below.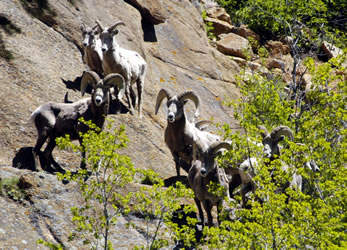 A majestic group of 9-10 bighorn sheep stood overlooking the valley. Annette grabbed the video camera, and Larry picked up his camera and extra memory cards.