Farmington, Illinois
After arriving at the airport, we drove to Peoria and spent the night. The next morning we headed to Trivoli Township and Farmington. Armed with printouts of historic maps supplied by Annette's mother, we found a stone school marked on the map in Trivoli Township.
A little farther down the road we spotted Annette's great, great, great, great grandfather's big old stone house. This house was built near the site of the original log home constructed by Eli Wilson and his family when they arrived from New York in 1834.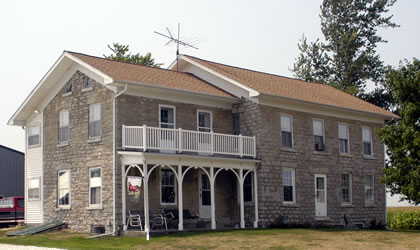 We stopped to check that we'd found the correct house and had a nice conversation with the current land owner, Dale Peterson. The photo below shows the Wilson house as it appeared in the late 1880s. This photo is from the Illinois Liberty Lines by Delores Saunders (1982) that is now out of print.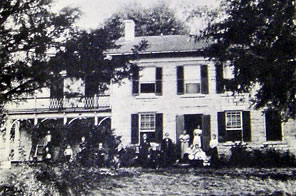 He indicated that the attic was slopped, so the original roof was thatched. He also told us that the porch was added in the 1880s and the kitchen in the back was added in the 1960s.
James Wickwire was the son-in-law of Eli Wilson. We thought it was interesting that the current owner's wife is a "Wickwire" which means that the house was still in the family. Down the road to the west we found the original James Wickwire home (below).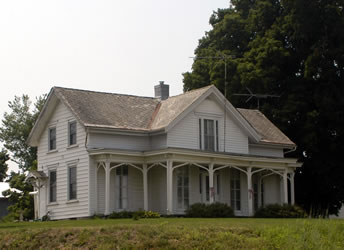 Both homes were stations on the underground railroad. While the Wilson home has no visible sign of its past station service, the Wickwire home was built with hidden rooms and passageways behind the closets.
Peterson encouraged us to explore the property. He directed us to a small pioneer cemetery located east of the house along the road. Most of the grave markers are gone. We found one stone marker leaning against a tree.
Below is a photo of the Wilson home from a distance across a field.