Medicine Wheel National Historic Landmark
We really enjoyed watching the TNT mini-series Into the West. The medicine wheel featured on the program was a re-creation of the one at this historic site.
We stopped at the Medicine Wheel National Historic Landmark parking lot, grabbed some water, and started our 1.5 mile walk on the gravel road up to the site. Although visitors are no longer allowed to drive to the site, we were amazed at the number of cars that had "handicapped stickers" and were allowed to drive rather than walk. With all the dust kicked up from their vehicles driving by, we would have preferred a separate, old-fashioned trail up the mountain rather than the hike along the gravel road.
When we reached the top, it was worth the walk. Around 1200 AD, limestone rocks were organized into a medicine wheel 80 feet in diameter. With 28 spokes and 6 small cairns, the medicine wheel has wonderful views in all four directions. This area is still used by many groups for ceremonies.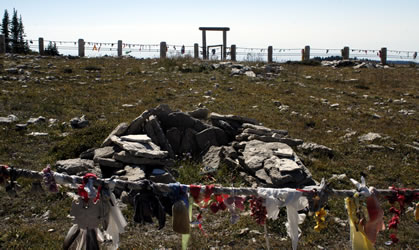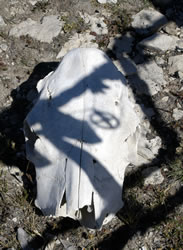 We met an interesting art professor named Peg Speirs from Kutztown University who worked at the site. She was painting watercolor pictures of the site. She was creating watercolors of views from all four directions looking inward, then outward. The photo (below right) shows the artist from across the Medicine Wheel.