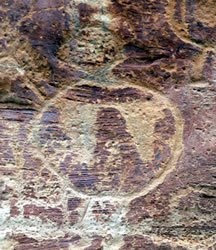 Medicine Lodge State Archaeological Site
At the end of the back country byway, we visited the Medicine Lodge State Archaeological Site. This park was a disappointment. It seemed that people in charger were more interested in maintenance of their grass than the security of the historic site. Much of the rock art had been defaced and damaged. It also looked like many people had dug up rocks in the area. Next time we're going to take the back country drive beyond the park to explore some of the more remote rock art.
We continued our trip through Ten Sleep, a rural agricultural center with many fields and ranch animals. Finally, we drove through the mountains to Buffalo.