Boulder Mountain Drive
It took us 20 or 30 minutes to photograph the mill, so it was only about 5PM. We continued down the road a short way further to a pullout where big posted signs showed maps of the area backroads and ATV trails. While staying this few weeks in Torrey, we had planned to explore Boulder Mountain (11,300 ft. summit, our property is on the lower foothills). As we were looking at the map and examining the few access roads to the top, we noticed that one route began just across highway from us. We'd purchased several good maps (BLM and Natl. Forest maps of the backroads), but of course they are back in the motorhome. And anyway, we are just going to go a little way down the road and see what the country is like on this side of the mountain.
Boulder mountain is more of a huge uplift rather than a spectacular volcanic mountain; but it has steep slopes and cliffs and over 50,000 acres of forest and meadowland at the top. According to Wikipedia it is the highest timbered plateau in North America. So we knew that there was a big area to explore up there, and our plan was to take a day off in the next few weeks and really find out what it's like above our homesite.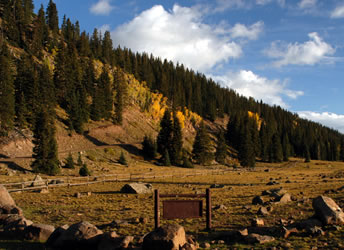 Rather than return to the RV for supplies and a map, we set off with a partial bottle of water, and 3/4 tank of gas. The road is winding around the north base. It's a wide gravel road, no problem.
After some miles we are curving a little to the southeast and always taking the road to Boulder Top at any intersections. We finally reach the turn where the road heads up the mountainside and the aspens are gleaming yellow above us. We have come this far - - why not go just a little ways up the mountainside.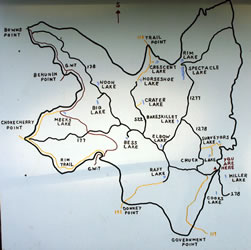 An hour and a half from leaving the mill, we reach the plateau and another forest service map showing the Boulder Mountain plateau. There are lots of roads going across the top of the mountain and we decide to choose the main road. Surely it will come out on the other side of the mountain at Highway 12. Right?
We proceed across the wide, flat plateau driving by Bluebell Knob (highest point on the mountain) and the road is still pretty good. We hit lots of intersections, but always choose to stay on the larger, main traveled route. It even has a posted route number. We are going through big open meadows, past lots of mountain lakes, through scattered forest sections, several water-filled sinks in the road, over and through a few creeks, and there's even scattered snow up here too.
Wow! So we are always following the main road, thinking that it will come down on the other side and we can get back home. Hey, we should be way over half-way there by now. Mind you it's now after 7 p.m., the sun is low but we don't see any problems. Still have a half-tank of gas. However we do wish that we had brought a little more water and maybe something to nibble. It's pretty cold up here (now in the thirties) - - but we have long sleeve shirts. The sun is sinking low. But our road is still okay, and we gotta be getting close to the other side of this mountaintop. A short ways on down the road, we meet the only vehicle we have seen since starting up the mountain - - a truck with a young couple. We wonder why they are heading back the way we came in. About then Annette noticed that the road signs at intersections all face us - - looking back there are no markers shown for the other direction? Hmmmh, that's interesting. And now in the fading light, the road is getting narrower, and for the first time we bottom out slightly on a boulder in the road. Then we hit a pothole that has a little slippery mud, and we spin just a little too much for comfort getting through.
About five minutes later the road heads out into another meadow and an exposed culvert with over a foot of crown is sticking up in front of us. We might be able to climb over that with the 4-wheel drive, but the road looks like it disappears into a marshy area. Oh, we forgot to mention that for the last ten or twenty minutes, there has not been any sign of another wheel track on the road surface - - not since we passed that couple going the other way!
It's almost dark and we return to our senses and realize that we need to turn around and head back the way we came in. We begin to suspect that there is no loop road over the mountain (A fact we verified when we got back to our maps in the motorhome at 9:45 p.m.) Annette was 'white-knuckle-ing" it for awhile as we turned around and slid back through the worst mudhole. She didn't really relax until we bounced back to the area where the road was a little wider. We sipped on the last few inches of water from out bottle and kept an eye out for wildlife. Once we spotted a big mule deer up ahead on the left but when we slowed and it came into the headlights, we realized that it was a gnarly, twisted tree trunk. On the whole trip, we did see a big jack rabbit, squirrels, bunny rabbits, a few deer, lots of different birds, and some grazing cows, but did not see any of the black bears or elk that also live there.
We had a great trip, but next time we will be better prepared . . . maybe we should cut back on that spontaneity a bit.