Spring in Branson
As we drove from Utah to Missouri, we encountered some scary weather in southeastern Kansas. Approaching Wichita, the sky became very dark and the radio declared storm warnings. We could see a storm chaser sitting on the overpass, so we knew the tornadoes were close. Rather than heading into the storm, we stopped and called Annette's parents who checked the weather online. They said the radar indicated that the tornado was practically on top of us. They pointed out that once it passed, we should proceed because more storms were on their way. We looked over our shoulders all the way to Branson, but made it in one piece.
Work Trips
Once we got parked at the cabin, Annette jumped on a plane to New Hampshire where she did a week of workshops throughout the state. It was lots of work, but also lots of fun!
Signs of Spring
Upon Annette's return from the east coast, we took time for a short hike up the mountain behind the cabin. We visited the family geocache we placed last spring and enjoyed the signs of spring.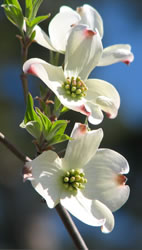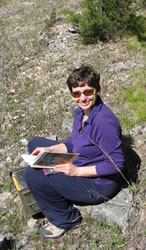 Although many of the trees on the hillside were destroyed by a developers, we were happy to see lots of volunteer wildflowers emerging. As we arrived back at the cabin, we were greeted by a lizard crawling along the bear wood carving in the front yard.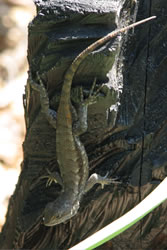 Easter Weekend
A gathering at the cabin has become a family tradition. Larry drove to Arkansas to buy a smoked ham for Easter (below left) and people began to arrive including Annette's parents, Arrion, Ben, and Alex(below right), along with Arrion's in-laws.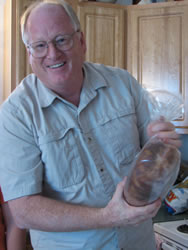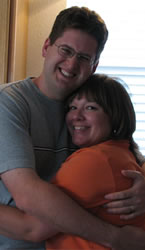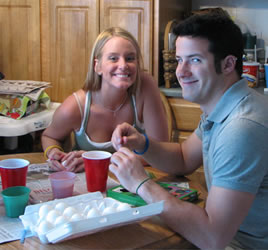 We started with family traditions like coloring Easter eggs. Sara and her boyfriend Chris enjoyed the fun.
Alex and Grandpa Smith enjoyed driving and parking toy cars on the rug we got Alex for Easter. The rug contains a drawing of a small town complete with roads and buildings.
Alex at Play
As usual, Alex was the center of attention. Below, Alex is demonstrating his skills at matching shapes. Right now, he's best at identifying triangles, circles, and stars.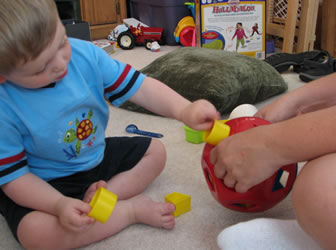 Alex was dancing to the Walk the Line movie sound track, so we got out the camera. Of course as soon as we turned on the camera, his Cheetos and the air conditioner became more interesting than dancing. Check out the Dance video.
In addition to being Easter weekend, it was also our anniversary. We bought a cake and had the baker write "Happy Easter and Anniversary" to cover both event.
We even thought about adding "Happy Tax Day" but decided to omit that occasion.
Easter Egg Hunt
Everyone had a great time at the Easter egg hunt. Although there was only one Easter basket and hunter, there were many observers and cheerleaders ready to eat the candy.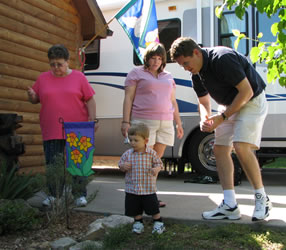 Check out the following videos from the Easter egg hunt:
After Easter weekend, the cabin became quiet. Alex focused on important things like decorating Annette's face with stickers.
Alex's Pre-Birthday Party
With Alex's second birthday coming soon, Annette, Arrion, and Nancy decided to prepare Alex for the big event. They practiced blowing out candles, eating cake, and unwrapping presents.
Dora the Explorer served as the birthday theme. It took another couple weeks to get Alex to say that he was "two years old." Check out the Cake video to see his early attempts. Clearly he's used to counting rather than saying single numbers.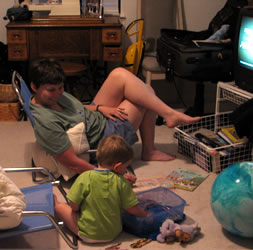 Cleaning the Cabin
Annette, Arrion, and Nancy spent a few days cleaning the loft of the cabin to make more room for guests. They took many trips to storage, but were happy with the results.
There's now a nice play area upstairs. Check out a video of Annette and Alex coloring.
Alex continues to enjoy using technology. He likes to sit on your lap and watch videos or listen to music.
In the photos below, Alex thinks the speaker is a telephone.