Scenic Drive
The Peter Norbeck Scenic Byway was one of many beautiful drives on this trip. As we left Mount Rushmore, we stopped at pull outs to take photos. You can really see all the development from this distance.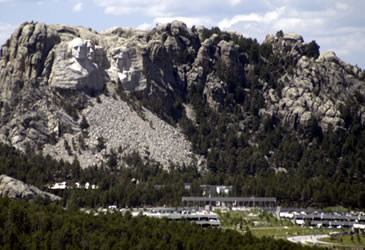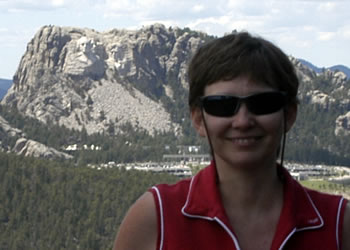 We continued along this road through a series of pigtail bridges and tunnels through an area known as Iron Mountain Road. We'd seen a 5th wheel with a damaged roof at the KOA near Mount Rushmore and wondered whether it had unsuccessfully tried this road. It would be impossible for our motorhome.
Custer State Park
Custer State Park is known for its wildlife, particularly the buffalo.
We stopped by the Visitor Center to ask about the Civilian Conservation Corps work in the area in the 1930s and 1940s. Larry's Uncle Joe spent some time at a nearby CCC camp. We found some information but not the specific location. We'll have to come back when we have more time.
Although we didn't have much time, we decided to take the Wildlife Loop through the park and were happy to see many different types of animals along the way. First we spotted pronghorns.
Watch a short video of pronghorn. Also, check out the longer video.