South Dakota to Montana
We spent two days driving from Spearfish, South Dakota to West Glacier, Montana on June 19 and 20, 2006.
Little Bighorn Battlefield
The first day we took backroads to the Little Bighorn Battlefield National Monument. Rather than unhooking the RV, we decided to drive into the park. We immediately realized that this was a popular tourist spot with very little parking. Rather than waiting for a space, we just continued to the driving tour. There was just barely enough room for two RVs to pass each other on the road. Luckily the pullouts were wide enough for us to stop and read the map for each historical viewpoint. At the end of the road, a large circle helped point us back to the visitor center where we found a space to park.
The photo below shows the river where the Northern Plains Indians were camped before the battle. Visiting battlefields is really a great way to bring history alive.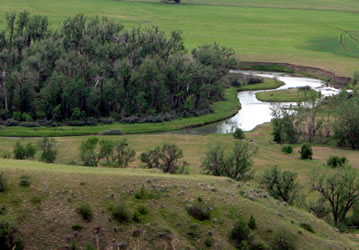 After a few more hours on the road it began to rain, then it became windy and we decided to stop for the night. The next morning we continued to West Glacier. The road from Missoula to Kalispell was under construction. There were places where it was gravel and sand. We decided to find another way out at the end of the summer.