Cryptobiotic crusts are most often found in arid and semiarid lands throughout the world. They have been found on all continents and in several different habitats. In the United States, these soil crusts are most evident in the Colorado Plateau, Sonoran Desert, Great Basin, and the inner Columbia Basin. They have also been found in agricultural land, native prairies, and Alaska. It is estimated that in the high deserts of the 130,000 acre Colorado Plateau that includes major parts of Utah, Arizona, Colorado, and New Mexico, these knobby crusts cover 70 to 80 percent of the ground.
The names used for these organic soil crusts also point to their composition. They are dominated by cyanobacteria, but also contain lichens, mosses, green and brown algae, microfungi, and bacteria. These organisms living symbiotically. These living clumps create a crust of soil particles bound together by organic material.
More About the Composition, Structure and Formation
Soil is bound within cryptobiotic crusts by organic filaments of cyanobacteria, once called blue-green algae. Cyanobacteria is believed to be an organism that played an important role in the formation of earth's first soils. Cyanobacteria fossils have been dated back more than 3.5 billion years ago. Thick mats of of cynaobacteria were essential in converting earth's once carbon dioxide laden atmosphere into one teaming with life sustaining oxygen.
Cyanobacteria occur as single cells or in filament groups. The most common form in the Colorado Plateau soils are the filamentous type. The filaments are usually surrounded by sticky mucilaginous sheaths. When rare moisture is received, the cyanobacteria become active, swelling in size, and expanding through the soil leaving a trail of sticky material along the way. This binding sheath material forms an intricate fiber web through the soil. Loose particles of soil are bound together and an unstable land surface becomes very resistant to water and wind erosion. This binding of the soil surface does not depend on living filaments. Over long periods of time, layers of abandoned cyanobacteria sheaths can still cling tenaciously to soil and rocks, providing stability in sandy soils.
The soil crusts are formed by the living organisms and their byproducts. The surface crust of soil particles are held together by organic materials that may extend more than 10cm in depth. Cryptobiotic soil crusts are also recognized by their surface topography, sometimes referred as pinnacles or pedicles. These fluctuations in surface texture are caused by the swelling, migration, and dehydration of the cyanobacteria sheaths along with effects of infrequent rains and the presence or absence of frost heaving.
Why Are These Soil Crusts Important?
Cryptobiotic soil crusts assist in a number of environmental functions. Those contributions are concentrated in the top 4mm, the surface interface between soil and air. In addition to aiding in soil stability and combating wind and water erosion, soil crusts can contribute to atmospheric nitrogen and carbon fixation, provide other plant nutrients, aid in soil-plant-water interactions, increase water retention, promote some seedling germination, and increase plant growth. Vascular plantlife cannot use nitrogen as it occurs in the atmosphere. Both the cyanobacteria and cyanolichen components of soil crusts are important contributors of fixed nitrogen, converting the element into a form that plants can readily use. This is especially important in dry, arid regions where nitrogen levels are low and often limit plant productivity. Calcium, potassium, and manganese bind to the sheaths and are made available to plants in a usable form. When moistened, the soil crusts expand up to ten times their dry size; thereby intercepting and storing needed water. In places where crusts have increased surface roughness, this water infiltration is increased. The soil crusts produce their own organic matter making additional nutrients available to vascular plants. They increase soil fertility.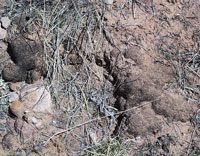 Buried crusts prevents their exposure to sunlight and brings death. No sunlight, no photosynthesis, and eventually more crusted area is lost. Unstable sandy soils can convert nearby solidly anchored, crypto-covered 'gardens' into drifting sand dunes.
Does cryptobiotic soil ever recover? It can . . . but it's difficult. Some impacted areas never recover. For a thin top layer to regenerate, it will take five to seven years. Underneath where the dead sheath material binds sand grains together, healing and regeneration takes much longer. It is estimated that for a disturbed area of soil crust to become fully functional again may require from 50 to 250 years of favorable conditions.